Europe seeks to cut Russian gas
US, EU strike LNG deal to further isolate Moscow after its invasion of Ukraine; 300 feared dead in Mariupol theatre strike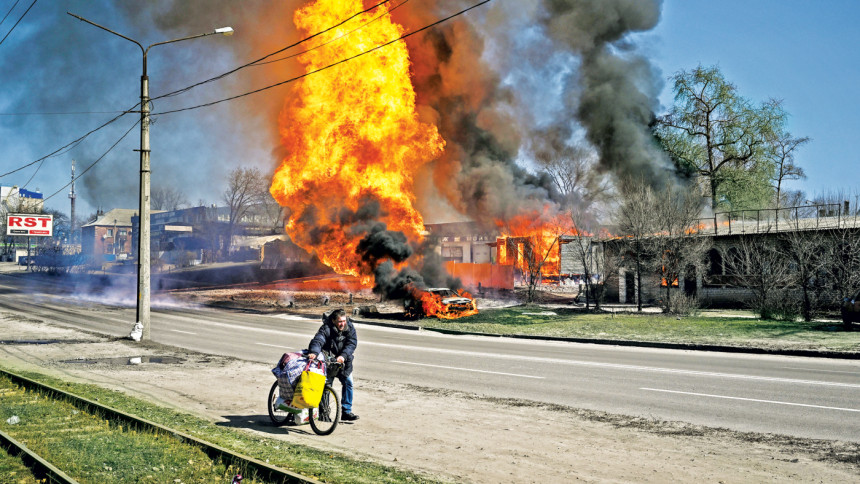 The United States will work to supply 15 billion cubic metres of liquefied natural gas (LNG) to the European Union this year to help it wean off Russian energy supplies, the transatlantic partners said yesterday.
The EU is aiming to cut its dependency on Russian gas by two-thirds this year and end all Russian fossil fuel imports by 2027 due to Russia's invasion of Ukraine. Russia supplies around 40% of Europe's gas needs.
Concerns over security of supply were reinforced this week after Russia ordered the switch of gas contract payments to roubles, raising the risk of a supply squeeze and even higher prices.
Senior US administration officials did not specify what amount or percentage of the extra LNG supply would come from the United States.
US President Joe Biden and European Commission President Ursula von der Leyen also announced a plan to form a task force to cut Europe's reliance on Russian fossil fuels.
The Commission will work with EU countries to ensure they are able to receive about 50 bcm of additional US LNG until at least 2030. US LNG exports to the EU last year were about 22 bcm.
Meanwhile Germany, the EU's biggest importer of Russian gas, said it has made "significant progress" towards reducing its exposure to imports of Russian gas, oil and coal.
However, Economy Minister Robert Habeck also said it could take until the summer of 2024 for Europe's largest economy to wean itself off Russian gas.
On the battlefield, Moscow said it had destroyed Ukraine's largest remaining military fuel depot, at Kalynivka near the capital Kyiv, using sea-borne cruise missiles.
Fireballs leapt into the air from the storage facility, while a smaller fire blazed from a severed fuel line and a huge plume of black smoke rose over the site, AFP reporters at the scene said.
"Fortunately, there were no casualties," a security guard said at a checkpoint near the depot, asking not to be identified.
But in the east, Russian strikes targeting a medical facility in Ukraine's second city Kharkiv killed four civilians and wounded several others, police said.
Ukrainian troops are recapturing towns east of Kyiv and Russian forces who had been trying to seize the capital are falling back on overextended supply lines, Britain said yesterday, one of the strongest indications yet of a shift in momentum in the war.
A month into their assault, Russian troops have failed to capture any major Ukrainian city.
An offensive Western countries believe was aimed at swiftly toppling President Volodymyr Zelensky's government was halted at the gates of Kyiv.
A senior US administration official said Washington and its allies were also working on providing anti-ship weapons to protect Ukraine's coast. Ukrainian forces claimed on Thursday to have blown up a Russian landing ship in a Russian-occupied port.
US officials told Reuters that Russia is suffering failure rates as high as 60% for some of its precision-guided missiles.