Why we don't own up any of our misdeeds

(Left) Star, (Right) Yamin Tauseef Jahangir
A friend of mine who has been living abroad for most of the last three decades phoned me after the World Bank walked away from the much hyped Padma Bridge project and complained, 'Nobody owns up anything here.' By 'here' he of course meant Bangladesh, for, like hundreds of thousands of deshi expats, Bangladesh remains at the centre of his existence: it is forever present in his thought; any good news emanating from the land gladdens his heart, as any bad news saddens him.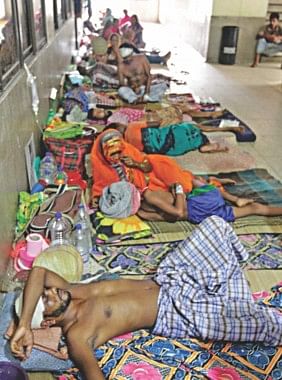 Star
The Padma Bridge scam however, was more than bad news -- it was heartrending, since my friend, who plans on coming back home and settling down in his village once he retires, would be one of the millions of beneficiaries of the bridge should it ever be built. The scam also showed how the interest of the country can be so callously sacrificed for preserving the 'good name' of a couple of political heavyweights. 'Nobody owns up anything,' my friend continued, 'because, over the years, we have developed a culture of impunity which allows anyone with clout to go about committing crimes without the least bit of fear; because those who are in a position to punish these criminals are themselves not clean.
How can you trust someone to clean up a mess if that person leaves behind more mess?' He regretted that over the last decade, the world's press has listed all instances of major corruption in the country, naming names and pointing at incontrovertible evidences of wrong doing, but no one has been punished, because 'we don't have the culture of owning up, none at all.' Before he put the phone down, he asked me, as an afterthought, 'What about that Ten Truck Arms case? How is it shaping up? A newspaper here has named ministers, intelligence people and politicians who were involved but we keep on pretending that nothing happened!'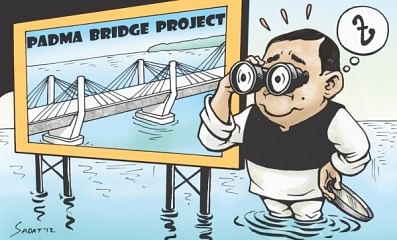 'It's shaping up well,' I replied, 'there is a trial going on, and at least one former minister is in jail.' He didn't seem impressed. 'Wait until the next election,' he cut me short, 'if the minister's party returns to power, the case would be withdrawn and everyone released faster than you can say "we are looking for…".
Just like the present government is withdrawing all those hundreds of cases everyday on the ground that these were politically motivated. How can a murder or a rape be considered a political act? In what court of law?' He almost charged me.
My friend has every reason to be angry. He lives in a country where a crime is always a crime -- no matter who commits it: and any public money expropriated, no matter how much, is a punishable offence, no matter who embezzles the money. As an ordinary citizen there, he goes to town hall meetings, meets the mayor or the local legislators and can ask them to account for a wrongdoing, if there is any.
Sure there is corruption in that country, he agrees, sure there are instances of public fund being embezzled, but the perpetrators are caught, sooner or later, and are brought to justice. 'You can be sure that once someone is brought to book, his political career would end. Not like in our country, where a minister found with his hand in the public kitty is simply relieved of his ministry but is allowed to enjoy the privileges of a minister.'
It is painful to continue a conversation with my friend. Increasingly, he has been sounding exasperated, angry and hopeless. View of home from distance is always unsettling. I have met many young men from my country in Dubai or Doha working in the airport or municipality there who feel let down by any act of political violence back home which they would have taken for granted-- and therefore not get frustrated about -- if they were at home.
I too find myself getting angry about the hartals and endless bickering among our leaders when I am abroad, but back home ignore them as 'natural', like a disaster or a disease we cannot control.
Like those young men, I too feel exasperated by the sheer lack of discipline in our public life, on our streets, inside institutions. Hospitals are not places of healing, schools are not where young minds are shaped for a future of possibilities, government offices are not where serving the people is the prime concern.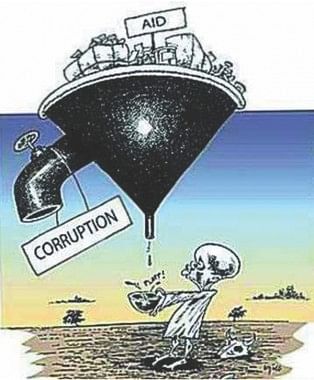 Doctors do not own up when a patient dies of negligence, engineers do not own up when a building collapses on sleeping inmates, teachers do not own up when students fail because they spend more time on private tuition or consultancy than teaching, policemen do not own up when hardened criminals are let out of jail while innocent people are denied justice, the media do not own up when yellow journalism takes somebody's life, religious leaders do not own up when a fatwa leads to a girls' stoning and death, and politicians do not own up when violence becomes the norm in settling political issues, sending people's lives into a spiral.
But back home, the mystery and the muddle, the chaos and cataclysm, the corruption and abjection that mark our daily lives, overseen by a moth eaten political culture, seem so 'normal', like the formalin injected fish we eat, or pesticide doused vegetables we cook for our meals.
'Enough is enough,' a frustrated young man told me in Dubai last year after narrating his harrowing journey to the Emirates in search of a dream job. The manpower agent who sent him there, who was a member of the youth wing of the party in power, took all his money and assured him he would get an office work.
Instead he landed in a job which did not pay him enough to meet up his debts, let alone send any to his family. His father complained to the local police, but was warned to forget the whole thing. That was seven years ago. The young man now does two jobs, but is not sure if he can return with any savings.
He was not alone, he told me: there were thousands like him who are shipped out every day, condemned to live a life of bonded labourers. Governments come and go, he said, but nothing happens to those who deal in human misery. If anything, they prosper. The young man of course echoed millions of our countrymen who till the fields, labour in mills and factories, work as salary men, attend schools and colleges, surf the internet, write blogs or post their opinions in the Facebook or Twitter, and do hundreds of other things to run the engine of our economy.
But 'enough' is something that does not register with those who run our affairs. Enough of hartals, we would say, but they seem to disagree. Even parties which exist precariously on the margins happily call nationwide hartals. The mother of all hartals was certainly the one which was called to 'end all hartals'! Enough of violence? Not really. So we are condemned to see the repetition of mindless violence every single day of our lives. Some parties evoke religion in perpetuating their violent ways.
Religion, sadly, has somehow become the monopoly of a group of politicians who simply do not seem to understand its basic messages: tolerance and respect for human lives. Fortunately, our people see the truth about religion, and are not willing to give any ground to the extremists.
Enough is not, therefore, enough with those who matter, those who rule us, legislate for us, call all the shots for us, prepare plans or policies for us, make the budget for us, police and administer us. It is really a puzzle, a conundrum: while the electorate -- millions of our countrymen -- believe it is time to say enough is enough and seek a way out, those they elect to do things for them disagree.
A quick scan of a day's newspapers would reveal horrifying stories of corruption in high and low places, miscarriage of justice, denial of right, misuse and abuse of power, extortion, torture and killings, often resulting from political rivalry (sometimes from within the same party), incidents of lynching and cross fire, acid throwing, rape, mutilation and dozens of other atrocities and wrongdoings.
While not all of these crimes relate to the violent political culture of our country, there is no denying the fact that in a society which allows a group of powerful and wealthy people impunity form crimes because they enjoy political clout, respect for law diminishes. If a lawmaker has a dozen police cases against him and is still allowed to sit in the Parliament, a simple breach of law by an ordinary citizen, in the final analysis, cannot be separated from the concession given to the lawgiver -- and many more like him enjoying immense political privilege.
I agree with the hapless airport cleaner from Bangladesh that this didn't necessarily have to happen, and as a country we deserve much, much better. In the last forty two years since our independence the country has achieved a lot. Our independence itself was a hard fought one: it was nobody's gift handed to us on a silver platter. The war of independence brought the whole nation together -- irrespective of population groups, ethnicity, class and social divisions.
That rare unity showed us that we can forge the right alliance when time and history demand it. That unity has been lost, but I am sure, can be found again when we need to unite on issues that concern our future. And hasn't the country prospered, despite the brutal killing of Bangabandhu Sheikh Mujibur Rahman, the countless military coups and counter coups in the regime of Ziaur Rahman and the assassination of Zia himself, and the autocratic rule of a decade and a half that followed?
Even when the more developed economies of the world suffered, we kept our heads above water, consistently maintaining a 6+ percentage growth over the last decade. Our exports are going up; remittances from abroad cross the billion dollar mark every month, and our foreign currency reserve is setting new records every three months.
Our farmers produce food at a rate higher than the population growth; our young entrepreneurs, despite the political instability, dare to invest in our country's  future, and our women continue to break stereotypes by coming out of their homes in large numbers to join the workforce. New thrust and growth sectors are being added every now and then – from pharmaceuticals to sports shoes to ship building. Indeed the country's prospects of growth have never been much brighter than they are now. And with a dynamic youth force hungry for change and ready to take up challenges of the time, the nation can only look forward.
Such an encouraging picture brings us back to the question, 'Why can't we cultivate the value of owning up?' and the related question, equally frustrating, 'Why the culture of immunity?' The answers are not easy, but we just cannot give up. We have to find our way out from the chaos which seems to engulf us now.
Yamin Tauseef Jahangir
We must reaffirm the fact that we have, as a nation, agreed to run our affairs in a democratic way. We have committed ourselves to democracy, and only democracy. If that is the case, then only elected representatives can sit in the Parliament, form the government, function as the opposition, and do hundreds of things that elected representatives do in all democratic set ups.
We trust them to steer the nation forward, and give them the power, privilege and all necessary support to perform their roles. We as the electorate have a responsibility too, and it is to elect the persons, and the party, we believe are capable of doing things for us in the best possible way.
Once elected, they are not supposed to be lost to our view. We must keep track of what they do, encourage and support them when they perform well, point out why they fail if they fail and also the ways of compensating for their failure. The relations between the electorate and the elected representatives -- from the prime minister to the local MP or UP member -- is always a two way one. If we believe in democracy, then we must agree that democracy demands transparency, accountability and commitment.
Public officials are like role models: they should lead by example, and should set higher bench marks of values, performance and integrity for themselves so that the nation can raise its bar one notch higher every time it has to go for a high performance act, be it in economy or education or science and technology.
I read many years ago a short story in which a woman was praised for her integrity, which the short story writer placed at a higher plain than honesty. One of the built in demands in a democratic culture is integrity, which translates as an unshakable trust in and commitment to truth, morality and goodness of the heart.
Our political leaders seem to enjoy the fruits of democracy, claiming all the privileges that even poor countries like Bangladesh can offer them, but forget that it also demands nothing short of integrity from them, in every sphere of their activity -- from personal to public.
Why haven't we been able to develop a culture of owning up, then? My answer is, it is because we haven't learnt to take our responsibilities as seriously as our privileges (just look at the opposition MPs scrambling to attend at least one session of the Parliament amid continued boycott just so that they can keep their membership and are able to claim duty free import of luxury cars), and because, we do not seem to know that it is only integrity which can give us the strength to do things the right way.
Our politicians frequently warn us about the need to take up the challenges of the 21st century, whatever that means, but do they honestly believe the nation can do so if they fail to lead from the front, with example and with courage?
We all agree that only our elected leaders will lead us. But if they are not incorruptible and are not men and women of integrity, their leadership will lead us nowhere. As a nation, we don't deserve this.
We are strong in our criticism of our politics and the politicians because we believe strongly in democracy, in the right way of things and in the future of our country. And we will continue to be strongly critical of things as long as there are failings that affect our lives and push us back, because such freedom is the cornerstone of a democratic polity. But we will continue to pin our hopes on our leadership. And they better wake up to the fact that the 21st century is already a decade plus old.
......................................................................
The writer is Professor, Department of English at Dhaka University.