Traumatised, the kids are yet to return to school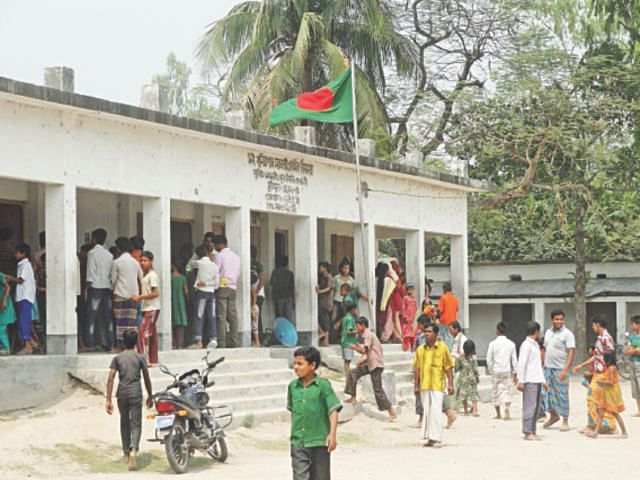 Attendance of students at Khunlyagachi Government Primary School in Lalmonirhat Sadar upazila falls sharply after Thursday's attack on them and their teachers by BNP men. Photo shows some kids coming to the institution yesterday along with their parents as they are still in a state of shock. Photo: Star
Only a few students attended classes at Khuniyagachh Government Primary School in Lalmonirhat Sadar upazila yesterday, apparently due to the panic after Thursday's attack on the teachers and students by supporters of the countrywide hartal called by main opposition BNP.
The school situated at remote Khuniyagachh village in Teesta River basin area was established in 1919.
Currently 423 students including 233 girls and 190 boys read there but only 50 students, mostly boys, were present yesterday, school sources said.
"Usually over 90 percent of the students remain present in the classes daily. But the attendance fell sharply today [Saturday], after the hartal supporters attacked the teachers and students and vandalised the school on Thursday," said headmaster Abdul Hai, who along with eight other teachers -- all female, were present at the school yesterday.
"The small number of students who attended school today could hardly pay attention to their lessons as they showed visible signs of fear after Thursday's incident. I tried to make them easy by telling stories," said Taznin Akhter, a teacher.
Khadiza Begum, guardian of class II student Smrity Akhter, said usually Smrity comes to school alone walking half a kilometre from the house but yesterday she accompanied her daughter to the school as the little girl was afraid after Thursday's attack.
Mrinal Chandro Roy, 9, a student of class IV, said he will go to school after a few days when the situation becomes normal.
"Now the children do not feel safe after Thursday's incident. And so, I have not sent my child to school today. Never before the people of Khuniyagachh village faced any problem due to political programmes like hartal," said Azizar Rahman, guardian of Sabu Islam, a student of class II.
A five-member team from the district primary education office will today start an awareness campaign among the local guardians, giving them assurance of security, to persuade them to send their children to school regularly, said Lalmonirhat District Primary Education Officer Nobez Uddin Sarker.
State Minister for Primary and Mass Education Motahar Hossain MP and Organising Secretary of Rangpur Divisional unit of ruling Awami League (AL) Khalid Mahmud Chowdhury MP along with local AL leaders visited the school yesterday noon.
At a public meeting arranged at the village, the state minister requested the guardians to send their children to school. He assured safety for the children and ordered the police to quickly arrest all the criminals involved in the attack on the school.
Police has already arrested four people for attacking the school and trying hard to arrest all other accused, said Jamir Uddin, officer in charge of Lalmonirhat Sadar Police Station.