Tragedy shows urgency of worker protections: HRW
'Allow workers to unionise, overhaul factory inspections'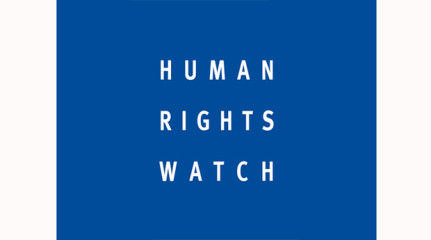 The collapse of Rana Plaza in Savar shows the urgent need to improve Bangladesh's protections for worker health and safety, Human Rights Watch (HRW) said today.
Reforms should include a drastic overhaul of the government's system of labour inspections and an end to government efforts to thwart the right of workers to unionise, said the international rights watchdog.
"Given the long record of worker deaths in factories, this tragedy was predictable," said Brad Adams, Asia director at Human Rights Watch.
"The government, local factory owners, and the international garment industry pay workers among the world's lowest wages, but didn't have the decency to ensure safe conditions for the people who put clothes on the backs of people all over the world."
The Rana building collapse is the latest in a long list of factory building tragedies in Bangladesh, HRW said.
In April 2005, 73 garment workers died in a factory collapse in Savar. In February the next year, 18 workers were killed in a garment factory collapse in Dhaka. In June 2010, 25 people were killed in a building collapse in Dhaka. In November 2012, more than 100 workers died in a fire at a factory in Dhaka.
Bangladesh has notoriously poor workplace safety inspection mechanisms, said HRW.
The Ministry of Labour's Inspection Department, responsible for monitoring employers' adherence to Bangladesh's Labour Act, is chronically under-resourced. In June 2012, the Inspection Department had just 18 inspectors and assistant inspectors to monitor an estimated 100,000 factories in Dhaka district, where the Rana building is located.
When inspectors find infringements of the Labour Act, fines levied under the act are insufficient to compel compliance. Although the law allows for imprisonment for those responsible for violating workplace health and safety provisions, violations more commonly result in a monetary fine of around US$13 per case, observed HRW.
Officials with the Inspection Department told HRW in June 2012 that they considered it a priority to maintain good relations with factory managers, which means it is normal practice to give factories advance notice of a visit.
A deputy chief inspector explained, "We always try to maintain good relations with management. Usually we give advance notice [of an inspection]. Sometimes we send a letter, sometimes we phone if the number is available."
"Successive Bangladeshi governments have paid lip service to worker safety but in reality it is only the factory owners who have the ear of policymakers," Adams said.
Government and industry opposition to workers' rights contributed to the deaths by making it harder for the workers to refuse to work under unsafe conditions, HRW said.
Quoting labour organisers in Dhaka, HRW said none of the factories located in the Rana Plaza building were unionised.
Weak enforcement of labour laws in Bangladesh contributes to impunity for employers to harass and intimidate both workers and local trade unionists seeking to exercise their right to organise and collectively bargain, it said.
Labour groups in Bangladesh operate in a pervasively hostile environment, HRW said.
The April 2012 torture and murder of labour rights activist Aminul Islam, who had earlier been arbitrarily detained and tortured by government security forces remains unsolved, it said, adding that over a dozen labour rights leaders currently face criminal charges on a variety of spurious grounds.
The government has continued to pursue legal action aimed at intimidating the Bangladesh Centre for Worker Solidarity (BCWS), a nongovernmental organisation (NGO) that works closely with trade unions, and has arbitrarily revoked its NGO accreditation.
"Had one or more of the Rana Plaza factories been unionized, workers could have refused to enter the building the day it collapsed," Adams said.
"This tragedy shows that the right to organise a union in Bangladesh is not just a matter of getting fair wages – it's a matter of saving lives."
International companies that purchase clothes and other products from Bangladeshi factories have a responsibility to ensure that worker safety is maintained throughout their supply chains, HRW said.
The Rana Plaza factories in the building were supplying a number of global clothing retailers.
HRW called on all companies to ensure that the garments sourced in Bangladesh are manufactured in factories in full compliance with international standards and Bangladeshi labour law, through audits performed by a credible third party, as well as site visits to source factories.
"Global companies and consumers profit from cheap labor in Bangladesh, but do little to demand the most basic and humane conditions for those who toil on their behalf," Adams said.
"It is time for companies to say that they will take no clothes from companies that do not meet minimum standards. Ignorance and cost can no longer be an excuse for some of the biggest companies in the world."
In October 2012, HRW released a 101-page report, "Toxic Tanneries: The Health Repercussions of Hazaribagh Leather," which documented an occupational health and safety crisis among tannery workers, both men and women, including skin diseases and respiratory illnesses caused by exposure to tanning chemicals, and limb amputations caused by accidents in dangerous tannery machinery.
The report, based on nine weeks of in-country research, also documented health problems among local residents of Hazaribagh slums.
The residents complained of illnesses such as fevers, skin diseases, respiratory problems, and diarrhoea caused by the extreme tannery pollution of air, water, and soil.
Many factory owners in Bangladesh are parliamentarians or members of the main political parties. In an interview with a government minister in 2011, the minister told HRW that it would be "impossible" to improve workers rights so long as factory owners were senior members of political parties.
HRW knows of no cases in which the Bangladeshi government has ever prosecuted a factory owner over the deaths of workers. The Bangladeshi Garment and Industrial Workers Federation reports that more than 10 percent of members of parliament have ownership stakes in garment factories.
"How many factory tragedies will it take before the Bangladeshi government ends its cosy relationship with powerful company owners and prioritizes worker safety?" Adams asked.
"Until Bangladesh regulates workplaces properly and gets serious about unsafe working conditions and those who create them, those on the factory floor will continue paying with their lives."