Human Trafficking: Victims still stranded in India
Police want to visit there to bring them back; some remain traceless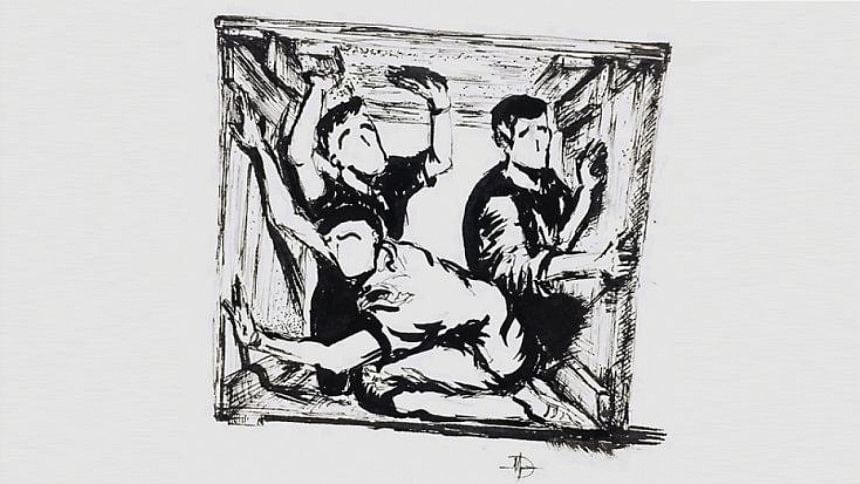 Some of the girls trafficked to India and forced into prostitution by a transnational racket are still stranded in the neighbouring country, while a few, including a minor, are yet to be traced.
A police team now wants to visit India to rescue and bring back the Bangladeshi victims, and interrogate those arrested in connection with the trafficking.
At least 10 victims, mostly TikTok users, were trafficked by the racket recently, according to police.
The Daily Star learnt names of the six victims, including a minor, who are still stranded or untraceable in India.
Md Shohidullah, deputy commissioner of Tejgaon Division, wrote a letter to the inspector general of police, seeking permission to send a three-member investigation team to India.
Speaking to The Daily Star yesterday, the Tejgaon DC said the matter is still under process.
After a video clip of a 22-year-old woman being tortured and sexually assaulted went viral on social media, Indian police, in May, arrested Rifadul Islam Ridoy, 26, along with five other Bangladeshis from Bengaluru.
Bangladesh police then began an investigation and found a transnational racket, involving some Bangladeshis, trafficking young female TikTok users and forcing them into sex work in India.
Tejgaon police have so far interrogated at least four victims, who managed to return to Bangladesh.
Till date, Indian police have arrested 12 members of the racket, including 11 Bangladeshis, in a case filed with Bengaluru's Ramamurthy Nagar Police Station.
In Bangladesh, law enforcers arrested 20 members of the gang.
Of them, 11 have given confessional statements before magistrates.
Meanwhile, six cases were filed with Hatirjheel Police Station under the human trafficking and the pornography control acts.
Tejgaon police found that one of the arrestees in India -- Sabuj, 30, -- is the kingpin of this racket. Its network stretches to Dubai, UAE and some other Middle Eastern countries.
Hafiz Al Faruq, additional deputy commissioner of Tejgaon police, said Sabuj and others kept the trafficked women in five or six houses in Bengaluru's Anandapur area and used to send them to different hotels, massage parlours and spa centres in Kolkata, Bengaluru, Hyderabad, Kerala and Tamil Nadu for sex work.
Nodi Akter Eti, is the coordinator of this racket. In her Indian Aadhar card, however, her name is Zoya Akter Jannat, while in Dubai, she is known as Laila. She has travelled to Malaysia, Dubai and India, legally and illegally, according to police.
Police said the gang members targeted female TikTok users and trafficked them in the name of providing well-paid jobs there at shopping malls and beauty parlours.
They carried out the trafficking to India through Satkhira and Jashore borders. The racket also has several houses along the border on both sides.
"The trafficked women were given new names once they crossed the border and were given Aadhar cards. Then, they were sent to different states," added the police official.
About Ridoy, the investigator said he had been using TikTok to traffic women. Police identified at least 500 TikTok groups and IDs, Whatsapp groups and IDs, and Facebook accounts which were linked to Ridoy.
Law enforcers further said Indian police sent the identities of 12 arrestees to Tejgaon police for verification. The four victims, who were lucky enough to escape the clutches of the traffickers, were able to identify them.
Besides, Tejgaon police sent details of seven absconding members of the racket to Bengaluru city police.
In the case filed with Hatirjheel Police Station, the father of a victim said that he was yet to get any trace of his 15-year-old daughter, who was trafficked to India by Ridoy's racket in March this year.
Police said they are trying to find the whereabouts of the untraced victims in India.