Politics Of Climate Change
Time to gear up climate change diplomacy
The failure to meet expectations for a new climate treaty to succeed the Kyoto Protocol at the Fifteenth Conference of Parties (COP15) of the United Nations Framework Convention on Climate Change (UNFCCC) in Copenhagen, Denmark in December 2009 has dimmed expectations for a comprehensive global deal anytime soon.
However, after reasonably successful (if much less ambitious) outcomes at COP16 in Cancun, Mexico in December 2010, COP17 in Durban, South Africa in December 2011, and COP18 in Doha, Qatar in December 2012, hope is gaining ground that the world's leaders may indeed be able to achieve such a global deal by COP21 to be held in December 2015 in Paris, France. Thus Paris in 2015 has to succeed where Copenhagen failed in 2009.
In order for this to happen there will need to be a great deal of innovative and hard negotiations between all countries in the intervening two years that are left.
Many developed (and some developing countries) have seen the importance of maintaining constant diplomacy on climate change and have appointed Special Climate Change Envoys. These include developed countries such as the United Kingdom, France, Denmark, Sweden as well as others. A few developing countries such as Costa Rica and Ecuador have also done so.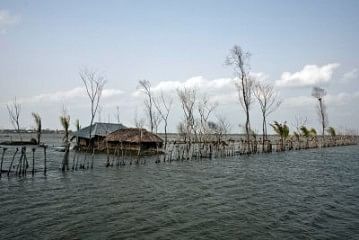 Photo: Wahid Adnan/ Drik News
So far, the first Least Developed Country (LDC) to appoint such a Climate Change Envoy is the Gambia, whose president has just recently appointed Mr. Pa Ousman Jarju as the country's Special Envoy for Climate Change. Mr Jarju was the Chair of the LDC Group in the UNFCCC process until COP18 (when he handed over the Chair of the Group to Nepal).
It is time for other LDCs to also consider appointing such Climate Change Envoys. The reasons, tasks and qualifications for such appointments are discussed briefly below.
Climate change diplomacy is here to stay:
It is now very clear that the problem of climate change (and having to deal with it) will increase with time and will be with us for many decades to come. It is also clear that while much of the task of tackling the problem will occur at national level, it will remain a major global issue requiring continued global level discussions.
UNFCCC is not the only arena:
It is also now clear that climate change discussions are not confined to the UNFCCC negotiations only. Already, every major global leaders' meetings from G8 to G20 to post-2015 Sustainable Development Goals (SDGs) include climate change. This requires capacities to deal with the issue at a diplomatic level and not just within the narrow negotiations under the UNFCCC.
Ministries of foreign affairs and ministries of environment:
Most countries started by treating climate change as an "environmental" issue and hence ministers of environment were the relevant political leaders who participated in UNFCCC negotiations. While this is still largely true and environment ministers still have a major role to play, it is also becoming clear that climate change goes beyond just being an "environmental" issue and now has become a security issue, and a development issue which requires ministers from other ministries such as finance, planning and foreign affairs to also become involved.
Qualifications needed:
The qualifications for a Climate Change Envoy are different from those of Climate Change Focal Points, as the skilsl required is not technical knowledge of the science but diplomatic skills, especially knowledge of how the United Nations works. Thus, a senior diplomat who has previously served in the UN in either New York or Geneva would be best qualified to be a Climate Change Envoy. The technical back-up can be provided by experts.
What can Bangladesh do?
Bangladesh should seriously consider following the lead of the Gambia and consider appointing such a Special Climate Change Envoy who could lead the country's diplomacy at a high level, both within as well as outside the UNFCCC process.
In the longer term, the Ministry of Foreign Affairs should consider building specialist knowledge among the next generation of diplomats by incorporating training on climate change diplomacy in the Foreign Service Academy and also having a few specialist climate change diplomats who could be posted to key missions such as New York, Geneva, Brussels, Washington, Delhi, Beijing and Nairobi, where the ambassador is also Permanent Representative to the United Nations Environment Programme (UNEP) whose headquarter is in Nairobi, Kenya.
Climate change is here to stay, and for a country like Bangladesh will remain a major issue of diplomacy for which our foreign ministry and diplomats need to prepare themselves.
The writer is Director of the International Centre for Climate Change and Development at the Independent University, Bangladesh and Senior Fellow at the London based International Institute for Environment and Development. E-mail: [email protected]