Target for tax receipts far from achievable
NBR chairman discusses next year's plan of action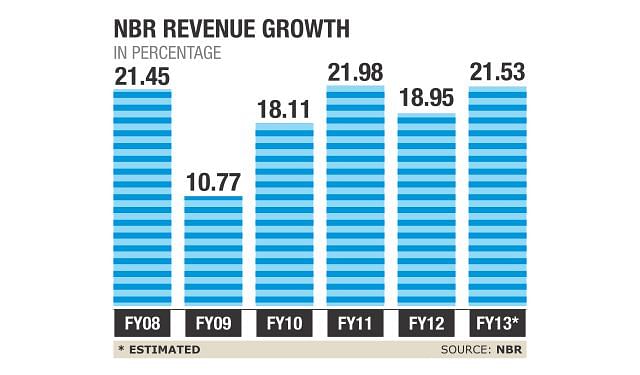 The government's preliminary target for National Board Revenue's takings in the upcoming fiscal year is unfeasible, the tax authority's chairman said yesterday.
Ghulam Hussain, chairman of NBR, said the government's expectation of 21 percent revenue growth over the current fiscal year's target in 2013-14 is not viable given the ongoing political turmoil.
"I have brought the matter to the attention of the prime minister and the finance minister. If an unrealistic target is imposed, it cannot be attained by any means," he said at a pre-budget views exchange programme with the Economic Reporters' Forum.
Last month, the resource committee preliminarily set Tk 136,000 crore as NBR's collection target for the next fiscal year, up from 2012-13's target of Tk 112,259 crore.
The collections this year, however, are likely to fall short of the target by Tk 2,000 crore to Tk 3,000 crore, an NBR official said, preferring not to be named.
"Besides the political unrest, the fact that the economy is going through a slowdown will make things harder. Sluggish trends in imports and exports do not help matters, either."
The NBR chief said revenue collection is severely being hampered by the shutdowns.
"The loss in VAT [value-added tax] collections from even a day's shutdown cannot be recovered at all."
Hossain, however, reckons the current fiscal year's target can be met if no shutdowns were take place until the end of June.
There are about five lakh shops throughout the country from which VAT can be collected, according to NBR's preliminary estimate.  In reality, only 60,000 shops pay VAT.
"Most of the homeowners in Dhaka city don't have any TIN number and do not pay any tax. That's another possible revenue source for us."
The tax authority estimates some 27,000 homeowners do not have any TIN number at present. A special move will be taken next year to bring all homeowners in Dhaka city under the tax net, Hossain said.
The NBR chairman also touched upon the current state of the share market. "Things cannot continue like this," he said, adding that the NBR will soon sit with stakeholders to discuss measures to improve the situation.
The NBR hoped to collect Tk 800 crore as tax from the share market, but has managed less than half of that sum -- around Tk 300 crore -- so far.
Hossain says the NBR will recommend to the government to withdraw the 5 percent tax on the profits of saving instruments.