Last four in sight
Bangladesh take on Pakistan today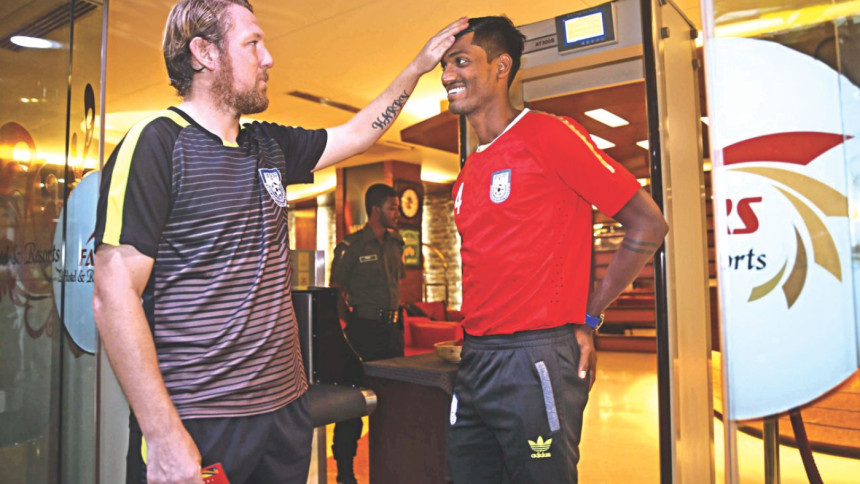 Fresh from a 2-0 win over Bhutan, Bangladesh football team are looking forward to keeping their winning run intact as they take on Pakistan in their second group match of the SAFF Suzuki Cup at Bangabandhu National Stadium today.
Both Bangladesh and Pakistan have posted wins in their respective group openers and a win tonight would seal semifinal berth for either side.
However, the semifinals have been a stage that these two sides have not featured in for a long time -- Bangladesh's last semifinal berth was in 2009 when they hosted the event for the second time while Pakistan's was 13 years ago, that too coming on their home soil.
It is difficult to separate the sides based on their previous performances -- both teams have won six matches each with four draws in 16 times they faced each other.
Bangladesh coach Jamie Day is aware of the statistics and also about the strength of the opposition. The 38-year-old Englishman was a bit cautious about his opposition as he termed Pakistan as one of the three good sides of the tournament. 
"We are looking forward to tomorrow's game, but it's going to be tough against a good side who have some Europe-based players and they can be physically strong. Obviously they gained confidence after winning the first match. But we need to perform at our best to get some points from the game. So, we are confident and the boys are confident too about tomorrow's game. We have to play with good standard for us to get something from the match," Day made this cautious assessment at a briefing at the BFF House yesterday after having given the players rest by cancelling the scheduled training session. The players, however, had swimming and gym sessions at the team hotel.
Pakistan, with two Europe-based strikers, adopted a counter-attacking strategy against Nepal and took a first-half lead before conceding the equaliser in face of tremendous pressure from Nepal. But they hit back late into stoppage-time from another counter-attack, with Denmark-based striker Muhammad Ali scoring the winner. 
"They have five or six experienced players who know how to play at international level and higher. They have technical ability and they are strong. We know we have to cope with it," said Day, who put Pakistan ahead of Bangladesh, apparently in a bid to get the pressure off from his charges.
"If we win tomorrow's match we are the first team into the semifinals; so we want to win and not lose it. We have to be sensible," said Day, whose charges may get inspiration from the fact that their predecessors beat the same opposition 3-0 at home during a FIFA World Cup pre-qualifiers play-off in 2011.
Another encouraging statistic for the hosts is that they have never lost a game against Pakistan on home soil.