So near yet so far
Rescuers helpless as trapped victims cry for help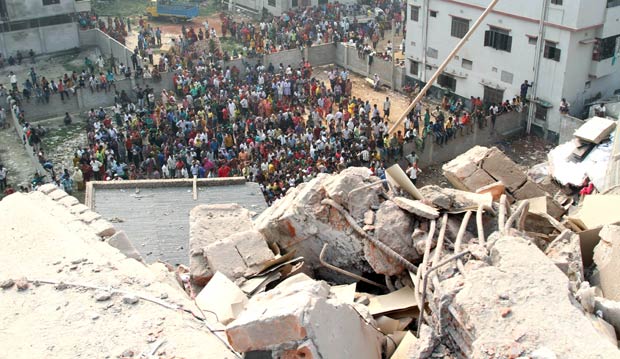 Concrete pillars are dangling from a collapsed building when frantic search for lives continues in Savar on Thursday. At least 219 people were killed until Thursday afternoon and unknown numbers of people remained trapped inside the debris. Photo: STAR
While there are many survivors hurt or squeezed between wrecks of the nine-storey Rana Plaza in Savar, rescuers are unable to speed up their operation due to the precarious situations the survivors are in.
For instance, an unnamed girl was rescued from the building at around 11:50am by cutting her hand that was trapped under the wreck. Rescuers later rushed to the hospital.
Survivors like her are still calling out for help trapped inside the rubble as surviving there is becoming very difficult due to stench of dead bodies, dust and darkness.
"A pillar has fallen over me. Please someone save me. Cut my hands to free me," Aftab, a trapped man cried out as The Daily Star correspondent went near the collapsed building at 11:10am.
Aftab is an operator of New Wave Garments now trapped inside the meshed up seventh floor.
His silhouette is visible through the wreckage. But it was very difficult to reach him.
There are three more persons around him who are alive, he said.
Not far from Aftab, the same factory's Quality Manager Islam remains trapped under a pillar.
"But we cannot rescue Islam without breaking down the pillar," said rescue worker Babul, a labourer by profession who is rescuing people from 6:00pm Wednesday.
Babul said there were many survivors in different pockets of different floors of the building. Their voice can be heard, but it is hard to reach them ensuring minimum safety.
The Daily Star correspondent ventured inside the wreckage at around 10:30am by climbing the remains of staircase through the eastern part of the nine-storey collapse building.
Upon climbing up the fifth floor wreckage, one has to climb precariously broken stairs to reach the caved in upper floors, which are now located at a height of not more than three and half floors.
The seventh floor of the building can be reached through a crack in the wall. Rescuers have made a passage there for their operation.
On the way up the stairs one can see remains of bodies peeping out of wreckages.
The army, which is leading the rescue operation, has been overwhelmed by the presence of unreachable survivors.