Shako's expressive etchings at Gallery Cosmos-2
In honour of International Women's Day '13, Gallery Cosmos-2 in Mohakhali, Dhaka has organised a group art exhibition, titled "Amader Kotha", featuring the artists of Shako -- Women Artists Association of Bangladesh. The group has carved a niche for itself in the Dhaka art scene.
About 24 pieces of etchings by 12 artists are on display at the exhibition.
The exhibition was inaugurated on March 1. Norlin Binti Othman, High Commissioner of Malaysia to Bangladesh, inaugurated the exhibition as chief guest. Sculptor Ferdousy Priyabhashini and Aziz Khan, chairman of Summit Group, were present as guests of honour. Tahmina Enayet, director of Cosmos Group, was also present at the programme.
The exhibition is an outcome of a weeklong printmaking workshop (in October 2012) organised by Shako at Kibria Print Studio, in collaboration with Dhaka Art Center and Gallery Cosmos.
Shako started its journey in 2003 with nine female artists. The objective of Shako is to create space and platform for young and talented female artists in Bangladesh. The association is also involved in social activities.
Artists participating at the exhibition are: Farida Zaman, Naima Haque, Nasreen Begum, Kuhu Plamondon, Fareha Zeba, Kanak Chanpa Chakma, Farzana Islam, Rebeka Sultana Moly and Shulekha Chaudhury. Guest artists are: Afrozaa Jamil (Konka), Shantwana Shahrin and Farzana Rahman Bobby.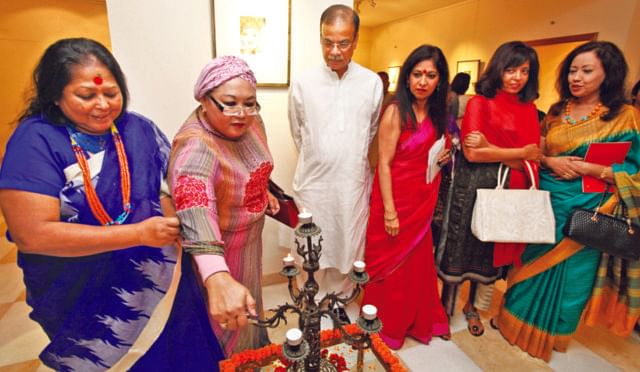 Norlin Binti Othman lights candles to inaugurate the exhibition.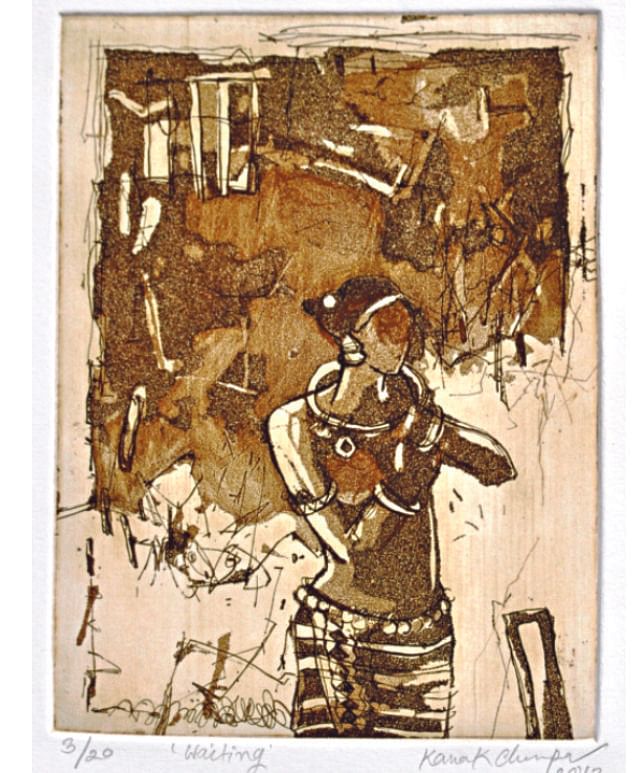 A print by Kanak Chanpa Chakma.
At the exhibition, Kuhu Plamondon's etchings denote the lives of hardworking rural people. Figures, particularly female, get the focus in her works. Naima's etching shows a woman in a contemplative mood; the image conveys a sense of tranquility. Kanak Chanpa Chakma's prints feature indigenous women and their daily chores. Afrozaa Jamil Konka's works are of a cheerful tone and vibrant in colours that emit an energetic vibe.
The exhibition is supported by Cosmos Group and CosmosAtelier71 Printmaking Studio.
The exhibition will continue till March 12.