Rising high, illegally
Jubo League leader cared least about Rajuk approval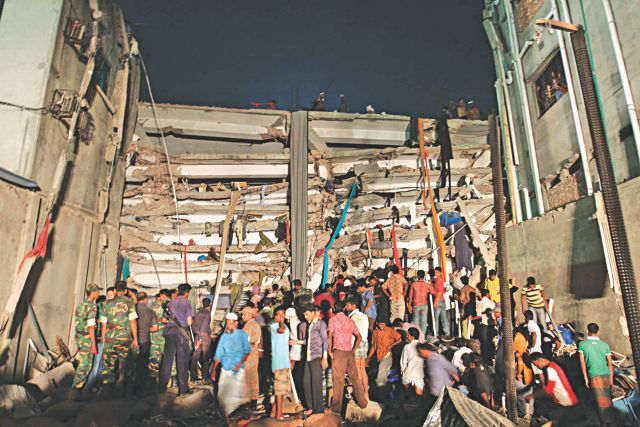 Rescuers continue their efforts early today at the collapsed Rana Plaza. The building came down yesterday and its floors are seen stacked on top of each other. Photo: Anisur Rahman
The collapsed nine-storey building in Savar never had any approval from Rajuk while supervision during its intermittent construction to raise more and more floors was virtually absent.
The vertical expansion of the structure on a floor space of 24,416 square feet (around 56 decimal of land) had taken place in several phases over the last five years.
According to locals, the construction and the recent erection of the ninth floor spawned a rumour in the area questioning the quality of the building.
The building had two entrances. The back one was solely used by hundreds of workers of five garment factories on the upper floors while people coming to markets on the ground and first floor used the front access on the Dhaka-Aricha highway.
Rana Plaza was owned by Awami League youth wing Jubo League's Savar town unit senior joint convener Md Sohel Rana. Locals said none had dared to challenge the construction of the building succumbing to the young politician's influence in the area.
Officials of Savar municipality said the building owner had placed a layout plan in 2008, which they approved. The municipality has a small wing comprising of two engineers for approving building layout plans.
Local homeowners said most of the buildings in Savar were authorised by this wing. The process is simple and quick with speed money.
Sub-Assistant Engineer Alam Mia of Savar municipality said their responsibility had laid only in approving the layout plan for the 10-storey commercial building, not in supervising the construction.
"It was up to the site engineer or architects to ensure quality on the construction," he added.
Alam Mia then checked the approved layout and found out the name of architect ATM Masud Reza, who had signed the layout design approval application on behalf of the owner.
Despite repeated attempts architect Masud Reza could not be reached over the phone for his comment.
Meanwhile, Chairman of Rajdhani Unnayan Kartripakkha (Rajuk) Nurul Huda said an area of 1,528 square-kilometres around Dhaka falls under direct jurisdiction of Rajuk.
"No municipality within this area has the authority to permit any building construction," he said, adding, "The owner of Rana Plaza did not obtain Rajuk approval, although it was mandatory."
The Rajuk chairman said they did not have any office in municipalities like Savar, Narayanganj and Gazipur, and that was why they could not take any action.
Rajuk yesterday formed a three-member committee to find out the reasons behind the collapse, said Nurul Huda.
The committee headed by Rajuk Director (Development Control) Golam Mostofa has been asked to submit its report within the next seven days.
Chief Engineer of Rajuk, Emdadul Islam, said the owner of the building had not followed the Bangladesh National Building Code. Besides, there was no supervision by any architect or engineer during the construction work which, according to him, was the main reason for the collapse.