Govt plotting to create communal division: BNP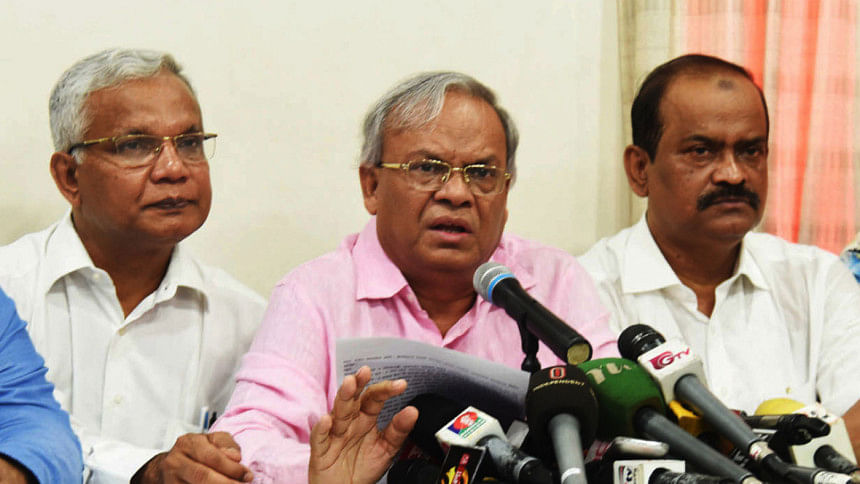 BNP today alleged that the government is hatching a conspiracy to create communal division in the country in a bid to catch fish in troubled water ahead of the upcoming general election slated to be held at the end of December.
"Awami League General Secretary Obaidul Quader recently said that a communal plot is being hatched in the name of national unity and the situation will be horrible if BNP comes to power. It is nothing but a plot to create a communal division," BNP spokesperson Rizvi Ahmed said.
Speaking at a press conference at the party's Naya Paltan central office in Dhaka, Rizvi, also senior joint secretary general of BNP, said minority groups become the worst victims of repression when Awami League comes to power.
Even their religious festivities come under attacks by the Awami League men, Rizvi alleged, citing several instances in this regard.
Referring to Prime Minister Sheikh Hasina's recent comment that no one can halt the upcoming general election, Rizvi said the time of unseating of the government has already got momentum.
"Our movement for holding the next general election in a free, fair and inclusive manner and restoration of the destroyed democracy in the country will take a harsher turn if the government wants to ignore the demand of the mass people," he warned.
Rizvi said over 400 leaders and activists of BNP were arrested from different parts of the country in the last two or three days when they were engaged in holding programmes on the occasion of the party's 40th founding anniversary.
The government is suffering from a phobia of its immediate unseating and thus it has started a spree of arrests of the opposition party men by implicating them with politically motivated cases, the BNP leader added.