Snatched pistol found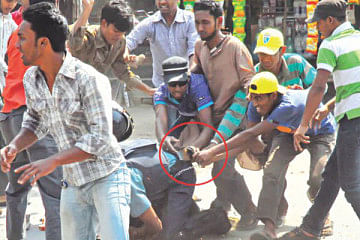 Islami Chhatra Shibir men try to get firearm chained to the waist of a policeman during an attack on law enforcers at Shalbagan in Rajshahi city. Photo: Star/Focus Bangla
The pistol, which was snatched from a policeman during a pre-planned attack on law enforcers by Islami Chhatra Shibir men in Rajshahi, has been recovered from Shalbagan in the city.
Informed by locals, Boalia police recovered the pistol which was lying abandoned near Rizia Community Centre around 7:15pm Monday, said Ziaur Rahman, officer-in-charge of Boalia Police Station.
Four policemen were injured and the pistol, a walkie-talkie and a safety helmet were snatched on Monday when Shibir men unleashed a pre-planned attack on the law enforcers at Shalbagan.
Meanwhile, police arrested a Shibir activist, Sohan, along with a sharp weapon in Sheeroil Colony area around 3:00am Tuesday after a case was filed with Boalia Police Station in connection with the attack, the OC said.
Nasirul Islam, a sub-inspector of with Boalia Police Station, filed the case against 25 Jamaat-e-Islami and Shibir men and at least 30 unknown persons around 8:00pm, he said.
The case was filed for assaulting police and using explosives during the attack, the OC added.