Not over yet
Frantic rescue goes on 4 days into collapse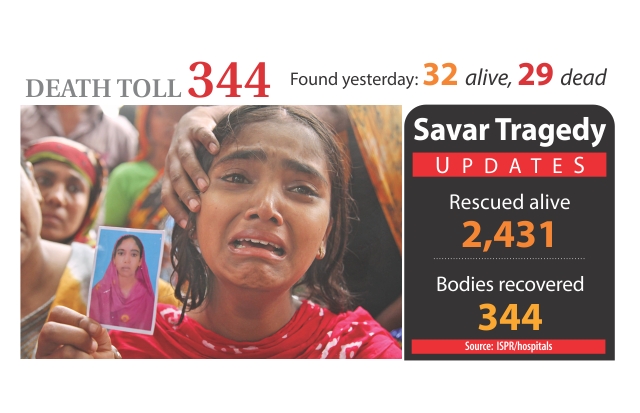 For four days, Poppy has been waiting with a photo of her mother Sonali Begum who worked in one of the garment factories in Rana Plaza. At Adhar Chandra High School, she runs towards ambulances every time they bring in a body. Her mother-in-law died in the building collapse and everyone with her has gone to Dinajpur for the funeral but Poppy in tears waits for her mother. Photo: Amran Hossain
As frantic efforts continue to rescue more survivors trapped inside the collapsed building in Savar, unnumbered decomposed corpses remain sandwiched between concrete slabs and strewn in the inaccessible corners of bottom floors.
The rescuers comprising firefighters, untrained local volunteers, army men and others are preparing to remove massive piles of rubble with heavy machinery once they decide there is no single survivor left.
Strong stench of those ill-fated garment workers has made the air unbearably foul all around the disaster site at Savar.
Rana Plaza, the nine-storey building housing half a dozen readymade garment factories on its top floors, caved in on Wednesday after factory owners forced several thousand workers to come to work despite the cracks developed in its pillars the previous day.
The relentless rescuers, mostly untrained civil people, pulled out another 32 survivors and 29 bodies from the wreckage till 2:00am today, dangerously venturing into the second, third and fourth floors boring a vertical tunnel from the top.
About 2,431 people have been rescued alive so far.
The number of bodies recovered stands at 344, of which 295 have been handed over to the relatives. Till last night, 46 bodies were kept at Dhaka Medical College morgue while the rest at Savar Adhar Chandra High School.
However, earlier yesterday evening, the police control room at Savar had put the number of the bodies recovered at 353.
The building with each floor having an area of around 24,500 square feet collapsed on several thousand workers apparently due to poor construction without approval of competent authorities.
Bharat Chandra Biswas, a deputy director of Fire Service and Civil Defence (FSCD), said the team he led rescued three trapped persons alive almost unhurt after three days yesterday morning.
"But the chance for finding survivors after today [yesterday] will be very thin," he said.
A number of firemen and voluntary rescuers yesterday were seen falling sick after having entered into the deep wreckage due to stomach-turning stench of the decomposed bodies, heat and suffocation.
"In any case, we will continue the search and rescue efforts for the survivors until evening today (yesterday), as there are still many people trapped under the rubble," said Brigadier General Ali Ahmed Khan, director general of FSCD, talking to The Daily Star.
Even, he said, a sudden rain around 1:00pm could not stop the rescue operation.
Lt Col Md Moin Uddin, commanding officer of the third Engineering Battalion of the Savar Cantonment, said, "We have the required equipment for the removal of rubble and positioned three high-power cranes around the disaster site. We are just waiting for the orders."
They have hired three cranes -- one from Orion Group having 160 tonnes of lifting capacity, one each with 60-tonne capacity from Beximco and Energypac.
Moin said there are adequate number dumpers outsourced from various public and private organisations and two dumping yards on the bank of Bangshi have been found.
RESCUE SCENE
Some crushed bodies could easily be visible.
The rescuers who were boring holes and going deep in search for survivors were coming up with horrible stories. They said they could not recover many bodies as those are badly crushed under machines and concrete slabs, and badly decomposed.
"We are happy to rescue some persons alive. But at the same time, we can't believe that so many people perished under the debris," said Kamrul Islam, a rickshaw-puller from Kamrangirchar.
"With a torch I entered into a hole and found five bodies -- three females and two males -- crushed under machinery and rotting. They cannot be recovered intact. They would have to be cut. So I left those like that."
Around 2:00pm, a group of rescuers were seen trying to pull out bodies from a hole made right on the middle of the collapsed building. But they abandoned the effort around 3:00pm, seeing no hope for survivors.
"At least 50-60 bodies, mostly women, are trapped on different floors," said Bellal, a garment worker from Savar old EPZ, coming out of the hole. Bellal and some others made several attempts since morning but failed to pull out any survivor or body.
Jahangir Kabir Nanak, state minister for LGRD and cooperatives, told the media around 11:30pm that the authorities will decide the next course of action around 6:00am today, making a fresh inspection of the site.