Gallamari Mass Grave: a forgotten testament to atrocities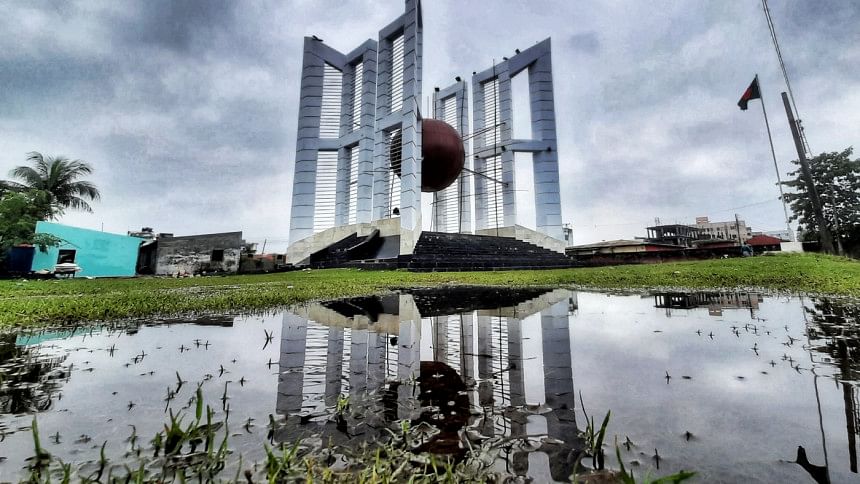 The Pakistan army brutally killed countless freedom fighters and pro-liberation people of the region at Gallamari 51 years ago.
Situated 3 km away from Khulna city, Gallamari was quite secluded, and during that time there was no Khulna-Satkhira road in its place. 
During the war, a one-storied radio-station existed there, which has been replaced by a two-storied administrative building of Khulna University at present. The building was a centre for genocide and torture. Innocent civilians were abducted from different places and brought to this building, where they were tortured until death. Their bodies were thrown out in the Mayur and Bhairab rivers afterwards.
According to sources, around 15,000 people were killed at Gallamari. The place was filled with human corpses, skulls and bones.
Sk Quamaruzzaman Tuku (79), commander of Mujib Bahini of greater Khulna during the Liberation War, said, during that period Gallamari was an isolated place, covered in bushes and plants.
Collaborators of the occupation army in the region used to trick and lure the people of Bagerhat, Pirojpur, Jhalokathi, Barishal, Gopalganj and Faridpur districts saying that this was the easiest and safest route to reach India.
They especially targeted Hindu communities of Khulna and Barishal divisions, he said. 
"While fleeing, when the locals arrived at the areas next to Rupsha and Bhairab rivers, the collaborators picked them up and slaughtered them in Radio Center area and dumped the bodies in Forest Ghat, Customs Ghat and the Gallamari areas.
Jamaat leader AKM Yusuf headed the Razakar camp and the peace committee in Khulna then.
Bidhan Golder, freedom fighter and a retired school teacher of Baguladanga at Batiaghata upazila, said, even three to five days before December 17, 1971 (when Khulna was freed), many decomposed bodies were found there.
Shanti Lata, daughter of Abinash Saha of Damodar Saha Para village under Pultala upazila, gathered her college friends to join the war. Receiving the news, local razakars -- Nowsher Sheikh, Zahur Sheikh, Sohrab Mollah, Hamizuddin Sheikh, Safi Ghazi, Asmato Ghazi, Alahi Sana and Moni Sana raped Lata, killed and dumped her body at Gallamari.
After Khulna city's liberation, almost five truckloads of human skulls and bones were found from Gallamari canal and its vicinity, said local freedom fighters
NEGLECTED MEMORIAL
In 1999, the district administration took the initiative to build "Khulna Gallamari Independence Memorial". An open stage was also built next to the memorial.
In 2007, the district council took an initiative to build a modern memorial there, for which, three acres of khas land was acquired. The construction work began on December 31, 2008.
Although the main monument was inaugurated in 2011, the rest of the construction work remained halted due to lack of funds.
Visiting the Gallamari Memorial area recently, this correspondent saw that the ground around the foot of the main pillar had been dug up. There was no description of the memorial anywhere and no boundary walls around the monument. 
Locals said as the whole area remained unprotected, it had turned into a hub for addicts.
They requested the authorities to preserve the area properly so that the future generations can learn about its significance.