1971 killing ground replaced by a shopping mall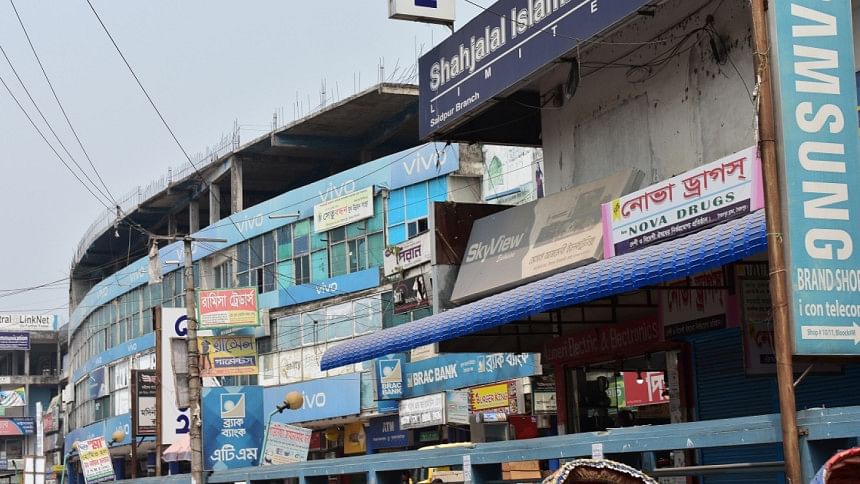 Tatia Jute Press, one of the biggest mass killing grounds in Saidpur no longer exists. Instead, a shopping mall – "Saidpur Plaza" – stands in its place, obliterating the memories of atrocities that the innocent people suffered during the 1971 Liberation War.
The collaborators of the occupation army killed 200 innocent Bangalees at the directive of the Pakistan army just there. Of the 200, 100 were killed on April 12.
According to the description of locals and history books on the Liberation War, Saidpur locals were confined to their houses after Bangabandhu's March 7 speech, as collaborators equipped with arms supplied from cantonment created a reign of terror.
On the black night of March 25, 1971, many armed Urdu speaking people set up camps at every exit point preventing the locals from escaping.
On April 12, news came to Saidpur that many of them and Pakistani soldiers were killed by freedom fighters in Dinajpur.
In rage, a violent mob forcibly entered houses at Tatia lane -- where the Tatia Jute Press staff lived and indiscriminately stabbed whoever came to sight. Many young girls were kidnapped and taken to cantonment.
Ranjit Kumar Ghosh (70) was then a young man of 19. He narrowly escaped by running away from the spot. But his freedom meant so little when he came back and found three of his family members dead.
Describing his gruesome experience, he said, "With swords in hand, the killers entered our house , terming my father 'Gaddar' (traitor) and kicked him."
"They dragged my father, mother and my infant brother to the jute press and repeatedly stabbed them to death," he said, as tears rolled down his cheeks.
Rafiqul Islam Babu (58), president of Saidpur municipal unit of Awami League, had lost his elder brother during the genocide.
"They targeted him as he had hoisted the swadhin bangla flag on our rooftop on March 23. Although he was in hiding, they found him and killed him," he said.
"Nilphamari 1971 Gono Hatta O Nirjaton" written by Ahmed Sharif, "Muktijuddhe Rongopur" (ancient name of Rangpur) compiled by Rangopur Gobeshona Parishad and "Nilphamarir Itihash" published by Bangla Academy -- all have brief descriptions on Tatia press killing ground.
Hafizur Rahman Hafiz, head of editorial board of Rongopur Gobeshona Parishad, said the jute ministry in the 2001-2006 period, sold Tatia Jute Press to a party in Dhaka which demolished the killing ground, despite mass protest.
This correspondent observed that the market authorities didn't demolish a tiny fraction of the jute press on 4-5 decimal land out of the total 6 acres (600 decimal) to use it as an office.
Expressing regret, historian Zahangir Alam Sarker said, "A shopping mall stands on the bodies of martyrs who laid down their lives for the country's independence and we couldn't preserve it. The killing ground must be preserved."