Nation wears Baishakh colours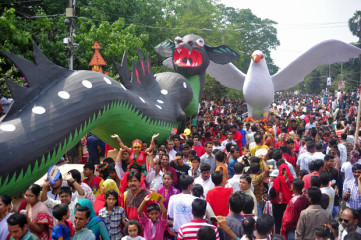 Demanding Razakar free Bangladesh, the students of the Institute of Fine Arts of Dhaka University bring out a colourful procession, known as Mongol Shobhajatra, in the capital to celebrate Pahela Baishakh. Photo: Star/Firoz Ahmed.
The nation celebrated the Pahela Baishakh, its biggest and most colourful festival to mark the first day of the Bangla year, on Sunday with its traditional fanfare and festivity.
Shedding the preceding year's glooms to oblivion, people from all walks of life began to welcome the Bangla year 1420 as soon as the sun rises on the horizon.
Thousands turned out on the streets, parks and open spaces since morning as the day is a public holiday.
Many ate traditional "panta bhat" (watered rice) with fried hilsa fish, lentil, green chilli and onion at home, restaurants and fairs.
Attired in traditional clothes, women clad in saris and men punjabi, they thronged venues of cultural programmes and makeshift fairs which celebrate Bangla culture, entertainment, art and food and featured live music and performances in the capital and elsewhere in the country.
Many were seen their cheeks and parts of their body to paint with the country's map and other emblems, to celebrate the occasion aiming to add a special colour.
The biggest venue of the celebration was set at the Ramna Batamul, where programmes started with a Chhayanaut performance of Rabindranath Tagore's song "Esho he Baishakh".
Different cultural organisations and popular bands were seen performing at the venue since the morning and more people are pouring in.
Tight security measures were taken in and around the park.
The traditional colourful procession, known as Mongol Shobhajatra, organised by the students of the Institute of Fine Arts of Dhaka University, also began from its premises around 9:00am.
Braving the scorching heat, people patiently nudges forward in massive crowds into the fairs at Ramna Park, Suhrawardy Udyan, Central Shaheed Minar, Dhaka University, Shahbagh and Dhanmondi Lake in the capital.
Dhanmondi, Jatiya Sangsad Bhaban and other city areas were also seen swarming with people from early morning.
Scores of cultural shows organised by different organisations kept the Dhaka University area lively. Visitors were seen buying traditional food, masks and toys at the fairs.
The state-owned BTV, Bangladesh Betar (radio), and private television channels broadcast special programmes and the newspapers brought out special supplements marking the day.
Mughal Emperor Akbar introduced the tradition of celebrating the Bangla New Year in relation to closing of the annual tax collection. Traditionally, traders and shopkeepers open "halkhata" (new account register) on the day and serve sweetmeats to clients.
Slowly this non-communal festival became an integral part of the Bangalee culture with people irrespective of their religion, sect and creed celebrating the day as one nation.