. Star literature eid special issue, 2018
The Marriage Proposal: A True Story
When my son turned into a marriageable age, all our friends, relatives and acquaintances started asking the inevitable questions, "When will he get married?"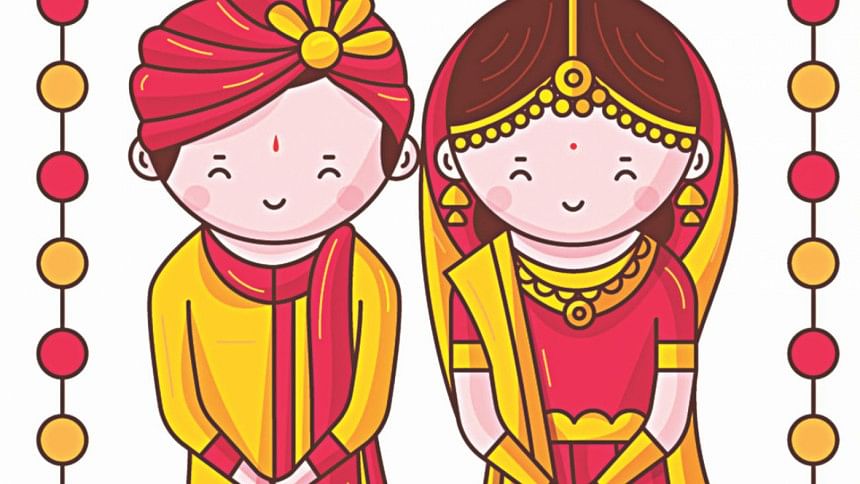 When my son turned into a marriageable age, all our friends, relatives and acquaintances started asking the inevitable questions, "When will he get married?" "Doesn't he have a girlfriend?" "Living in the US for so long hasn't he picked up any 'gori ladki' yet?" "Do you still believe in arranged marriages in the twenty first century?" When I answered in the negative, a colleague commented that probably he was too scared of his over-dominating mother to choose a bride for himself. I could not make them understand that one actually needed to socialize and also sometimes indulge in small talk to pick up a suitable girl. They didn't just fall on your lap like a ripe mango.  After all, sitting in the university research laboratory day in and out, one couldn't get married to its computers! Also, with someone who had such an aversion for the Indian Student's Association, finding a desi girl was even more remote a possibility.
After a couple of years of coaxing and cajoling one fine day he asked us to look for a suitable bride for him. She can be a freelancer, an artist, a homemaker, or anything else, but not a computer engineer or a dumb IT professional who would spend fourteen hours in front of a computer. Also she should be able to take care of herself and not nag him all the time. And so our ordeal began.
--"Don't worry, just put in an advertisement in the matrimonial column of the newspaper and you'll be flooded with proposals," a veteran sister-in-law advised me. But unfortunately in our case, the response was less than satisfactory. Probably parents were unwilling to get their daughters married to an unknown groom living thousands of miles away, what with the horror stories of wife beating and abuse one gets to hear frequently. For some willing parents who contacted us, the first question all of them asked was "What are your son's plans? When is he coming back to India?" Upon hearing my husband state clearly that chances of his return to Kolkata were bleak, they just excused themselves. They were not willing to send their ladli daughters to work and slog in a distant land when Bangalore , Hyderabad or Pune were full of young professionals with six-digit salaries.
When the newspapers failed to give us a suitable match, the next step was to go to online marriage portals and soon I found myself spending endless hours logged onto the Bharat matrimony website. I shortlisted a few suitable matches and forwarded them to my son but there was no positive response from his side. Either he was too busy in his lab or else he gave the excuse that it was not possible for him to choose somebody
by just looking  a photograph and brief bio-data or even speaking long-distance for a couple of times. So, as days passed by, worry and hypertension started taking their toll upon us. Oh! Why didn't he choose someone of his liking and put an end to this ordeal?
Amidst all this uncertainty and frustration and lost hopes, suddenly one day one of my husband's college mates came up with a marriage proposal. He seemed god sent. The prospective bride was the daughter of one of his classmates and he thought that since he knew both the families it would make a wonderful match. The two families met for a couple of times and after an initial approval we requested the girl's family to wait till our son came home the next year. After all, his was the final decision.
About six months later, one day my son called to say that he had to renew his visa. Usually people went outside the country either to Canada or Mexico.
--"Why don't you come home, though it's only for a couple of days," I requested him.
So he arrived one late Sunday night and said that he would again leave by Saturday evening so that he could attend office on Monday morning. That was exactly five days left in between. We had to expedite things. On Monday morning he went to the US Embassy for his visa interview. Late in the evening, armed with our matchmaking friend, we went to the girl's house. She had just come home from office. The boy and the girl were introduced to each other and asked to go to the adjacent room to talk freely. In the meantime two sets of parents and the matchmaker friend tried to while away the time in small talk.
On our drive back home I meekly asked my son about the girl. Was she OK? Did he approve her?
--"Oh, we just spoke about our love for music and movies. Nothing else. We did not speak anything about marriage."
On Tuesday evening upon our coaxing, he decided to meet her once more at the South City Mall which was pretty close to their house. They met, had coffee and watched a movie together.
On Wednesday morning, the anxious mother of the girl called me. "Did you son say anything?"
"No," I replied. "What did your daughter say?"
"She said nothing. I cannot understand anything and am worried."
I was worried too but didn't express it in such words.
On Thursday evening we literally begged the boy and the girl to meet again. This time it was at the City Centre in Salt Lake. As both of them left walking towards City Centre I started praying to God. Please do something my Lord! My husband came home from office and the first thing he asked was whether 'my' son had any positive news to deliver. He was equally tensed and anxious too.
--"Why don't you ask yourself? After all you too have your responsibilities as a father."
It was past ten o'clock and there was no sign of their return. I tried to call my son but his mobile was switched off. What was going on? Where had they gone? My anxiety grew by leaps and bounds. After all, the girl had to be sent back safely home. It was a big responsibility. My son returned after eleven at night. Where was Mou?
--"Oh, I've just seen her off in a taxi."
--"O my god!Going home alone in a taxi so late at night? What will her parents think? We should have dropped her home in our car." I was more worried. What with the eve-teasing, highjacking and other kinds of horror stories that we read in the newspapers every morning, my tension increased.
--"Come on Ma, she's a big girl. I'm pretty sure she can take care of herself."
I sat speechless for a while. When I felt my adrenalin cool off a little, I meekly asked him what happened. I also told him how Baba was worried too.
--"The food court was so crowded that we couldn't find a place to sit. As we were walking out a man came and offered us two extra movie tickets at INOX. I thought at least that would give us a place to sit quietly for a couple of hours. So we went and watched PrakashJha's Rajneeti."
--"That means you didn't find much time to talk to each other."
-- "Ya, not really. Just a few minutes or so."
My husband couldn't take it anymore.
--"Now tell me clearly, do you think you can marry this girl?Just say yes or no."
--"Come on, Baba. How can I decide so soon?"
--"What do you mean by 'so soon'?  This is the third day you are meeting her. If I could see your mother just once at her house and then decide to marry her, why can't you decide even after three days?"
I had never seen such an outburst in my son before.
--"Come on, Baba. Those were different times. Did you think that just on the third day of meeting a girl I will kneel down in front of her with a bunch of roses and propose to her? It's ridiculous, I must say."
--"Why not? Why is it taking so long for you to decide? Just say 'yes' or 'no'. You are leaving day after tomorrow and all of us are worried and tense."
Both the men left the drawing room with frayed tempers and went to bed.
Friday morning brought in some bad news. The visa which usually arrives by courier on the next day did not arrive. Upon enquiry my son was informed that it would be delayed indefinitely as a background check had to be performed. They had to be sure that someone working as a research scientist was not surreptitiously probing into nuclear science or other taboo fields. It could take at least a week to fifteen days. After postponing his plane ticket, my son came quietly and told me that he had no objections to this proposal. We needed to know the opinion of the girl as well. Was she agreeable too? So I called up her mother and broke the news. What was her daughter's opinion?
--"I asked her last night and she said how does the question of marriage arise when he has not proposed to her at all. "
--"How do I know if he is willing?" she had asked her mother.
Now it was the lady's turn to be tense.
--"Tell me what exactly he told you before parting," her cross-examination was as serious as a professional lawyer.
--"Oh, while boarding the taxi he just casually asked me whether I would be able to live in the US or Canada so far away from home."
--"Well that's a positive proposal, can't you see?" the mother beamed.
On Saturday evening the extended members of the two families sat down with the latest Bengali almanac to fix the final date for the marriage to be held next January. We could not zero in on one particular date as a lot depended upon the availability of marriage halls during that time. That was the first priority.
The US embassy took three long weeks to finally clear my son's visa. The two things he went on doing during that time was to keep postponing his plane ticket and simultaneously date the girl. Finally, when he left for the US, the note in my son's Facebook stated, "I earnestly thank Uncle Sam for fixing up my marriage. Hip, hip, hurray!"
Somdatta Mandal is Professor and Head, Department of English and Other Modern European Languages, Visva-Bharati.