Moot court competition held at LCLS(S)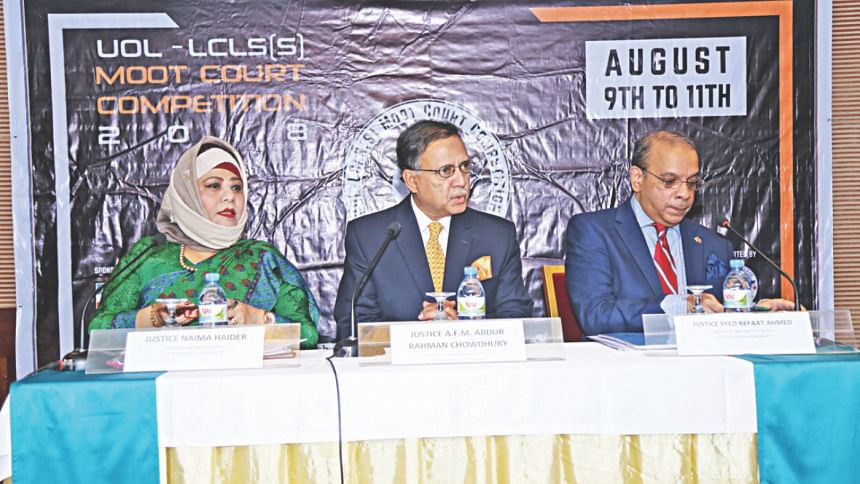 London College of Legal Studies (South) Debate and Mooting Club organised the national UOL-LCLS (S) Moot Court Competition, on the subject matter of the Protection of Homosexual as a Refugee Claim, for the law students, on 9th – 11th August, 2018.  The competition was jointly organised by University of London and London College of Legal Studies (South) with an objective to enhance research and presentation skills, building confidence and also helping the participants gain practical knowledge. The law students participated from different universities across Bangladesh in this competition.
A workshop for the law students and interested ones was held before the competition with a view to helping them get prepared.  The opening ceremony was inaugurated by Barrister Khaled Hamid Chowdhury, Head of Laws, LCLS (S). On 9th and 10th August the preliminary rounds started with a battle of arguments taking place among the teams in order to make their ways to the quarter finals. Following the quarter finals, top four teams qualified for the semi-final round. The teams were from North South University, East West University and two teams were from LCLS (S). After the semi-final round, the top two teams from LCLS (S) headed to the final which was arranged in Six Season Hotel, Gulshan. Justice Naima Haider, Justice AFM Abdur Rahman Chowdhury and Justice Refaat Ahmed adjudicated the final round. One of the team from LCLS(S) appeared to be the champion while the other team was declared runners-up.
Barrister Rabeya Bhuiyaan was the special guest of the closing ceremony. She praised the moot proposition and also encouraged the students to participate in moot competitions. Barrister Khaled Hamid Chowdhury, Barrister Rabeya Bhuiya along with the adjudicators gave away the crests and prize money to the champion and runner-up teams. Apart from the champion and the runner-up teams, Sifat Rahber Khan won the best speaker award while North South University won the best memorial award. Besides, all the participants were participation crests. 
The event was covered by Marzia Hasnat Laz, student of law, LCLS (South).