Interview with Asma Jahangir
Internationally renowned Pakistani human rights activist and lawyer Asma Jahangir talks to Hasan Zahid Tusher, Senior Reporter, The Daily Star, after receiving Friends of Liberation War Honour conferred upon her late father by the Bangladesh government, at a function on March 24 , 2013. Her father, Malik Ghulam Jilani, was arrested and imprisoned for denouncing Pakistan military's atrocities and genocide in Bangladesh in 1971.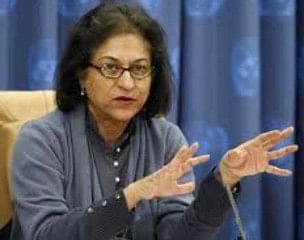 What are your feelings after receiving the award on behalf of your father? How do you see our government's initiative of honouring our foreign friends?
I felt very emotional. I wish he had been here…it's not just the award, rather a feeling of being together. I think it's very magnanimous and a very positive idea.
Can you recall your memories of 1971?
My father was treated as a traitor and we were treated as children of a traitor. Now I take pride in the fact that being a traitor means to stand up for a good cause and for the right cause. My father was arrested. I feel very proud that he went to jail because he did the right thing.
Will you face any difficulty in your country?
I don't care at all. I don't care about the opinion of people who are bigoted. I live my life with freedom, integrity and honesty and not according to people who believe in atrocities and hate.
Isn't it time for Pakistan to say mea culpa for the atrocities of 1971?
I think the Pakistan government is afraid of our military. Otherwise politicians have a way of addressing the matter. I can apologise to you today and repeat the same act tomorrow. What is really important is to ensure that something like this [genocide and atrocities of 1971] does not happen again.
Do you have any message for the people of Bangladesh?  
I hope that we can put the past behind us, learn lesson from it and go forward together for a prosperous South Asia.
How do you see the next parliamentary election in Pakistan?
I hope it will take place. There will be a lot of violence during election, as people get emotionally very heated up. Elections, unfortunately, do bring tensions as well. Whatever, this is a very positive step for Pakistan that it is heading toward election.
I would hope this election will be more free and fair than the last because we have a very well respected chief election commissioner. Nevertheless, the election commission has been cleaned up in the last five years. So we hope that it will be better than the previous election.
How do you see the caretaker government (CTG) formed for the first time in Pakistan?
There is a debate whether there should be a CTG or not. Because the process of selection of the CTG has not been done in a happy mood, it has created a lot of disillusionment. The government will have no legitimacy to speak for the people as they do not represent the people. So, how much can they do, what will be their parameter of workall -- these things are up in the air.
How will the PPP and Muslim League (Newaz) (MLN) fare in the election?
My hunches are that the PPP will lose slightly from its previous position and MLN will do a little better. Because there will be more voters' turnout in the election, it will go in favour of Imran Khan. But I don't think it will be a three-way fight. It'll be a two-way contest.
What is the future of Imran Khan? Will he be a major factor?
Imran Khan could get enough seats to create a deadlock. I don't think he would form the next government but he will get enough seats to play a kingmaker role. His agenda is only to take advantage of the bad governance of both the political parties; he does not have a positive agenda himself.
What about Pervez Musharraf?
He has returned home, that's fine. He will make a few waves. But I don't think he has support in the country. His party is in disarray. People have not forgotten the 10 years of Pervez Musharraf which was disastrous for Baluchistan for example. Secondly, all the policies that he put in place are beginning to show the signs now. Those policies did not help the country either politically or economically.
What will Pakistan get through the elections? Do you foresee any dangers for Pakistan?
Through this election we would cement further the democratic transition. I believe that there are many hard decisions that the government has to take, and so far Pakistan politicians have not been able to take it because there is still heavy influence of the establishment [Military]. For example, the relationship with Bangladesh can be usually advanced and improved if there is a change in the foreign policy. But it is kept hostage by the military dictatorship even now. That is why we are hurting ourselves. If we don't have a policy of openness in the region we will be losing out both economically and socially.
What will be the military's role during election?
They don't have any constitutional role during the election apart from law and order. But they will do the maneuvering during election, and after the election they will have a major role as they have always had in putting the coalition together, in taking 13 Federally Administered Tribal Areas (FATA) seats and most of the independent seats, under their wing. So they will have substantial amount of seats, which will be given as a gift to whoever listens to them. Until now they haven't abdicated their role as the kingmaker. It's not easy to take power away from the military. Either they play from behind the scene or they come in the front.
You were nominated to the post of chief of CTG by MLN supported by PPP.  Why did you not accept it?
It was in the very early stages that MLN proposed my name and the PPP had no objection. But it was not done formally. Secondly, it's too much of a challenge to take on a caretaker responsibility when Imran Khan's party had certain reservation. I think given that situation it would not have been fair to accept any position.
There are several crises, first of all the spate of violence that goes on everyday. It would be very difficult for the CTG to order operation or mass scale arrest. Secondly, there are some no go areas in Pakistan. How to tackle those? Thirdly, we want very much that the nationalists in Baluchistan should take part in the election. Some of them have refused to do so, and they are the ones who are more militant. They have threatened to prevent the elections from going ahead, and that needs to be tackled also. Then we have an economic crisis on our hands. Burning of Christian homes and terrorist attacks are happening almost on a weekly basis, and these need to be addressed by those who have confidence in the people.
What are your views on fundamentalism in Pakistan?
Militancy is a very serious problem for Pakistan, and not only that, bigotry is also a big problem for us. It has hampered our growth. It spreads fear and intimidation in the society. It has cut us away from the rest of the civilised world. I think that we have enormous challenges as Pakistan has become an epicenter of Islamic militancy. There are parts in the country where the army cannot go.
How did fundamentalism find roots in Pakistan in the first place? How deep is it?
It has deep roots. It had been openly and energetically supported by Gen. Zia's government in Pakistan and then sustained by state patronisation thereafter. It finds itself in a position to get rid of everything. They have impunity. They have protection from the state in many cases and they have been able to reorganise themselves and build wider network.
How have you combated fundamentalism so far?
More and more people are now debating that this is destroying our society. Public opinion has changed from support to the Taliban to resentment against them. Obviously, people cannot give them moral support. The army and the police are fighting the militants when they attack them. Besides, there are also talks with the militants.
What roles are the civil society, media and the political parties playing in this?
The political parties are now beginning to think that they have to take a collective position. But they are afraid. The civil society naturally wants no impunity for the militants. But at the same time, people who belong to the human rights group feel that even militants should have their due rights and due process, and that people cannot simply be accused of militancy and treated outside of the law or tortured or made to disappear.
The media has been divided on the issue. There is a section of the media that justifies militancy on the grounds that there are drone attacks. There is another section of the media that fully denounces all kinds of militancy. They are constantly addressing the issue of religious intolerance.
What part are the military and the intelligence agencies playing in this effort?
What I read from newspapers in Pakistan is that there is some nexus, and they have a policy of "The Good Talibans and the Bad Talibans." The ones that attack the military, they will obviously have nothing to do with them and attack them back. But the ones that do not attack our military, they are quite tolerant towards them...but we are not sure whether it is being done as part of the military policy or some elements in the intelligence agencies are doing it on their own.
Is there any lesson for Bangladesh as regards to tackling fundamentalism?
There can be polarisation, there can be differences and there should be criticism, but the political leadership should forge consensus on some important issues like this one. There has to be consensus on the issue that in the name of religion you cannot kill people. And secondly, there must be an end to the culture of impunity against those who kill and plunder, hurt and threaten other people in the name of religion. The third is that the military should stay away from politics. And that's the biggest lesson that Bangladesh can learn from Pakistan.
How do you see the use of religion in politics in Pakistan and Bangladesh?
There are Muslims but I don't think that the state has to tell them to become Muslims. Everyone should decide for himself or herself and he or she is accountable to the Almighty Allah rather than to the corrupt politicians, or corrupt religious leaderships, whether he or she is a good Muslim or bad Muslim. I think  in that way, they dilute and divide politics and make politics hostage to religiosity, which is not healthy for any society. When there is nothing to offer to the people, they exploit religion.
How can this be tackled?  
This issue has to be addressed with patience and more candidly, rather than in a hypocritical manner. Banning religious organisations or political parties will be counterproductive. Dialogue must start in Bangladesh between the various groups.
How do you see events developing in Afghanistan after the US forces have withdrawn?
I don't think there will be a complete withdrawal. There will be some troops still stationed in Afghanistan who will be operating there. Naturally, there will be violence and it will escalate and every player will start to play its part. But it would be very difficult for Afghanistan to revert to the days of the Taliban rule.
How would it impact Pakistan?
It [withdrawal] would have a huge impact on Pakistan. Because the refugees will start to come over, our back will be broken economically and there will be more attacks within Pakistan from Afghanistan and North Waziristan. Now the Talibans and Pakistani Talibans have bigger network and links. We will be have problems if we don't watch out.
How do you see Iran? What is Pakistan's position on Iran?
Our government has signed a MoU with Iran on the gas pipeline despite reservation from the US. We should do whatever is in the interest of Pakistan. We cannot exist on the interest of the US.
Iran does not have any democracy in the real sense, and people are much suppressed there. We know that there are a number of political prisoners there. We know how women are treated there, there is no freedom of speech, and their electoral processes are by law flawed. As a human rights activist I won't say that the Iranian government is a great government. On the contrary, Iran is our neighbour and we want to see the Iranian people prosper and live a free life. We would not like any external forces to threaten them either physically or otherwise.
How do you see Pakistan-US relations?
When someone says it's a bad marriage I agree. We can't leave them, we can't live with them.
There is a very shrill voice against the US. The right wing is against the US. But the human rights people are also very much against the US as it is the one that introduced anti-human rights practices like disappearances after 9/11. But we have to accept the fact that it is the lone superpower in the world. As a country we have to deal with them, we can't just wish them away.