5 idols vandalised in Natore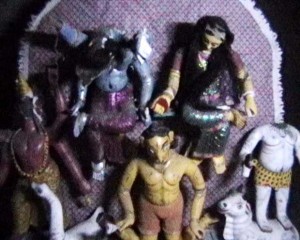 Unknown miscreants vandalise five idols of Hindu gods at a temple in Singra upazila of Natore early Wednesday. Photo: STAR
Unknown miscreants vandalised five idols of Hindu gods at a temple in Singra upazila of Natore early Wednesday.
The vandals broke into the temple at Dwipakuria village anytime after midnight and wrecked the idols, reports our Natore correspondent quoting Fayejur Rahman, officer-in-charge of Singra Police Station.
Ajit Kumar, director of the temple, filed a case with Singra Police Station, the OC said.
Miscreants are continuing vandalising idols of Hindu gods across the country as part of attacks on minority communities.