Abdul Matin
History's Chronicler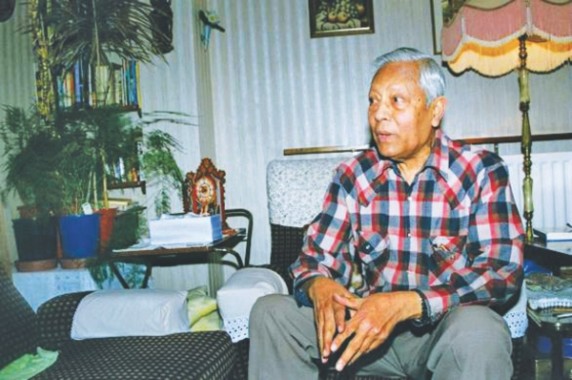 Abdul Matin
The scholar and chronicler of Bangladesh's modern history Abdul Matin died in London a fortnight ago. He was 89, a very sprightly and intellectually agile 89. And he was my friend with whom I came in contact with rather late in life, both his and mine. It was with something of trepidation that I first spoke to him, in my capacity as minister press at Bangladesh's high commission in London, in September 1997, over the phone, to invite him to be part of Prime Minister Sheikh Hasina's entourage at the meeting of Commonwealth heads of state and government in Edinburgh the following month. He was happy at my call. And he was in Edinburgh with all of us. On the evening of the day before the conference ended, he and I were invited by the Prime Minister to her suite, where the three of us had a relaxed conversation on politics and on Bangladesh's history.
In all the time that went by after Edinburgh, Matin Bhai and I kept in touch. He was constantly bubbling over with ideas and often called me in Dhaka from his home in south-west London, a city where he had been settled since 1960. He loved conversation; and if it was about politics, his enthusiasm was palpable and without end. On the phone he would often speak to me of some old newspaper article he had fished out from his collection and of a photocopy of which he was mailing me. And when his new books were published in Dhaka, he wrote to his publisher and to Sanchita, my friend and one who has held Matin Bhai in deep reverence, to have a copy delivered to me. On the phone, as he neared the end of the conversation, he would let me know that he did not have much of life remaining in him and therefore wanted to pass on to me his perspective on Bangladesh's history. I tried to remonstrate with him over his feeling of creeping mortality, but he would gently brush my protests away.
Matin Bhai and I have talked long and deep over the way in which Bangladesh's history took a nosedive after August 1975. He loved Bangabandhu without reservation; and he was truly glad that my appreciation of Bangabandhu was something that approximated his. Every time I travelled to London, something I do once a year, he would look forward to my visits to his residence on Seely Road. And I knew that meeting him was never a casual matter that would last a mere half hour or a full hour. He insisted that he and I have lunch together. As he prepared the salmon or some other fish he had bought earlier for the two of us in his kitchen, we talked. More likely, I listened as he spoke, taking in the wealth of information he was giving me about the nation's past. The afternoon would slowly roll into evening and we would still be talking. My last meeting with Matin Bhai was in May last year when I visited London at the invitation of Britain's Foreign and Commonwealth Office. It was a cold evening when I said goodbye to him. His cats, quite a few, along with some other cats – friends of his cats – were at the door for their dinner and Matin Bhai spoke to them affectionately. As I watched him, something told me it was our last meeting. And it was. Faruque Ahmed, the young Bengali writer and researcher in London, e-mailed me on my birthday to say that Matin Bhai had died the previous day.
Abdul Matin was a Bengali nationalist in every sense of the meaning. Despite the fact that he was away from the country, his soul always remained in Bangladesh. In 1971, he played a paramount role in popularizing the Bangladesh cause in Britain. His chronicling of Bangladesh's history effectively began through his account of Bangabandhu's presence in Geneva for medical treatment in 1972. In the following years and decades, Matin Bhai wrote prolifically on politics and history in clear, unambiguous terms. He was a man of strong opinions and brooked no nonsense about Bangladesh's background from anyone and especially Bengali journalists who were his contemporaries. Two years ago, he gave me a copy of a news item published in London's Times newspaper in June 1971. It was a dispatch from one of his friends, today a well-known elderly journalist, informing readers that conditions were returning to normalcy in East Pakistan. In the year or two before his death, he was deeply upset with another friend, who too is a journalist, who he believed had been very economical with the truth in his presentation of realities about Bangladesh's politics. He once told me how Enayetullah Khan, the late founder-editor of Holiday, our Mintu Bhai, had threatened to sue him over something he had written. Matin Bhai sought his lawyer's advice and waited for the lawsuit to be served on him. Eventually, however, matters cooled down.
The range of Abdul Matin's scholarly pursuits can be gauged from the works he produced through the decades. Note the following:
Geneva-e Bangbandhu, Shwadhinota Shongram-e Probashi Bangali, Probashir Drishti-te Bangladesh, Shamsuddin Abul Kalam O Tar Patraboli, Bangabandhu Sheikh Mujib: Koyekti Prashongik Bishoy, Sheikh Hasina: Ekti Rajnoitik Alekhya; Smriticharon Paanch Odhyaye; Jibonsmriti: Ekti Bishesh Odhyaye; Bangabandhu Sheikh Mujib: Muktijuddher Por; Bangabandhu Sheikh Mujib: Koyekti Oitihashik Dolil; Bijoy Dibosher Por: Bangabandhu O Bangladesh; Khaleda Zia'r Shashonamol: Ekti Porjalochona; Muktijuddhe Probashi Bangali; Di-Jaati Totyer Bishbrikkho; Europe-er Deshe Deshe; Rome-er Uthyan O Poton; Mohanogori London; Cleopatra; Voltaire: Ekti Ananya Jibon Kahini and Kaste (short stories).
Matin Bhai was thrilled that I was writing a biography of Bangabandhu Sheikh Mujibur Rahman in English and happily gave me some valuable ideas on how to go about doing it. In our conversations, he enlightened me on matters he had not written about but made it clear that after he was gone, I should be raising them in my writing. I gave him my word I would keep his faith in me.
Abdul Matin – my friend, my teacher, my mentor – has gone the way of all flesh. He joins all those illustrious men from whom I learned and who have passed on – Shawkat Osman, Waheedul Haque, Syed Najmuddin Hashim and Garib Nawaz Khan. The skies change colour. The clouds turn darker.
The writer is Executive Editor, The Daily Star.