SAVAR TRAGEDY
Govt helped Rana flee: BNP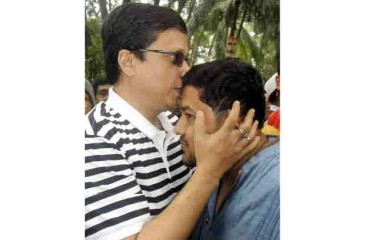 During an anti-hartal rally last year, lawmaker Murad Jang is seen with Rana, owner of the Rana Plaza that collapsed Wednesday killing 346 people. Photo: Banglar Chokh
BNP standing committee member Khandaker Mosharraf Hossain on Saturday accused the government of abetting the owner of collapsed Rana Plaza at Savar to flee the scene on the fateful day.
"You (govt) helped the Rana Plaza owner, Sohel Rana, to flee. He isn't found now. His relatives have been arrested as part of an eye-wash," he said.
The BNP leader came up with the allegation while addressing a protest rally at the National Press Club.
Shaheed Zehad Smrity Parishad organised the rally demanding unconditional release of all the opposition leaders, including BNP acting secretary general Mirza Fakhrul Islam Alamgir, arrested on March 11.
Rana Plaza, a nine-storey building, which housed five garment factories collapsed on Wednesday morning, killing over 346 people and injuring over a thousand.
Criticising Prime Minister Sheikh Hasina for her speech in parliament that Sohel Rana does not belong to pro-government Jubo League, Khandaker Mosharraf said, "Her speech proves, the prime minister wants to save the Rana Plaza owner."
The BNP policymaker also accused Home Minister MK Alamgir of trying to shift the blame on the opposition and said, "He is talking like shameless person to divert people's attention to a different direction."
Renewing their demand for the restoration of the caretaker government, he said, "Cracks developed in the country's politics for repealing the caretaker government system. There's no alternative to reinstatement of the (poll-time) government to avoid Savar-like catastrophe."
In a separate programme at the club, another BNP standing committee member MK Anwar slated the prime minister, saying, "She (Hasina) not only demeaned herself but also the whole nation by speaking untrue in parliament. We feel ashamed of that."
Anwar was addressing at a token-hunger programme organised by South Keraniganj Thana unit of BNP demanding the release of the BNP leaders.
The bureaucrat-turned politician, however, thanked the ruling party leaders for criticising the home minister for his unguarded remarks over the Savar building collapse.