GDP growth to go below 6pc
ADB sees global economic crisis and domestic unrest as major headwinds; Muhith says the rate will be no less than 6.4pc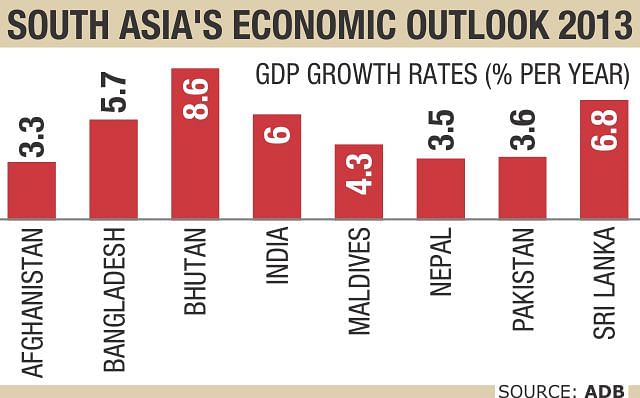 The Asian Development Bank has said Bangladesh's GDP growth in the current fiscal year will edge down to 5.7 percent due to global economic crisis and political turmoil at home.
However, Bangladesh will be able to maintain the average growth rate among the South Asian countries, the lender said.
"Though political activities are expected to be volatile, social stability will be sustained," the ADB said in its Asian Development Outlook, the organisation's annual economic publication, released yesterday.
Finance Minister AMA Muhith, too, at a pre-budget discussion with the Economic Reporters' Forum said the targeted GDP growth in the current fiscal year might not be achieved.
"But the GDP [gross domestic product] growth rate at any event is unlikely to go below the last fiscal year's 6.4 percent."
The government had earlier targeted a GDP growth rate at 7.2 percent for the current fiscal year.
Despite higher remittances, growth in demand for private consumption is expected to weaken, the ADB said.
Households adopt a cautious approach to spending because of political uncertainties, depressing production in industries oriented to domestic markets, it said.
Export demand, a major contributor to GDP growth, is expected to slacken slightly, reflecting the Outlook baseline assumptions that the euro area economy stagnates and the US recovery remains frail. The lender also forecast that the GDP growth would be 6 percent in the next fiscal year.
It said the economic forecasts for FY2013 and FY14 rest on some assumptions.
First, the central bank's slight easing in monetary policy announced in January 2013 will not stoke inflation, given the declining trend in international commodity prices and a favourable domestic crop outlook.
Second, the government will contain subsidies by continuing to raise fuel and electricity prices and thus keep in check its need for bank borrowing.
Third, though political activity is expected to be volatile, social stability will be maintained. And, finally, weather will be favorable, the ADB said.
Lower rice prices will further dampen consumer demand through reduced agricultural income. Ongoing decline in imports of capital equipment and slow import growth for raw materials indicate lower utilisation of existing production capacity and a lull in investment.
A drop in import letters of credit opened for machinery and industrial raw materials signals weak economic activity in the coming months, the ADB said.
Industry growth is expected to slow to 6.5 percent in FY2013, reflecting slack demand externally and domestically.
The lender said the Monetary Policy Statement of the Bangladesh Bank released in January signalled greater emphasis on private credit growth target.
However, these measures are unlikely to spur much more private borrowing as long as prevailing consumer and investor sentiment remains subdued, the ADB said.
It said headwinds to growth include worsening power shortages, the inability of new industrial units to get natural gas connections, increased fuel and electricity prices along with wage pressures, and sluggish activity in the real estate sector.
About agricultural growth, the ADB said favourable rainfall during planting and expanded acreage sown to the winter rice crop should help agricultural output in FY2013 recover to 4.2 percent growth.
Greater access to credit resulting from central bank initiatives is expected to bolster output from livestock, aquaculture, and non-cereal crops.
Services growth in FY2013 is expected to slow to 6 percent, reflecting weaker economic activity, and then expand by at least 6.1 percent in FY2014 on moderate recovery in overall demand.
There are downside risks to the projections. Economic developments in the euro area and the US may prove to be much weaker than assumed in the Outlook baseline, materially affecting exports from Bangladesh.
Another risk is budget revenues weakening if political unrest intensifies enough to markedly disrupt economic activity. Extreme spending policies to brighten reelection prospects could compromise monetary and fiscal discipline. Natural disasters pose perennial risks.