Interview
Fashion, livelihoods and Bibi Russell
One woman's mission to promote Bangladesh's beauty

I stepped into a fanfare of colours and themes that I ordinarily consider ordinary -- the abandoned packet of Mr. Twist, hand-paintings behind trucks and old-school autorickshaws. Bibi Russell warmly greeted me in, offered a seat on one of the "truck art" themed chairs before scurrying off to dress models for a photo shoot.
"I'm very fussy," said Russell, "Each of my items comprises a livelihood. There is a lot of dedication, hard work and a story behind each piece at Bibi Productions."
I sat excitedly to see the artist at work; Bibi Russell is easily one of the most inspiring Bangladeshis of the day. The first Bangladeshi woman to study in the London College of Fashion and a former international supermodel, Russell, a former international supermodel, set up Bibi Productions in 1995 to promote Bangladeshi textiles and handicrafts within the local as well as the international market.
"My designs may not be prominent in Bangladesh, but people know me and my work abroad," said Russell. Her outlets are spread all over Europe, especially in the Scandinavian countries. She delightfully talked about being endorsed by her friends, the Queen of Spain and actor Antonio Banderas.
Thanks to Russell, not only do over 30,000 poor weavers now have a livelihood, Bangladeshi handicrafts are now high-fashion in European countries where Bibi's designs are prominent. "Fashion is a culture. Whatever I create I do to lift up the people involved in craft. I believe fashion is for everyone. It's not only for one class."
The best part about Bibi Production is its wearability, despite the avant-garde ensembles that her models typically adorn. "My fashion is ready-to-wear (mix and match) so people can afford it. It's all natural. It's already casual and of course, every creative designer has their handwriting [on their work]I have mine too."
Russell spoke more about fashion in Bangladesh.
"The idea of fashion in Bangladesh is limited to variations of shalwar kameezes and saris. But fashion is more than that. Designer fashion is meant to be exclusive," she described.
Even though Bibi Russell uses foreign models for her fashion shows abroad, she recognises the potential of the Bangladeshi fashion industry. "There is serious talent out here and there are great models in Bangladesh. The industry simply needs greater awareness, exposure and training."
Russell has a solution for that as well -- last month she organised a workshop in partnership with German and French experts.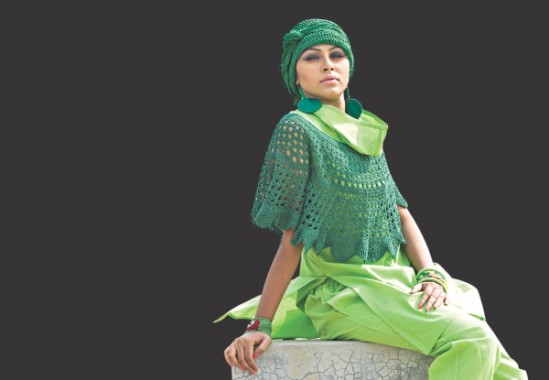 Whenever she is in Bangladesh, Bibi Russell lives in the rural areas. "I work all over Bangladesh, not focusing on one area. I have gone to areas where few people from urban areas have reached and immersed myself into their lives. Each area has a history of doing different things."
Bibi is responsible for the creation of each and every piece in her collection from the very fibres to the end product. She researches her raw materials and textile very thoroughly in order to maintain quality for the international market- and none of her collections have been returned.
"I'm very fussy but I do allow my artists and weavers artistic freedom. Some time back I allowed them to prepare some vivid yellow pieces. I was so afraid it wouldn't go well with the European market. Turned out to be a big hit in Spain," she asserted with much enthusiasm.
Even though Bibi is completely comfortable immersing with the weavers and their families, she talked about the rural people's distrust of corporate culture . "There is still a lack of trust in terms of the corporations giving them their due profits. They still seem to believe in being exploited," lamented Bibi.
Through "Fashion for Development," this distrust has to a large extent been mended, along with contributing to economic development in the rural areas. However, Russell has introduced a new branch of development through incorporating recycled items. She has introduced trinkets and showpieces prepared from recycled newspapers and old packets of biscuits and chips.
When people think of Bibi Russell, they think of a crafts-promoter and an artisan. But Russell is much more than that. She is an aesthetic and philanthropic visionary. "I only see richness of culture," she said, "and paint a picture of beauty from the poverty.'