Factory watch just farcical
51 inspectors for monitoring two lakh factories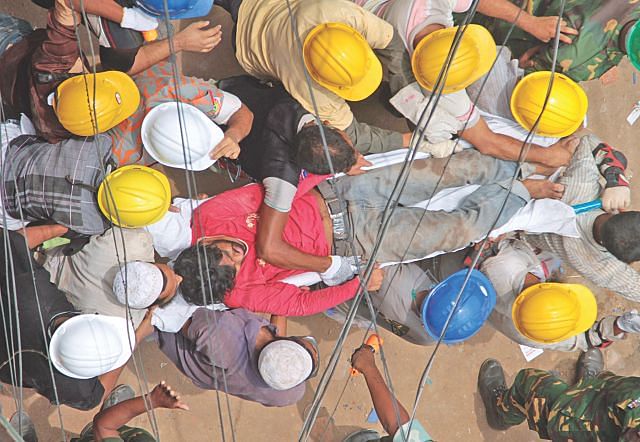 Rescuers bring Sadique out of the rubble of Rana Plaza yesterday, alive. He had been buried under the debris since Wednesday when the building housing several garment factories came crashing down. Photo: Sk Enamul Haq
The government's department tasked with enforcement of laws to ensure safety of workers cannot perform its functions properly due to acute crisis of manpower and logistics.
The Department of Inspection for factories and establishment under the labour and employment ministry is supposed to oversee more than two lakh factories including over 5,000 readymade garment factories and establishments countrywide, insiders say.
The department has only 51 inspectors to do the massive task. Another 52 approved posts for inspectors remain vacant for long, they add.
"It is just an eyewash what we do in the name of inspection," a senior official of the department told The Daily Star on condition of anonymity.
Asked, Habibul Islam, chief of the department, told The Daily Star yesterday over telephone that the crisis was persistent in his department.
"We have huge power and important tasks to discharge. But we do not have the necessary manpower to do that," he added.
He said they had 23 third-class officers at district level for the same number of districts who could only monitor whether shops were opened and shut down in time.
Officials said the department had been facing neglect of the government since its inception in 1970. The number of factories and establishments has increased over the years, but the department has not been equipped with adequate logistics and manpower to discharge its functions properly, they added.
To meet a legal condition of the International Labour Organisation (ILO), a UNO specilised agency dealing with labour issues, the then government set up the department for factories and establishments.
As per its objectives, the department presently enforces as many as 46 labour laws, rules and regulations related to safety, wages and welfare of labours working in factories and different establishments in the country, says the labour ministry's website.
A senior official yesterday said the department was also supposed to supply technical information and advice to employers and workers concerning the most effective means of complying with the legal provisions.
"But we are unable to do so due to lack of manpower and vehicles although we work at a specialised department," he added.
The chief inspector, Habibul Islam, however said they had recently sent a proposal to the public administration ministry to upgrade the department considering the importance of its functions.
"We have proposed to turn it into a directorate with more than 1,000 posts of inspectors," he added.