Dull stockmarket hurts non-banks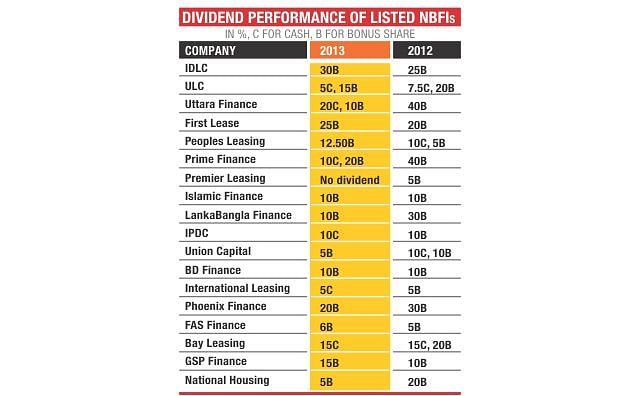 The majority of the listed non-bank financial institutions announced lower dividends this year, owing to a weak operating environment.
Among the 19 listed NBFIs, 18 have so far declared dividends for 2012.
Of the 18 firms, ten offered a lower amount of dividends than 2011, four higher and four the same, according to data from Dhaka Stock Exchange.
In 2012, the non-banks' total net profits dropped 37 percent year-on-year to Tk 300 crore, propelled by an unprecedented loss from stockmarket exposure, according to industry insiders.
A rise in non-performing loans, which required provisioning, also led to lower profits, they said.
The stockmarket has been on a downtrend since a price debacle in early 2011. The DGEN, a key index of the Dhaka bourse, plunged to around 4,219 points towards the end of 2012 from 9,304 on January 1, 2011.
"The NBFIs, as part of operational diversification, has been making money from the capital market as capital gains from own investment and fees and interest on share credit through subsidiaries," said Akter Hossain Sannamat, managing director of Union Capital.
"But, all incomes from this source dropped drastically due to the continued depressed state of the market. And, given the gloomy economic backdrop, the demand for credit also dropped, to make things worse."
Selim RF Hussain, chief executive officer of IDLC Finance, blamed lower profits on the higher interest rate on borrowings, which pushed up their operational costs.
"Almost all the NBFIs depend on the money market and corporate borrowings to generate their funding," he had said in a recent interview.
Banks are still charging the NBFIs 17-18 percent although the non-banks are in a better position in risk management than most corporate houses, he added.