District hartal progresses amid clashes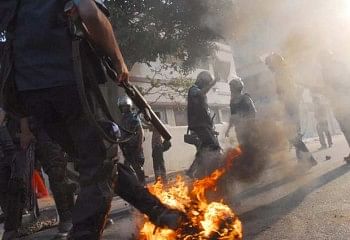 A policeman tries to douse a flame set alight by pickets in front of Rajshahi city during Tuesday's shutdown. Photo: STAR
The daylong shutdown (hartal) enforced by BNP-led 18-party alliance is progressing amid clashes and processions across the country on Tuesday.
The 18-party alliance enforced the hartal demanding immediate release of its leaders and activists.
At least 13 people were injured including two by bullets as activists of BNP and its associate bodies clashed with police in Narayanganj and Rajshahi.
More than 25 people were picked up by police from different districts during the hartal.
NARAYANGANJ
BNP and Jubo Dal activists hurled brick chips when police intercepted their procession at Charargop in the city around 6:00am.
To disperse the activists, police opened fire, leaving five people injured including two by bullets.
The two bullet-hit persons were sent to Dhaka Medical College Hospital.
In another incident, police shot fire during a chase and counter-chase with hartal supporters at Chashara Bangabandhu road around 6:00am.
Five people were injured during the incident. Police picked up two people from the spot.
RAJSHAHI
Three people were injured including two by rubber bullets during a clash between Jatiyatabadi Chhatra Dal activists and police in front of Loknath School in the city.
Police fired over 100 bullets around 7:30am when JCD men hurled brick chips targeting them from a procession.
The activists also blasted several cocktails on the spot.
JCD men Jibon and Niashat received rubber bullets while Yaseen was injured by the teargas shells shot by police, Mosaddek Hossain Bulbul, a BNP central committee leader, claimed.
Ziaur Rahman, officer-in-charge of Boalia Police Station, admitted that they fired rubber bullets and teargas canisters to disperse the activists.
Besides, city and district BNP brought out processions at Malopara and Sonadighirmor in the morning.
CHANDPUR
The hartal supporters blockaded Chandpur-Comilla road by setting tyres at different points in Baburhat area since the hartal began around 6:00am.
The pickets vandalised several motorcycles in Kumrardugi area around 7:00am.
At least 10 Jamaat and BNP activists were picked up from different parts in the districts for their attempt of subversive activities during hartal hours, said Amir Jafar, superintendent of police in Chandpur.
NOAKHALI
Police picked up 15 BNP, Jamaat and Shibir activists from different parts of the district Monday night on suspicion that they might carry out vandalism during today's hartal.
Earlier, Noakhali district unit BNP called a daylong shutdown for Thursday demanding unconditional release of its leaders including Moudud Ahmed, Barkatullah Bulu, Md Shahjahan and Joynal Abdin Farroque.
MOULVIBAZAR
BNP activists chased Awami League men when they brought out a procession at Habiganj in Sreemongol upazila around 11:30am.
When the AL men left the scene, the opposition activists vandalised three vehicles on the spot.