BRTA struggles with rise of service seekers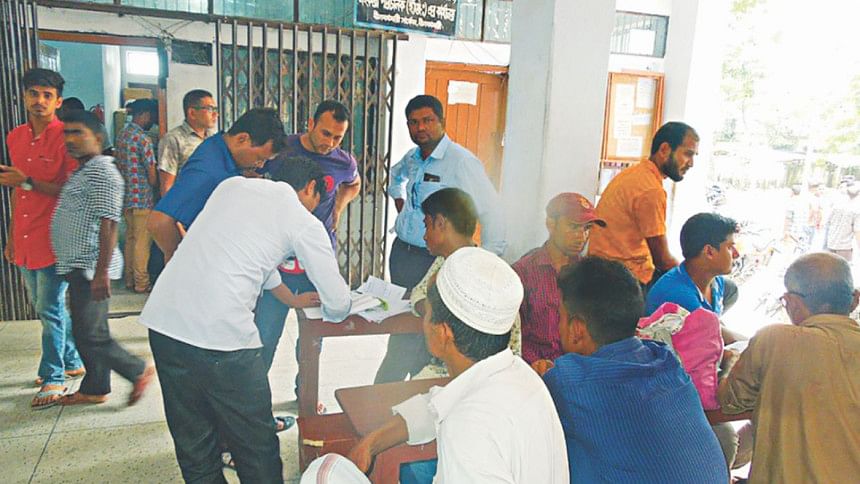 Bangladesh Road Transport Authority (BRTA) offices in Bagerhat and Nilphamari see a sudden rise of service seekers for driving licences and fitness certificates in the last couple of days, against the back drop of the recent nationwide agitation demanding road safety and observance of traffic week by the police.
The countrywide traffic week ended yesterday.
Our Bagerhat correspondent reported that the number of service seekers has almost doubled at Bagerhat BRTA office for preparing or renewing documents concerning vehicles for hassle-free movement on roads.
People here, however, are not getting their expected services in time due to a shortage of adequate manpower at the office.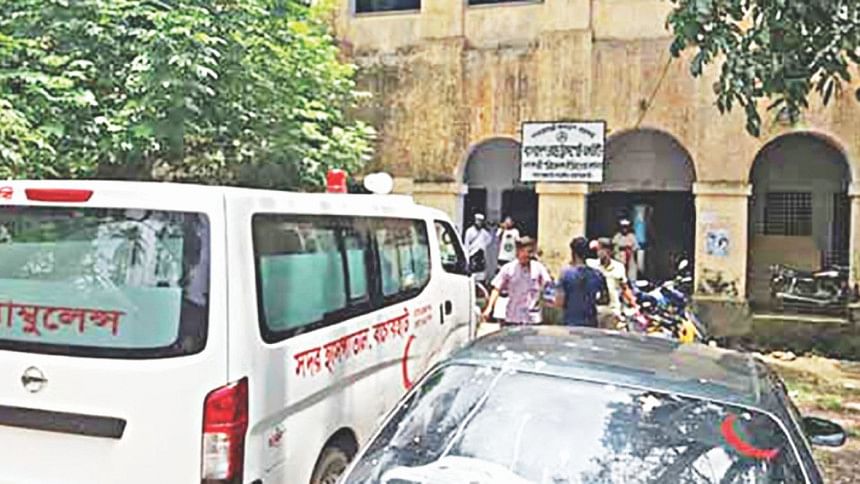 During a visit to the office on Thursday this correspondent saw service seekers waiting in lines at the office premises.
"I have come from Chitalmari for my vehicle's fitness certificate but the officials are not available right now," one of the clients Rustom Sheikh said.
Another client Babul Hawlader of Kachua said, ''I came to get my photo taken for my driving license but I could not.''
Bagerhat BRTA Motor Vehicle Inspector Mehedi Hassan said the office has posts for an assistant director, one motor vehicle inspector, one upper division assistant, one office assistant and an MLSS.
"Since the latter three posts are lying vacant for long we cannot provide adequate service to our valid clients,'' he said, adding that due to lack of an office assistant taking of photographs is badly hampered.
"Besides, Khulna BRTA Assistant Director Abul Bashar, who is performing additional duty as the assistant director here, comes only on Thursday," Mehedi added.
Away in Nilphamari, a large number of driving license seekers and vehicle owners are thronging the local BRTA office in the town for collecting their relevant documents during last few days.
Md Tajul Islam, motor vehicles inspector at Nilphamari BRTA, said his office has so far registered 25,674 vehicles, including 25,475 motorcycles, 14 private cars, 11 microbuses, 38 jeeps, 87 pick-ups, 18 buses, nine trucks, nine ambulances, three troop carriers, one oil tanker and five water tankers.
Besides, they delivered digital driving license to nearly 8,000 people, he added.
"We've served notices to the vehicle owners who failed to regularise their documents to update their papers or face a tougher action," the vehicle inspector said.
A total of 350 people applied for driving licenses since the countrywide traffic week started on August 5, Liton Dutta, mechanical assistant at Nilphamari BRTA, said.
'We are facing serious trouble to cope with the recent situation although we are providing service from 9:00am till 10:00pm daily," he added.
While visiting the office yesterday this correspondent found the post of assistant director lying vacant for over five years.
The Assistant Director (AD) at Dinajpur BRTA Uthowainu Chowdhury, also the acting AD at Nilphamari BRTA, attends the office only on Wednesday, which hampers the office activities on other working days.
AD Uthowainu said, "Nilphamari BRTA office is facing acute manpower crisis as only four staffs are currently working here."