Bandarban fire leaves 75 families homeless
Most victims are from Marma community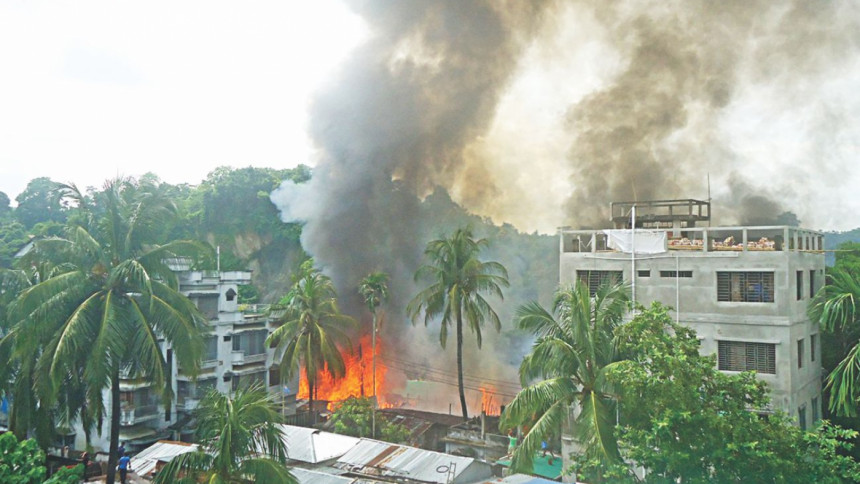 A fire originating from an "electric short-circuit" destroyed at least 80 houses and six shops in Madhyam Para area of Bandarban town yesterday.
The fire broke out at a tin-roof house at 12:30pm and soon engulfed the adjoining ones, said Md Iqbal Hossain of Fire Service and Civil Defence office in Bandarban.
The firefighters suspect the fire started from an electric-short circuit, but victim families say an earthen stove was the origin. Most of the houses have tin-roofs and walls made of bamboo stalks.
On information, fire fighters, members of army and police rushed in and doused the flames after two hours of efforts.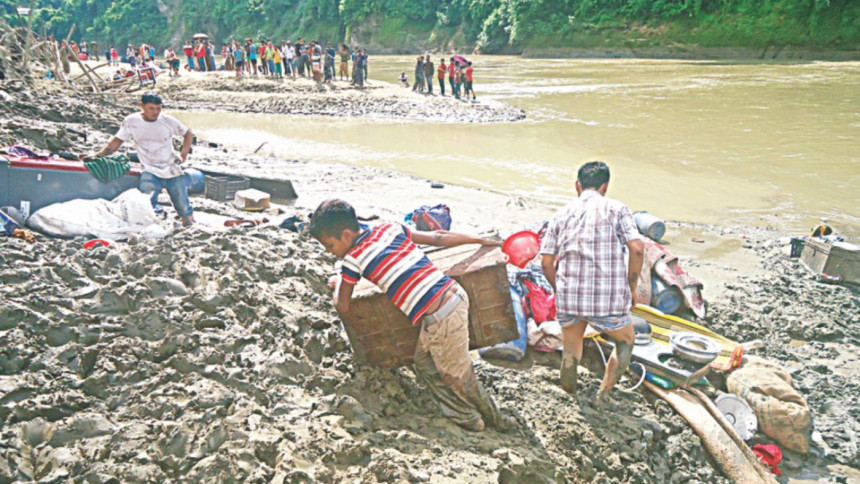 The affected house owners claimed that the loss could be up to Tk 90 lakh.
Most of the victims are from Marma families who lost their houses and valuables in the fire. All of them maintain a subsistence lifestyle.
"Fire left us nothing," said victim Anu Ching Marma. "We are destitute now."
Shima Barua, who tried to save whatever she could including her children's books, but failed, said, "How will we build a house again? We have no means."
After the fire, the affected families, including children and the elderly, took shelter near the Sangu river bank. They stayed there, under the open sky, till the evening.
An 80-year-old man, Shwe Ching, said, "It was one of the most devastating fires that I saw in my life."
Till filing of this report at 6:00pm, no assistance reached the affected people, said victim Nirupa Das.
Talking to The Daily Star, Mohammed Daudul Islam, deputy commissioner (DC) of Bandarban, said, "Primarily we got a list of around 75 families who lost their houses in the fire. We are planning to distribute government relief materials by tomorrow."
Lt Col Amin, zone commander of Bandarban Army Zone, said, "After hearing about the fire, our team rushed to the spot and doused it. We arranged for today's lunch and dinner for the victim families."