Gaibandha Accident: Driver's drowsiness blamed for crash
Five killed in 4 accidents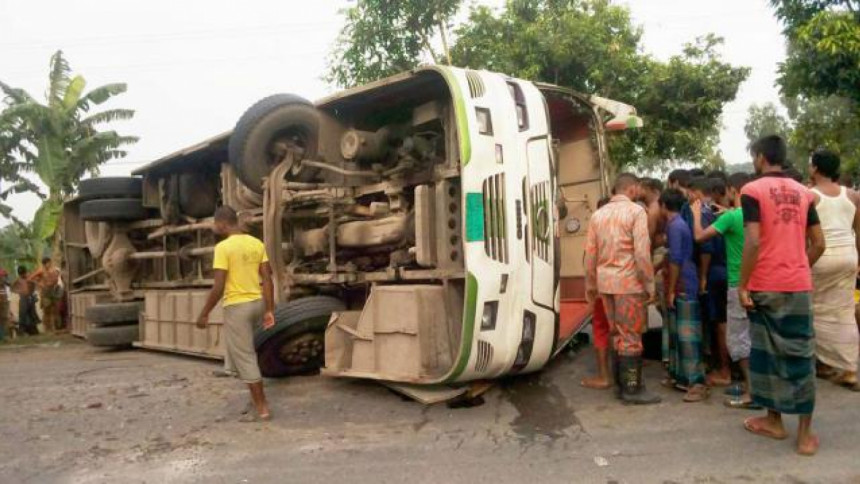 Five people, including two minor girls, were killed and 45 others injured in road accidents in Gaibandha, Khagrachhari, Savar and Munshiganj yesterday.
In Gaibandha, two people, including a girl, were killed and 15 others injured when a Dinajpur-bound bus crashed into a roadside tree and fell into a ditch along Bogra-Rangpur highway in Sadullapur yesterday morning.
The deceased are bus helper Saiful Islam, 35, of Panchagarh, and passenger Chandni Akhtar, 10, of Mirpur-11 in Dhaka.
The injured were being treated at local health complexes.
Quoting passengers, Inspector Abdur Rashid, in-charge of Dhaperhat police investigation centre, said the driver looked "sleepy" and he was driving "recklessly".
Though passengers repeatedly requested him to drive slowly, he did not pay heed to them, the police official said, adding that when the bus reached in Dhaperhat area around 7:00am, the driver lost control over the steering.
"It hit a tree and fell into a roadside ditch," he added.
On information, firefighters rushed to the spot and rescued passengers who were trapped inside the bus and rushed them to the health complexes.
On June 23, 18 people were killed when a Panchagarh-bound bus from Dhaka veered off the highway in Gaibandha's Palashbari and hit a tree before plunging into a ditch.
Another road accident on March 10 in Palashbari claimed the lives of 10 people. After the accident, a probe committee was formed and it made some recommendations on reducing accidents. 
In another accident yesterday, a man was killed and 25 students of Chittagong University were wounded as a bus turned turtle at Alutila in Khagrachhari Sadar.
Police identified the deceased as Hafiz Ullah Khokon, 28, of Comilla's Nangalkot upazila. 
Hafiz was a fish trader and boarded the bus carrying the university students to Sajek in Rangamati, police said.
Shahadat Hossain, officer-in-charge of Khagrachhari Model Police Station, said a Sajek-bound bus carrying 45 CU students suddenly overturned when the vehicle was crossing Alutila's APBN camp area around 11:15am.
Hafiz was on the roof of the bus when the accident took place, the OC added.
Most of the injured was given primary treatment at Khagrachhari Adhunik Sadar Hospital, while four were sent to Chittagong Medical College Hospital for better treatment, said Nayanmoy Tripura, resident medical officer at Khagrachhari Adhunik Sadar Hospital.
Police seized the bus, but its driver and helper managed to flee, the OC added.
In Savar, a truck driver was killed and five others sustained injuries in a head-on collision between two trucks in Shalehopur area around 8:00am.
The dead is Ashraf Gazi, 30, of Bagerhat, said police.
The accident happened on Dhaka-Aricha highway when a Dhaka-bound truck carrying fish collided head-on with another truck, which was plying on the wrong side of the highway, said Mohshinul Kadir, officer-in-charge of Savar Model Police Station.
Both the vehicles were seized, the OC added.
In another development, Shahina Aktar, 5, daughter of Idris Ali of Mirersarai in Munshiganj Sadar upazila, was wounded critically when a battery-run three-wheeler hit her around 1:30pm. It happened when she was crossing a road in Mirersarai area.
The girl died on the way to hospital, said Alamgir Hossain, officer-in-charge of Munshiganj Police Station. 
Our correspondents in Gaibandha, CU, Savar and Munshiganj contributed to this report.