Boro farmers agitate for power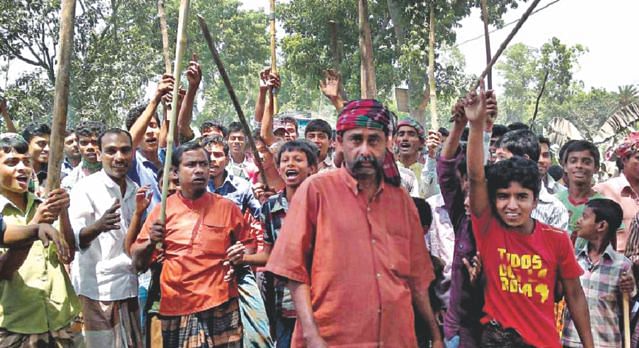 Farmers of 10 villages under Shakhipur upazila of Tangail stage a demonstration at the upazila headquarters yesterday, demanding uninterrupted power supply at the villages during the ongoing boro paddy cultivation season. Photo: Star
Farmers of ten villages in Shakhipur upazila agitated yesterday, demanding smooth power supply during the peak boro paddy cultivation season.
They besieged the office of Power Development Board (PDB) in the district town and blocked Sakhipur-Sagardighee-Dhaka road to press home the demand. They also brought out an angry protest procession.
The roadblock caused immense sufferings to the passengers for about three hours, said locals.
The villagers said an acute power supply in the areas was hampering irrigation during the peak season.
Farmer Abdul Malek of Beltoly village told this correspondent that the boro plants of his field were dying as he could not irrigate the field properly for the last one month due to frequent load shedding.
The angry farmers withdrew the blockade at around 12:00pm following an assurance by the authorities of taking steps to ensure smooth electricity supply.
Meanwhile, growers of different villages in Sadar and Kalihati upazilas yesterday demanded a 16-hour uninterrupted electricity supply during the peak boro farming season.
They suggested eight hours at day and the rest at night.
The agitators in a procession went to the PDB office in the town and besieged it to press home the demand.
They also demanded an end to alleged corruption by PDB officials and employees and 'illegal' power connection by them.
Contacted, Shahadat Ali, executive engineer of Sales and Distribution Office-1, PDB, Tangail, said the farmers are not getting enough power as we are not getting sufficient supply from the national grid. "However, we are trying hard to address the problem".
Strict action would be taken against those responsible for alleged corruption after investigating the charges, said the engineer.