Blogger Asif Mohiuddin held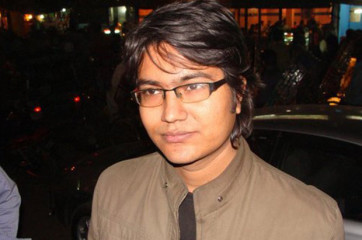 Asif Mohiuddin
Police arrested blogger Asif Mohiuddin at Segunbagicha in the capital on Wednesday, a day after three others were held  for posting "derogatory comments about Islam and Prophet Muhammad (pbuh)" on the Internet.
A team of Detective Branch (DB) of police picked up Mohiuddin around 2:00pm, said Masudur Rahman, deputy commissioner (public relation) of Dhaka Metropolitan Police.
The arrest came amid strong criticism over the government role, which many termed as "submissive", following some radical Islamist organisations' threat of unleashing anarchy if "atheist bloggers are not hanged".
Many think the arrest would add further to the growing frustration of the youths and online activists, who have been agitating since February 5 demanding death penalty of war criminals, over the government role.
Asif lives with his sister in Segunbagicha since an attack in Uttara in January, said Nazrul Islam Mollah, deputy commissioner of DB.
In the night of January 13, some miscreants attacked him with knives as he was entering his office in Uttara, leaving him seriously injured. He had to stay in hospital for a month.
On Monday, police arrested four members of Ansarullah Bengali Team, a newly-launched militant organisation, from different parts of the city 'for attempting to murder' Asif.
In an overnight drive on Monday, law enforcers arrested three bloggers, including a Dhaka University student, from different areas of the capital on the same allegation.
Hours after the arrest, they were each placed on a seven-day remand in a case filed for making disparaging comments about Islam and the Prophet.
Radical Islamist groups have been campaigning against the Shahbagh movement initiated by the bloggers.
Hefajat-e Islam, a so-called Islamist organisation instrumental to this end, will march towards Dhaka on April 6 and have threatened of non-stop shutdown and letting loose 313 members of suicide squad if the government obstructs its march.