Train movement resumes 11hrs after derailment at Gazipur's Kaliakoir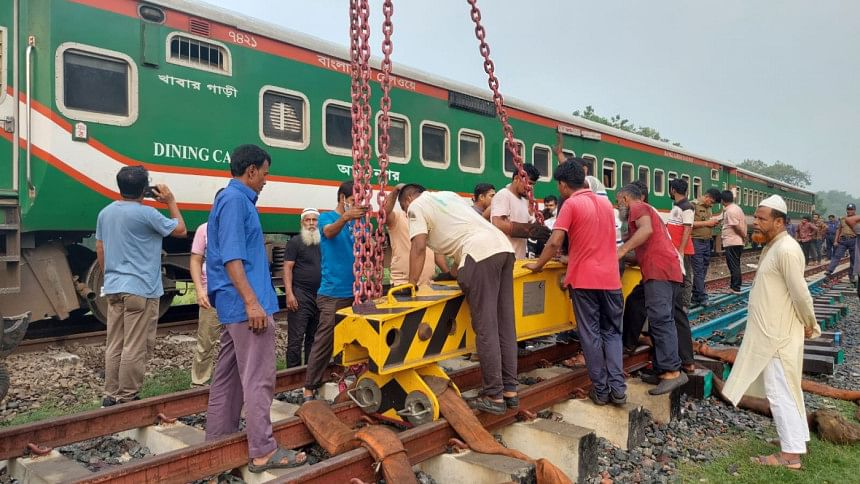 Rail communications of Dhaka with the country's northern part and Khulna were restored 11 hours after derailment of a train at Gazipur's Kaliakoir upazila last night. 
The train services resumed around 10am today after two bogies including the engine of Dhaka-bound Panchgarh Express from Panchgarh have been recovered, Stationmaster of Kaliakoir railway station Shahinur Rahman Shaheen confirmed to The Daily Star.
The bogies were derailed soon after the train crossed Kaliakoir station around 9pm yesterday (May 27, 2022), halting train movement between Dhaka and northern districts and Khulna, said Joydevpur Railway Junction In-charge Rezaul Islam.
After the derailment, the rescue train from Dhaka reached to the site at 3am and started the salvage operation, our Gazipur correspondent reports quoting Rezaul.
Sub-inspector (SI) Shahidul Islam, in-charge of Joydevpur Railway Junction's police outpost, said, "Passengers on the route suffered immensely due to the derailment as Kurigram-bound "Kurigram Express" had to wait at Joyadevpur railway station and Dhaka-bound "Jamalpur Express" at Mirzapur station."
Bangladesh Railway Divisional Manager (Pakshey Railway Division) Shahidul Islam told the Daily Star, "A four-member probe committee has been formed to investigate the incident."