Rail can rev up trade with India
Export by train may start in two-three months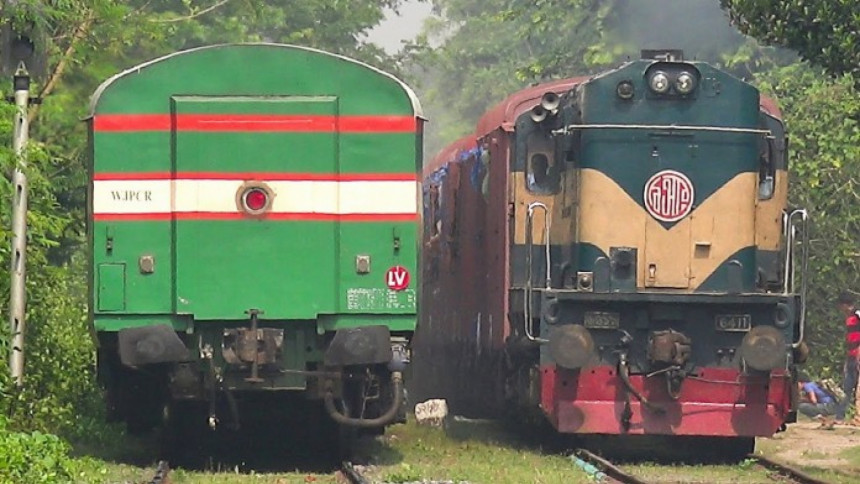 Bangladesh is going to start exporting goods to India by train for the first time in what is billed by many as a major boost to cross-border trade.
Once the freight trains start rolling with the closed containers, Bangladeshi businesses will also be able to export goods to different other countries through certain Indian ports, officials said.
Earlier this year, India lifted the restrictions on importing goods from Bangladesh via trains, and Bangladesh Railway (BR) fixed the shipping costs, they added.
India also urged Bangladeshi businesses to use its ports for transshipment to other countries.
"Most of the conditions on both sides have been met. We expect the formalities to be done and export to start in two-three months," said Sardar Shahadat Ali, additional director general (operations) at the BR.
Several firms have already expressed interest in shipping their products to India by rail, he added.
Arrival of goods through the railways from India saw a sharp rise in the last two years. Currently, the trains return empty after dropping off the goods in Bangladesh.
In the first 10 months of fiscal 2021-22, the BR brought in 29.92 lakh tonnes of goods from India. The amount was 36.93 lakh tonnes in the previous fiscal, sources said.
Operation of freight trains between Bangladesh and India revived in February 1972 while operation of passenger trains resumed in April 2008.
Around 120 freight trains now operate between the two countries every month using five railway interchanges.
Trains carrying shipping containers have been bringing goods from India since July 2020, nearly three years after a memorandum of understanding (MoU) was signed between Container Corporation of India Ltd (CONCOR) and Container Company of Bangladesh Ltd.
Even though there were demands, Bangladesh could not export goods by trains due to restrictions in India, a BR official said.
However, the Indian authorities, following Bangladesh's request, lifted the bar in May this year and informed the BR via the foreign ministry, he said, wishing not to be named.
The railways ministry on September 13 approved the shipping costs, another BR official said, seeking anonymity.
The BR then sent a draft Standard Operating Procedure (SOP) to the CONCOR, he said, adding that the draft was prepared following discussions between the two sides. It is expected that the Indian side will not take much time to finalise it.
"Export to India by trains is going to start after over 50 years of independence. This is huge," the BR official said.
But freight operations across the border are suffering because of a scarcity of locomotives, operators and infrastructure.
"These issues should be addressed to reap the benefit of the new initiative," he said, seeking anonymity.
EXPORT TO OTHER COUNTRIES
India has offered free transit via its territory for export to other countries through certain land customs stations, airports, and seaports.
The neighbouring country made the offer during Prime Minister Sheikh Hasina's recent state visit to India.
Moreover, a BR official said the Indian finance ministry in November 2018 issued a circular to facilitate exports of Bangladesh to other countries via India.
In June 2020, the effectiveness of the circular was extended until further notice, he said.
As per the circular, transshipment of goods by railways to other countries can be done through Nhavasheva port in Mumbai, he added. Formally known as Jawaharlal Nehru Port, it is the second largest shipping container port in India.
With the arrival of goods worth $16.19 billion, India was the second-largest source of imports for Bangladesh in the fiscal year 2021-22. Bangladesh exported garment products, plastic goods and other products worth $2 billion to the neighbouring country that year, by roads, rivers and air.
Mohammad Hatem, executive president of Bangladesh Knitwear Manufacturers and Exporters Association, described the development as a "very positive one".
Businesses currently have to wait for a long time at the Benapole port to export goods because of the lengthy procedure, he told The Daily Star.
"This is a very good initiative. We have to reap the benefit of such initiatives," he said, calling for improving the railway services.