Three-wheelers ruling Rangpur when strike called to ban those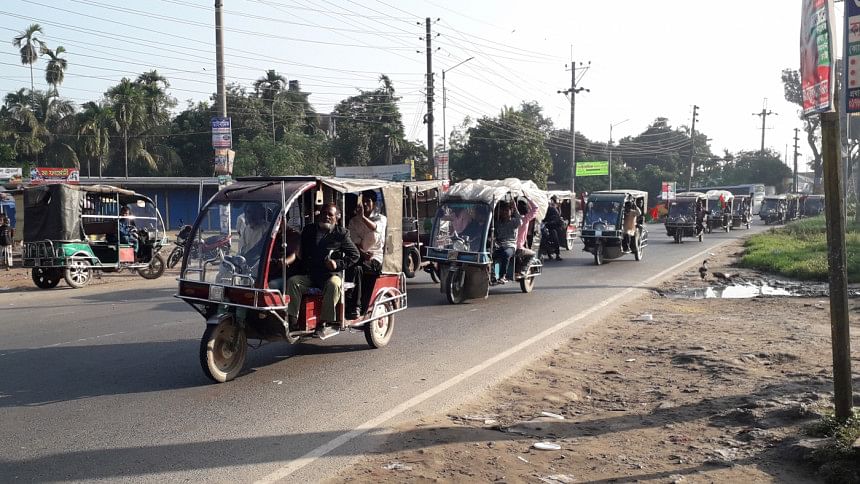 The highways and roads of Rangpur are now crowded with the three-wheelers, including battery-run auto-rickshaws, when transport owners are observing strike "to ban" these small vehicles ahead of BNP's rally in the city today (October 29, 2022).
As the transport system in Rangpur division has been collapsed due to suspension of the bus services, people are going through immense sufferings.
Commuters are forced the take the easy-bikes and battery-run auto-rickshaws to reach their destinations.
BNP men from nearby upazilas and districts are taking ride on the three-wheelers to reach the rally venue -- Collector's ground, witnesses said.
Three-wheeler drivers said their income has increased nearly five-times since the in-bound buses to Rangpur stopped operating on Thursday (October 27, 2022).
They said they earn Tk 600 to Tk 800 a day but ahead of the rally the income reaches to Tk 3,000 - Tk 3,500 daily.
Dolilur Rahman, an easy-bike driver in Rangpur, estimated that there are about 30,000 easy-bikes in Rangpur city.
"As the strike began, we are smoothly driving our vehicles on empty roads" he said.
The driver said CNG-run auto-rickshaws and easy-bikes are coming to Rangpur city from nearby upazilas and districts too.
Abdul Jalil, a BNP leader of Panchagarh, said he along with leaders and activists came to Rangpur riding around 200 three-wheelers.
There are five points to enter Rangpur and almost all the roads are packed with the three-wheelers.
Many people from Lalmonirhat, Kurigram, Gaibandha, Dinajpur, Thakurgaon, Panchagarh, Nilphamari, Sirajganj and Bogura are reaching near Rangpur area by different means of transports and are entering the city on the easy-bikes and battery-run rickshaws.
BNP vice-president AZM Zahid alleged that the "government" has imposed a strike using the leaders of the bus drivers, causing nothing but sufferings to the people.
Rangpur has turned into a city of processions despite the transport owners and workers called for a strike that began yesterday morning.