Key infrastructures around Karnaphuli tunnel yet to be completed
28-point recommendation placed to avoid traffic congestion
Bangabandhu Sheikh Mujibur Rahman Tunnel under the Karnaphuli river is scheduled to officially open to traffic by the end of this year.
The authorities, however, are yet to construct key infrastructures -- including approach roads, U-loop, overpass and bypass -- raising big concerns over traffic management.
As the deadline for inauguration is approaching, a traffic route construction committee gave Bangladesh Bridge Authority a 28-point recommendation on how to manage traffic on March 3. The committee requested to implement the suggestions without delay.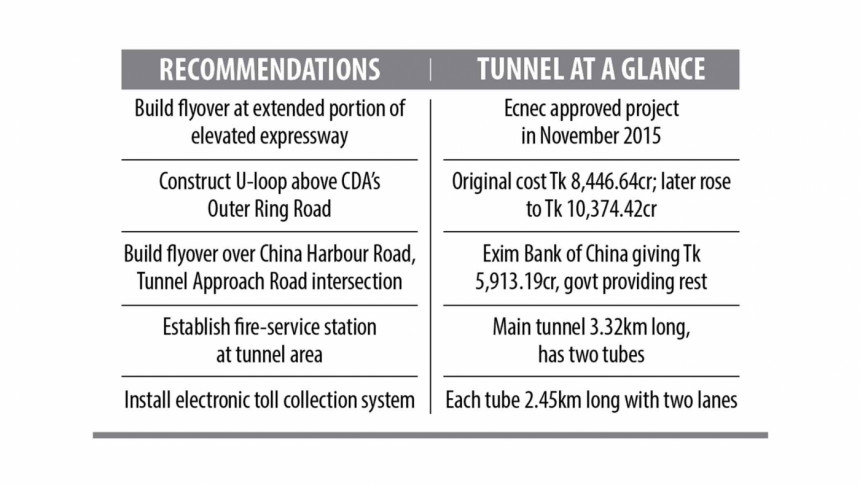 There is fear of a traffic-management catastrophe if the recommendation cannot be implemented timely, said officials of departments concerned.
Although more than 85 percent of the tunnel's construction work has been completed, whether the recommendation will be implemented in time is still uncertain.
Apart from that, construction work of two police stations and a fire-service station are yet to start, raising concerns over security.
The dream project is expected to significantly reduce traffic congestion on both sides of the river, including the northern and southern parts of Chattogram, and shorten travel time, boosting the region's economy.
Bridges Division Secretary Abu Bakar Siddique, during a visit to the tunnel area in Patenga on September 7 last year, formed the traffic committee, headed by Chattogram Metropolitan Police (CMP) commissioner and comprising officials of the tunnel authority, Road Transport and Highways Division, Chattogram Development Authority (CDA) and other departments.
After formation, two meetings were held.
From the meetings, two technical sub-committees -- one for Patenga and another for Anwara point -- were formed to figure out an effective traffic management system.
After analysing traffic routes and  system, field visits and internal discussions, the committee sent its recommendation to 14 government offices, which are directly involved in managing the tunnel.
Officials involved with the project, however, said all the suggestions will not be implemented within a short time.
The Daily Star obtained a copy of the three-page recommendation letter.
Talking to The Daily Star, CMP Commissioner Saleh Mohammad Tanvir said, "We placed the recommendation based on future traffic flow, as the tunnel will bring a huge change in this region. As far as I know, several of the suggestions have already been passed, and some are now under consideration."
In the preface of the letter, the committee chief said after the project is completed, all vehicles using the tunnel will pass through the existing, designated "Gol Chattar (intersection)". Local, Patenga-bound traffic will also use the intersection.
Vehicles moving from the city's outer-ring road, under-construction elevated expressway (Lalkhanbazar to Patenga), Beach Road (towards Kathgar), Airport Road and Patenga Sea Beach Road, and pedestrians will pass through the intersection at the same time, which will create a chaotic situation.
The tunnel's two points (one at Anwara and another at Patenga) will see heavy traffic flow after opening, as vehicles going to-and-fro the airport, Chattogram Port, CPEZ, KEPZ, under-construction bay terminal, Mirsarai Economic Zone, CUFL, KAFCO, China EPZ, Cox's Bazar coal power plant and other establishments will use the tunnel and its approach roads.
Considering all aspects, the approach roads should be constructed with proper designs.
In November 2015, Executive Committee of the National Economic Council (Ecnec) approved the much-hyped, multi-lane road tunnel project, with a budget of Tk 8,446.64 crore. The cost later rose to Tk 10,374.42 crore.
The Exim Bank of China is giving Tk 5,913.19 crore at an interest rate of 2 percent, while Bangladesh government is providing the rest.
The main tunnel is 3.32 kilometres long and has two tubes, each 2.45 km long. Each tube will have two lanes.
In the recommendation, the committee said for uninterrupted vehicular movement of Dhaka-bound vehicles, a flyover can be constructed at the extended portion of the elevated expressway and connected to the "G-1" road.
For free movement of vehicles going through Tunnel Approach Road, a U-loop can be constructed above CDA's Outer Ring Road to solve all problems related to turning right to go to Lalkhan Bazar and airport.
A flyover needs to be constructed over China Harbour Road and Tunnel Approach Road intersection.
A fire-service station needs to be built at the tunnel area. To avoid gridlocks during toll collection, an electronic toll collection system can be installed.
Deputy Commissioner (DC, Estate and Development) SM Mostain Hossain of CMP told The Daily Star that several structures -- including bypass, overpass, flyover, and U-loops in several points -- should be constructed, so that the huge amount of traffic can pass by, without interrupting tunnel-bound traffic.
CDA Chief Engineer Kazi Hasan Bin Shams said, "The committee has identified several good issues regarding tunnel traffic management, and we have already completed the intersection design based on the recommendation, dividing construction work into several phases."
Tunnel Project Director Habibur Rahman said, "Eighty-five percent of work has been completed. The committee placed its recommendation to the ministry; I don't know the details."