Safe Level Crossings: BR, LGED asked to give suggestions by September 30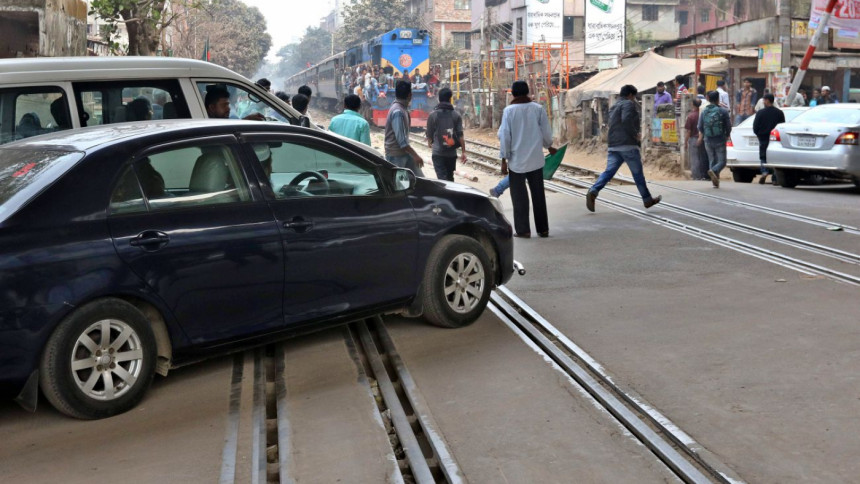 As more and more people are losing their lives on unprotected level crossings, Bangladesh Railway and Local Government Engineering Department have been asked to complete an ongoing joint survey and submit a report by the end of next month.
The directive came from a meeting of the railways ministry arranged yesterday at Railway Bhaban, with Rail Secretary Humayun Kabir in the chair and in presence of BR and LGED representatives.
The two state agencies are conducting a survey to give recommendations for making level crossings safer. The survey, started a few months back, is now at the final stage, officials said.
They will state where underpasses or overpasses would have to be built, where level-crossing barriers need to be installed, and which unauthorised level crossings should be closed.
On the basis of the report, LGED, which has built the highest number of unauthorised level crossings, will take a project for implementing the recommendations, they said.
The development came when accidents at unprotected level crossings continue to claim lives, as over 80 percent of the crossings under the country's railway network remain either unauthorised or unmanned.
The issues came to the fore again after 11 people died as a train hit a microbus at a level crossing in Chattogram's Mirsharai upazila on July 29. Two more succumbed to injuries later.
According to Road Safety Foundation, this year, at least 74 people were killed in 35 rail-related accidents at level crossings until July 29. The number is much higher than that of the last two years.
Out of 1,412 authorised level crossings, 964 are unmanned, according to a document of BR shared at an inter-ministerial meeting last year.
At least nine government organisations are involved in constructing unauthorised level crossings, with LGED having constructed the highest (516), the document shows.
Experts and campaigners accused BR's inaction in ensuring safety at level crossings for the increasing number of deaths.
THE JOINT SURVEY
"We are not sitting idle. We are also working from our side to increase safety," Rail Secretary Humayun Kabir told The Daily Star yesterday.
Following the decision of a meeting last year, BR and LGED started the joint survey to identify vulnerable spots and safety risks at level crossings.
"The survey has progressed a lot, and we have asked them to complete it and give recommendations within September 30," he said.
He also said they will have an inter-ministerial meeting on level crossings on August 21. Apart from LGED, Roads and Highways Department and city corporations concerned were asked to join the meeting.
A similar inter-ministerial was held on January 10 last year, where authorities had decided to take several measures to ensure safety at level crossings.
The steps include constructing speed breakers on each side of a level crossing, reducing the number of illegal level crossings and erecting overpasses or underpasses in future projects.
But they remain largely unimplemented.