Ride-sharing riders in trouble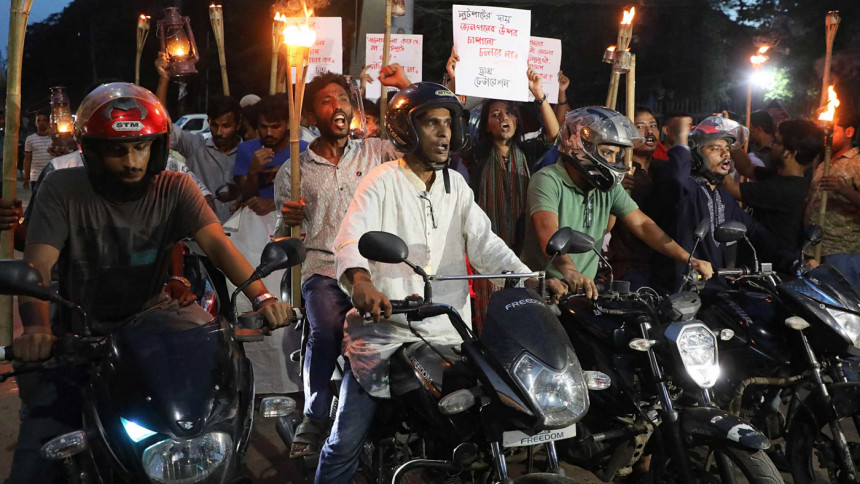 Bike riders of ride-sharing platforms have been facing trouble due to a shortage of passengers, following the hike in fuel prices, which came into effect yesterday.
"Passengers aren't willing to pay a higher fare. I only managed to get three trips in three hours, which is half compared to the days before the  hike," said Pathao bike-rider Faizar Rahman, while waiting for passengers near Farmgate bus-stand yesterday afternoon.
"With fewer passengers, I have no option but to accept rides at the previous rate," he added.
For Wadud Mia, the hike might be the end of his means of making some extra cash through ride-sharing services, alongside running his small grocery shop in Mirpur.
"I had to spend extra money to buy fuel, but I had to accept two trips at the previous fare rate," said Wadud, standing near Karwan Bazar intersection.
At the same palace, another rider Akbar Ali was seen bargaining with a passenger.
He said, "Passengers still offer the previous fare rate. In some cases, they offer even lower that."
Even though fewer buses were plying the city roads, passengers were still reluctant to travel via bikes, expecting a higher fare.
Monira Billal, a passenger waiting at Karwan Bazar intersection, said, "Usually, I pay Tk 120 to 150 for a ride from Karwan Bazar to Gulshan-1. But today, they've been asking Tk 200, which is way too much."
"How do I pay so much extra fare, while my salary still remains the same?" she asked.
The government on Friday night hiked fuel prices by up to 51.7 percent. As per the new prices, a litre of octane now costs Tk 135, which was Tk 89 previously. Similarly, each litre of petrol now costs Tk 130, a Tk 44 rise from the previous rate. The price of each litre of diesel and kerosene increased to Tk 114 from Tk 80.
Belal Ahmed, general secretary of Dhaka Ride Sharing Drivers Association, said, "The authorities should adjust the base fare in accordance with the hiked fuel price. Otherwise, passengers will not agree to pay extra in addition to the fare shown in the apps."
There are more than one lakh ride-sharing drivers registered under Pathao, Uber, and Shohoz Rides in Dhaka city, according to a 2018 document of Bangladesh Road Transport Authority.