Regulating Public Transport: Going from bad to worse
Drivers with faulty or no papers, unfit vehicles way too common on roads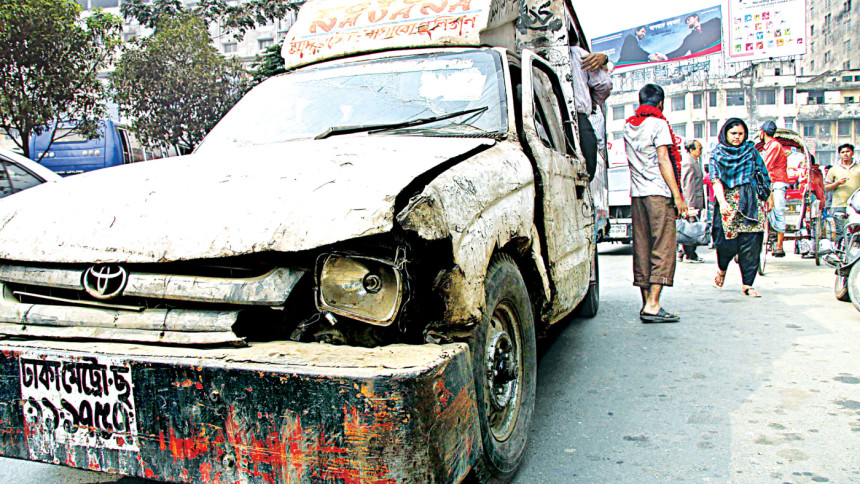 The Anabil Paribahan bus that ran over and killed SSC examinee Mainuddin Islam in the capital's Rampura on Monday had neither a route permit nor an updated tax token.
Two of the three buses that were vandalised following the incident, as mentioned in documents of cases filed with police, were also without route permits.
Such cases of vehicles or their drivers being found without proper documents after fatal road crashes are by no means isolated.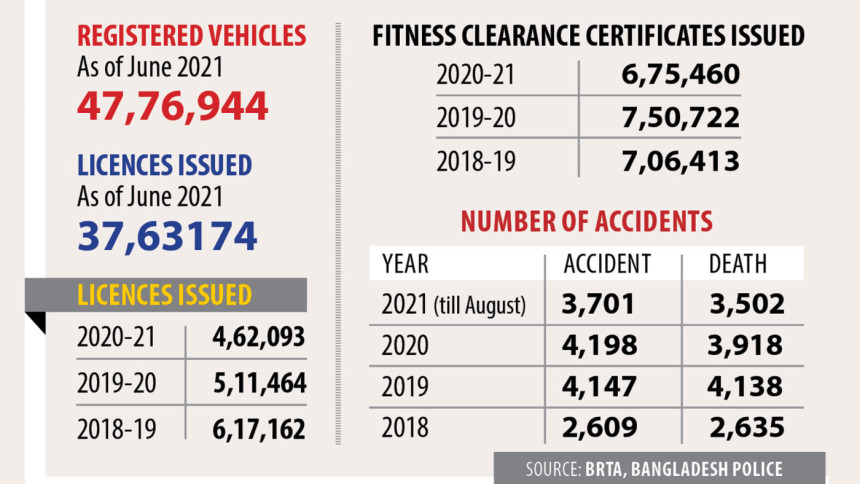 Following the widespread student protest for safe roads in 2018, triggered by the deaths of two college students, students and the general public hoped for a change for the better.
Those hopes were in vain as the situation has since deteriorated further and a new wave of protest has taken hold following the death of Notre Dame College student Nayeem Hasan on November 24 -- five days before Mainuddin's death.
The latest data of the Bangladesh Road Transport Authority indicates that at least 10 lakh registered vehicles are being operated by drivers without licences.
The data also shows that the number of vehicles getting fitness clearances dropped by around 75,000 in the last fiscal year compared to the figures in 2019-20 fiscal.
"The system to ensure road safety is totally dysfunctional," noted transport expert Prof Shamsul Hoque said.
A driver can operate a vehicle without a proper licence for years without any fear of surveillance because the system is not working, he said.
BRTA and police are responsible for issuance and checking of fitness clearances, registrations, route permits and licences to drivers, Prof Shamsul, also a former director of Buet's Accident Research Institute, told The Daily Star yesterday.
But after the Notre Dame student's death, it was found that a part-time cleaner of city corporation was driving the waste-transporting vehicle, he said.
Road accidents are rising, instead of dropping, due to the negligence and lack of accountability of the agencies concerned, he said.
At least 2,635 people were killed in 2,629 road crashes in 2018, according to police data.
A total of 3,502 people were killed in 3,701 road accidents just in the first eight months of this year.
However, different road safety organisations put the number as being much higher.
WHAT BRTA DATA SAYS
BRTA's 2020-21 annual report shows that a total 47.76 lakh vehicles had been registered with it till June 30 this year.
But BRTA issued a total 37.63 lakh licence to drivers in the same period, indicating that 10.13 lakh vehicles are being operated without licensed drivers.
The actual number of licence holders may be less than the amount of licences issued because many people collect more than one licence -- one for bikes or light vehicles and another for heavy vehicles, a BRTA official said.
Moreover, more than 10 lakh unregistered vehicles, including locally-made Nasiman and Kariman, are plying the country's roads, said people involved in the transport sector.
Following a High Court directive, BRTA in July 2019 said 4.79 lakh vehicles were operating without fitness clearances at the time.
The Daily Star could not learn the current status of the fitness clearances of vehicles, but BRTA's annual report said a total 6.75 lakh vehicles received fitness certificates in the last fiscal year.
The number was 7.5 lakh in 2019-20 and 7.06 lakh in 2018-19, shows the data.
According to existing rules, motorcycles need not take fitness clearances. Cars, SUVs and microbuses have to take fitness clearances every two years, according to a new BRTA rule enforced from January last year. Earlier, those vehicles had to take fitness clearances annually.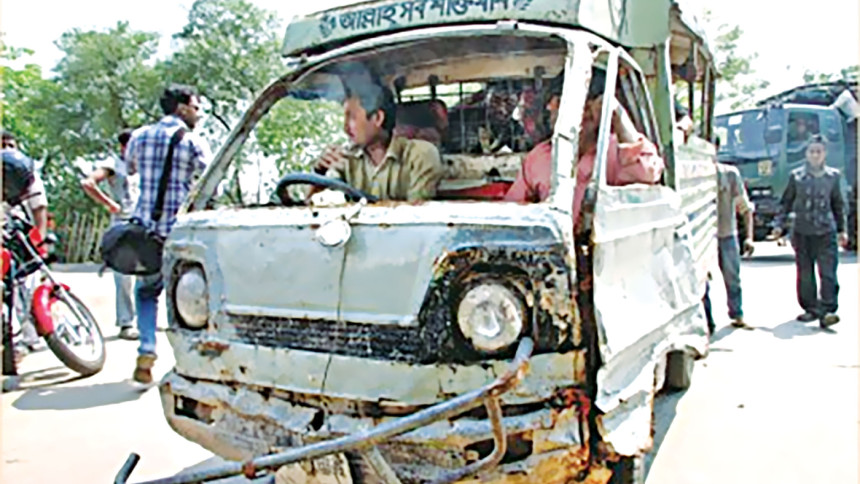 All other vehicles have to go through fitness check-ups annually.
The BRTA official said biennial clearance for cars, SUVs and microbuses played a role in the drop in the number of fitness clearances.
He, however, said more than eight lakh vehicles are eligible to take annual fitness tests but around two lakh vehicles do not take it.
Unfit vehicles and drivers without proper training are considered major reasons behind road crashes.
BRTA data shows the Anabil Paribahan bus (Dhaka Metro-BA 15-0856) that hit Mainuddin had no route permit. Besides, the tenure of its tax token expired last month.
Another Anabil Paribahan (Dhaka Metro BA-15-1736) bus, which came under attack after Mainuddin's death, had no route permit, neither did a bus of Raida Paribahan (Dhaka Metro-BA-14-9025), which was also attacked, had no route permit.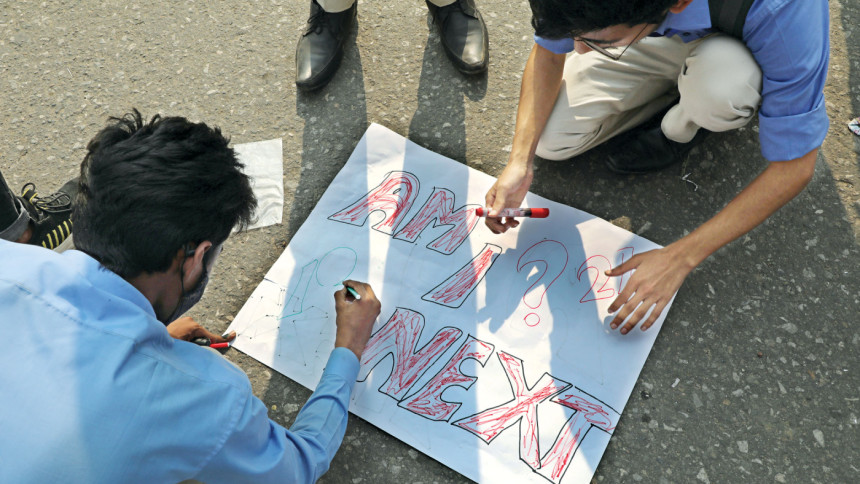 Route permits are mandatory for all buses, and have to be renewed every three years, under existing rules.
Jewel Dewan, managing director of Anabil Paribahan, admitted that some of their buses had no updated route permit. But they were operating those buses taking "slip" from BRTA.
The Daily Star tried to contact BRTA Deputy Director Md Shahidullah, who is also the member secretary of the Metro Road Transport Committee which issues road permits in the capital, but he could not be reached.
BRTA in 2019 had found that around 90 percent buses and drivers of Suprobhat Paribahan had been operating without necessary clearances.
A committee of BRTA carried out the investigation after a bus of the company killed university student Abrar Ahmed Chowdhury in Dhaka in March 2019, triggering student agitation.
Investigation into the July 29, 2018 accident that left two college students dead found that a race for passengers between three buses led to the accident and none of the three drivers had professional driving licences.
One of the buses of Jabal-e-Noor Paribahan did not even have the route permit, while the route permit and fitness of another expired months ago.
WHAT AUTHORITIES SAY
Road Transport and Highway Division's Secretary Nazrul Islam said BRTA's mobile court and police often check documents but these buses carry out operations "dodging" them.
"It's difficult to prevent them unless owners' association plays their due role," Nazrul told The Daily Star last night.
He said while it's true that many of the drivers of public transport have light licences but operate heavy vehicles, at least almost all drivers have licence.
Asked about the difference between licence-holders and registered vehicles, he said there are more than 30 lakh motorcycles.
"Most bikers outside Dhaka do not have licences. This makes the difference," he said.
Besides, he said, many of the registered vehicles are no longer on the streets, so the difference between licence holders and vehicles on the streets is not as big as it appears in the datasheet.