Paturia-Daulatdia Ferry Service: Truckers' wait counted in days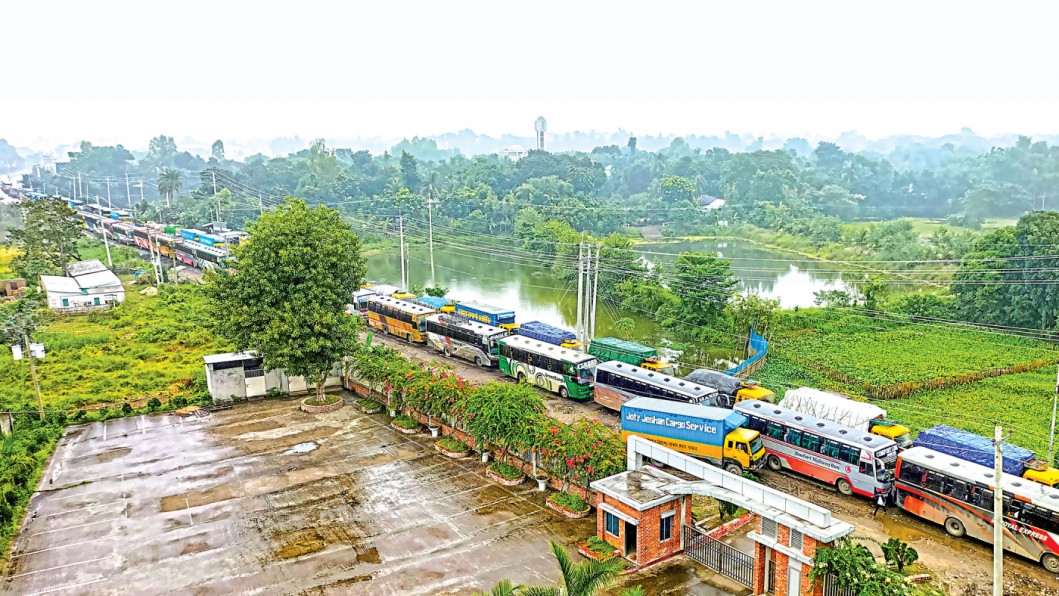 Truckers and bus passengers are suffering immensely as ferry service on the Paturia-Daulatdia ferry route is being hampered due to shortage of ferries for the last 19 days.
The route on the Padma is considered one of the gateways to 21 southern and southwestern districts. Paturia is in Manikganj and Daulatdia in Rajbari.
Visiting Paturia yesterday noon, vehicles, mostly goods-laden trucks, were seen stranded as they failed to board ferries, despite waiting for hours.
Of the vehicles, over 300 were goods-laden vehicles and around 100 buses. Some drivers and helpers of goods-laden vehicles have been waiting there for days.
"I reached near the ferry terminal on Saturday night and found a long queue. I think it will take two more days to get on a ferry," said truck driver Gokul Mandal around 1:30pm yesterday.
With his truck loaded with water bottles, he started from Gazipur's Mawna area and was heading towards Barishal.
Many of the truck drivers expressed frustration over the role of terminal authorities concerned.
"Such a long traffic jam occurs here all the year round due to poor management system of the terminal authorities," said Hazrat Ali, who was travelling from Dhaka to Khulna, with packaged food items.
Bus passenger Shabnam Jerin said, "I have been waiting here for around three hours. I think it will take one more hour to get a ferry."
Similar situation was noticed at Daulatdia point around 1:30pm yesterday. Over 500 buses and 200 goods-laden vehicles were seen lined up stretching around four kilometres area from the terminal.
Besides, around 400 trucks were kept waiting on the Rajbari-Kushtia regional highway from Goalanda intersection to Aladipur area, around 13 kilometres away from the Daulatdia ferry terminal. Traffic police kept the goods-laden ones waiting there so that a large number of trucks could not throng the terminal at a time and create traffic chaos.
"I have come here around six hours ago. I don't know when my bus will be able to cross the river," said Sujan Sheikh, of Miapur village in Barishal's Nazirpur upazila, who was going to the capital with his wife and children.
Bangladesh Inland Water Transport Corporation (BIWTC), a government body under the Ministry of Shipping, operates the ferry service.
Normally, 22 ferries ply the Paturia-Daulatdia ferry route. But now 17 ferries are in operation. Of the rest, four have been sent to dockyard for overhauling. Another ferry -- Shah Amanat -- tipped over at the terminal on October 27, said Zillur Rahman, deputy general manager (commerce) of BIWTC's Aricha regional office in Manikganj.
Most of the ferries are two to four decades old, said sources at the terminal.
"If all the 22 ferries can be kept operational, we can carry around 8,000 vehicles daily. But now, we can carry 6,000. Furthermore, traffic pressure has recently been intensified, deepening the crisis," said Zillur.
"We are allowing passenger vehicles and perishable-goods carrying vehicles to board ferries on a priority basis. That is why, the tailback of goods laden-vehicles is getting longer," he said.
The crisis cannot overcome until the new ferries are added in the fleet, said the BIWTC official, without mentioning any timeframe when new ferries would be added to the convoy.
Besides, the route is facing navigability crisis. So, the ferries require more time to cross the river. As a result, traffic tailbacks are intensifying, said Shehab Uddin, manager (commerce) at BIWTC's Daulatdia.