Padma Bridge: Envoys laud Sheikh Hasina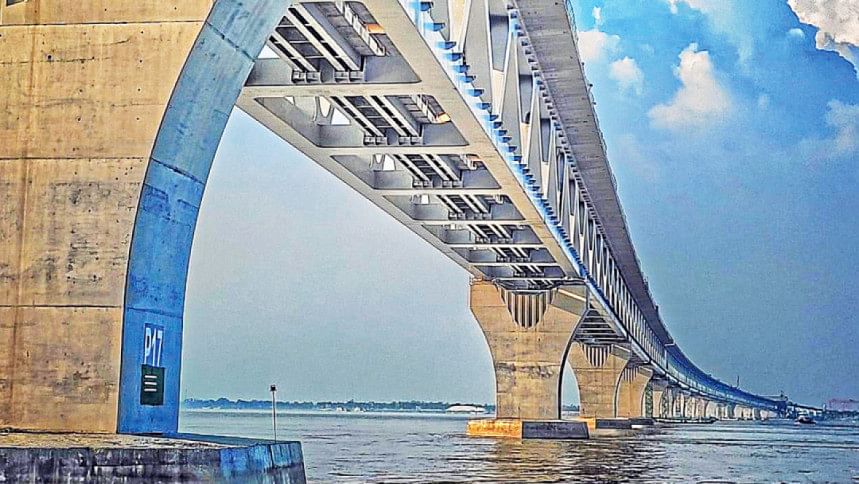 Three foreign envoys in Dhaka have lauded Bangladesh for constructing the Padma Bridge.
Envoys of European Union, China, Saudi Arabia and the Russian embassy yesterday congratulated Bangladesh for the bridge to be inaugurated on June 25, reports UNB.
The Saudi ambassador said the Padma Bridge will help open up the eyes of international investors, including Saudi companies, to give a serious look at Bangladesh.
"I admire Prime Minister Sheikh Hasina for taking the revolutionary step of self-financing to build the Padma Bridge," Ambassador Essa Yousef Essa Al Duhailan told reporters at the Saudi embassy.
On behalf of the custodians of the two holy mosques, King Salman Bin Abdulaziz and Crown Prince Mohammed bin Salman, the ambassador congratulated President Abdul Hamid, Prime Minister Sheikh Hasina and her government as well as the people of Bangladesh.
Duhailan said Saudi companies are increasingly looking at Bangladesh.
He said the Padma Bridge will help Bangladesh build more infrastructures in future.
The envoy said Hasina has proven repeatedly that she is the daughter of Bangabandhu whose visionary idea had boosted the country's economy to new heights.
"Her capacity to make swift decisions on keeping the country's economy on track is marvelous despite the fact that many big nations have struggled under similar circumstances," said Duhailan.
Charles Whiteley, ambassador and head of delegation of the European Union to Bangladesh, said the inauguration of the Padma Bridge is going to be an "unforgettable moment".
In a message, the envoy conveyed warmest congratulations to Bangladesh.
"We look forward to using the bridge ourselves and to seeing what it does to facilitate people to people, family and commercial links. Congratulations, Bangladesh."
The Russian embassy in Dhaka said Padma Bridge is a "true game changer" and "landmark achievement" as it offers multiple opportunities in terms of regional trade, investments, connectivity, employment, tourism, and many other fields.
"The dream of Sonar Bangla cherished by Father of the Nation Bangabandhu Sheikh Mujibur Rahman is coming true right before our eyes," said the embassy in a media release.
Chinese ambassador to Bangladesh Li Jiming on Sunday lauded Hasina's wise leadership and determination in building the "dream bridge".
Terming the Padma Bridge a symbol of courage, he said, "It's an outstanding achievement. This is going to be a big day [June 25] for Bangladesh," he said in a Facebook message.
He termed Hasina a "true representative" of the people.
Lauding Hasina's courage and leadership, Li said Hasina was key in making of the decision to build the bridge with the country's own resources.
He said bridge would serve as an everlasting bond of brotherhood between China and Bangladesh.
"Whenever I think of the bridge, three words come to my mind: courage, determination and prosperity," he added.
The Padma Bridge is the longest bridge Chinese companies have built outside of China, he said.