Launches demand twice the current fare
Shipping ministry meets owners today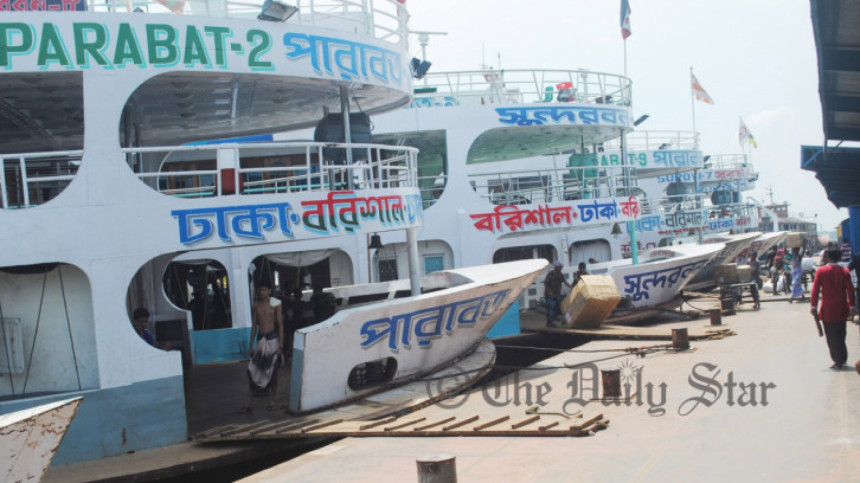 Launch owners are now demanding that they be allowed to charge twice the current fare when people are already reeling from hiked bus fares following the record surge in fuel prices.  
Bangladesh Inland Waterways (passenger carriers) Association, an organisation of the launch owners, yesterday wrote to the chairman of Bangladesh Inland Water Transport Authority (BIWTA), seeking 100 percent hike in launch fare.
The shipping ministry will hold a meeting with launch owners at noon today to go over their application, Rofiqul Islam, director (marine safety and traffic management) of BIWTA, told The Daily Star.
In the letter, Mahbub Uddin Ahmed, president of Bangladesh Inland Waterways (passenger carriers) Association, said numbers of launch passengers have declined following the opening of Padma Bridge in June.
The government has hiked diesel prices by Tk 34 per litre while lubricant price in the global market saw a 50 percent hike, the letter said. The prices of different spare parts also doubled due to the devaluation of the taka against the US dollar.
As a result, operation cost of launches rose by 100 percent, reads the letter.
They demanded that per kilometre launch fare of journeys less than 100km be raised to Tk 4.60 from the existing Tk 2.3, and per km fare above 100km journeys become Tk 4 instead of the current Tk 2.
Badiuzzaman Badal, senior vice-chairman of the association, said "If the government can raise fuel prices by 50 percent, then why can't we seek 100 percent launch fare hike?"
Apart from the fuel price hike, prices of all other elements related to launch operation have increased, leading them to seek the 100 percent fare rise, he told this correspondent.
Meanwhile, owners of launches on the Dhaka-Barishal route have already increased fares after decreasing them due to low demand following the opening of the Padma Bridge.
With hikes in fuel prices having knock-on effects on most sectors, Bangladesh Railway is also mulling fare hikes as trains run on diesel, while different associations of goods-laden vehicles demanded that the government either withdraw the decision to hike fuel prices or increase fares of goods-laden vehicles.
Otherwise, they will go for a movement to realise their demands, they said.
On Saturday, the authorities increased bus fares by up to 22 percent -- a blow especially for people with lower incomes.
The move came a day after the government announced record hike in fuel prices with diesel and kerosine seeing 42.5 percent hikes.
OVERCHARGING
As per existing government-approved rates, a launch deck ticket is Tk 352, each single cabin ticket is Tk 1,000 and double cabin is Tk 2,000.
But after numbers of passengers declined following the Padma Bridge's opening, launch authorities reduced the deck fare to Tk 200, and single and double cabin fares to Tk 800 and Tk 1,800 respectively.
From yesterday, however, launch owners charged Tk 350 for deck tickets, and Tk 1,100 and Tk 2,200 for singe and double cabins respectively, reports our Barishal correspondent quoting passengers.
Barishal River Port Officer Abdur Razzak said launch owners have increased launch fares by 75 percent compared to the rate they fixed last month.
MORE FARE HIKES?
Railways Minister Nurul said that apart from the rise in diesel price, the hike in bus fares has created huge pressure of passengers on trains.
"So, we may have to adjust the train fares. But we did not take any decision yet," he told The Daily Star yesterday.
BR is a state-run agency, so it has to take the prime minister's directive if it wants to hike train fares, he said, adding that they have not yet decided to ask the PM for any such directive.
Hossain Ahmed Majumder, the acting general sectary of the Bangladesh Truck and Covered Vans Owners Association, yesterday demanded that the government cut fuel prices immediately, or it will not be responsible for whatever situation arises.
He said the government had increased the prices of kerosene and diesel by 23 percent in October last year, and with the record hikes announced on Friday, it would not be possible to continue operation of goods-laden vehicles.
Mokbul Ahmed, president of Bangladesh Covered Van-Truck-Prime Mover Goods Transport Owners Association, another platform of owners of goods-laden vehicles, said they would go for a movement unless fare is increased.
[Our Barishal correspondent contributed the report]