No new train on Dhaka-Ctg route in 7 years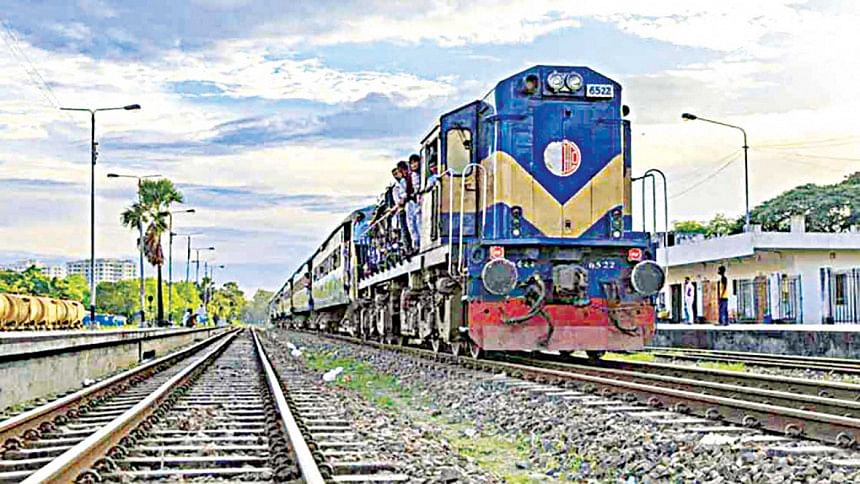 Although the demand for railway tickets on the Dhaka-Chattogram route has been increasing every year, the Bangladesh Railway (BR) authorities could not add a single passenger train to the country's most important route in the last seven years.
The BR authorities said they attempted to increase the number of trains on the route multiple times earlier but failed due to the crisis of coaches and engines.  
According to BR officials, the last intercity train on this route – Sonar Bangla Express – was added in 2016. Five container trains were also added for transporting goods from the port to Dhaka Inland Container Depot (ICD) in 1988.
Currently, there are eight passenger trains running daily on the route. Of these, six intercity trains are Subarna Express, Mahanagar Express, Mahanagar Godhuli, Sonar Bangla Express, Chattala Express and Turna Express. The total number of seats is 5,235.
Besides, two mail trains – named Dhaka Mail and Karnaphuli Express – are running every day on this route.
According to the Chattogram Railway Station, 11,000-12,000 passengers travel on the route every day.
"A good number of people come to the counter for tickets on the route. However. due to the crisis of trains, we cannot meet this huge demand," said Ratan Kumar Chowdhury, manager of Chattogram railway station."The cost of travelling by train is less than travelling by bus, so I came to buy a train ticket. But I didn't get any because all were sold out," said Arafat Sajib, who wanted to travel to Dhaka for business purposes.
According to BR's commercial department, the railway earned Tk 145.54 crore from freight transport in 2020-21 fiscal.
BR Commerce Department officials said the number of container trains on this route is increased, it is possible to boost revenue from the freight transport sector.
"We need more trains for transporting containers from Chattogram port to Dhaka but BR can't able to add new trains due to engine crisis," said Mohammed Nazmul Islam, chief commercial manager of BR Eastern Region.
According to the Chattogram Port Authorities (CPA), container handling is increasing at an average rate of about 12 percent per year. But due to the train crisis, often containers have become entangled in the yard of CPA.
Kudrot-E-Khuda, CPA terminal manager, said more trains are needed for transporting containers on this route which would speed up the country's import-export scene, due to its affordability. But BR has not added new container trains in the last three decades.
"Transporting goods by road is expensive and unsafe. If the BR increases the number of container trains, businessmen would benefit and the pressure on the highways will decrease," said Md Nurun Newaz Salim, director of Federation of Bangladesh Chambers of Commerce and Industry.
Jahangir Hossain, general manager of BR Eastern Region, said they have verbally informed the railway ministry about launching new trains on this route.
"However, we think it's not feasible unless and until new coaches are imported from abroad," he said.