"Motorcycle ban on highways will cause further problems for Eid homegoers"
Road Safety Foundation says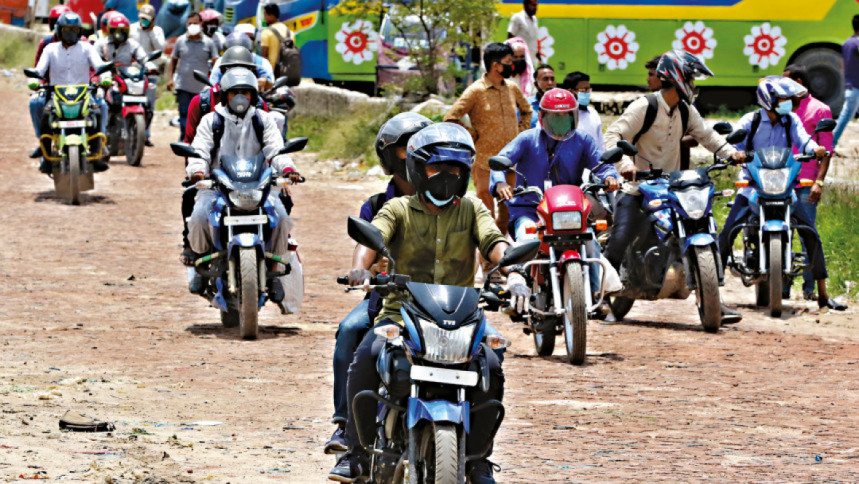 The government's decision to impose complete ban on motorcycles on highways ahead of Eid-ul-Azha will compel Eid holidaymakers to face more hassle on their journey home, Road Safety Foundation said in a statement today (July 7, 2022).
Despite the ongoing indiscipline and mismanagement in the public transport sector, the authorities have not yet taken any fruitful measures to this end. There is much need to expand the scopes and enhance the services of BRTC buses across the country, which, however, in a limbo due to illogical demands of the private bus owners, the statement, undersigned by the foundation's Chairman Prof AI Mahbub Uddin Ahmed and Executive Director Saidur Rahman, said.
Amid this scenario -- where public transports are not sufficiently available, people are prompt to seek alternative option for their commute and depend on motorbikes significantly, read the statement.
Stressing that motorbikes cannot be a proper alternative to public transports, the foundation, however, noted that 71 percent of all registered vehicles in the country are motorcycles, and many people have always relied on their bikes to reach their homes ahead of Eids, and considering the present situation with public transports, this should be taken into account while making any decisions before imposing ban on motorbikes.
The foundation called upon the authorities to consider all the aspects and allow motorbike users with valid licence to travel on highways ahead of Eid and, thereby, lessen the hassles of homegoers.