Mitali Express may begin journey this month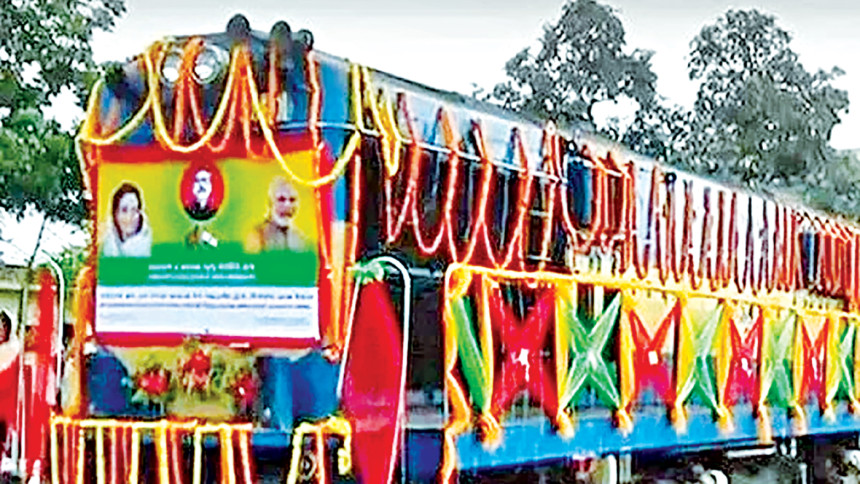 Mitali Express, the third passenger train to be operated between Dhaka and West Bengal's New Jalpaiguri (NJP) in India, is likely to start running within this month to boost connectivity between the two neighbours.
The new train will begin its journey as the two countries agreed to resume the  operations of the two existing passenger trains after the suspension of services amid the Covid-19 outbreak.
Following Bangladesh Railway's proposal, Indian Railway has suggested the resumption of operations from March 26. The railways ministry has called for an inter-ministerial meeting on Sunday to confirm the date.
Before the pandemic-induced suspension from March 15, 2020, the Maitree Express was operating on the Dhaka-Kolkata route while Bandhan Express on the Khulna-Kolkata route.
The 456-seater Mitali Express, which was inaugurated by Prime Minister Sheikh Hasina and her Indian counterpart Narendra Modi on March 26 last year, would use Chilahati-Haldibari rail link.
Rail communication between the countries via Chilahati-Haldibari route resumed in December 2020, after a 55-year hiatus.
New Jalpaiguri has the biggest railway station in the northern part of West Bengal and is just six kms away from Siliguri. It is a key junction between mainland India and north-eastern India.
THE NEW TRAIN
The 10-coach all-AC train will operate twice from Dhaka and twice from NJG every week, Shahidul Islam, divisional railway manager of BR Paksey Division, told The Daily Star yesterday.
He led an eight-member delegation in India last year to discuss different aspects of the new train.
It will leave Dhaka at 9:50pm on Mondays and Thursdays and will reach NJP at 7:15am on Tuesdays and Fridays.
It will then leave NJP at 11:45am on Sundays and Wednesdays and reach Dhaka at 10:30 on the same days, he said.
BR will sell tickets in three categories and each ticket of berth would be $44. 
Fifteen percent VAT and Tk 500 travel tax would be added to the ticket price, meaning the one-way travel on berth will cost Tk 4,902.
Each cabin seat would be $33, meaning total cost of a ticket would be Tk 3,801.65, while a chair seat would be $22, meaning the ticket would be Tk 2,701.
Tickets for children aged below five would be 50 percent of the regular cost.
BR sources said operations of the new train may be delayed by a day or two as the BR will be suspending online ticketing services for five days from March 21 in order to handover the ticketing job to a new vendor.
Besides, the railways minister Nurul Islam Sujan, who is expected to be present during the launching of Mitali Express, may remain busy on March 26 – Bangladesh's Independence Day.
The date of launch will be confirmed after the Sunday meeting, a BR official said.