Manpower, carriage shortage in BR: 99 out of 361 trains left inoperative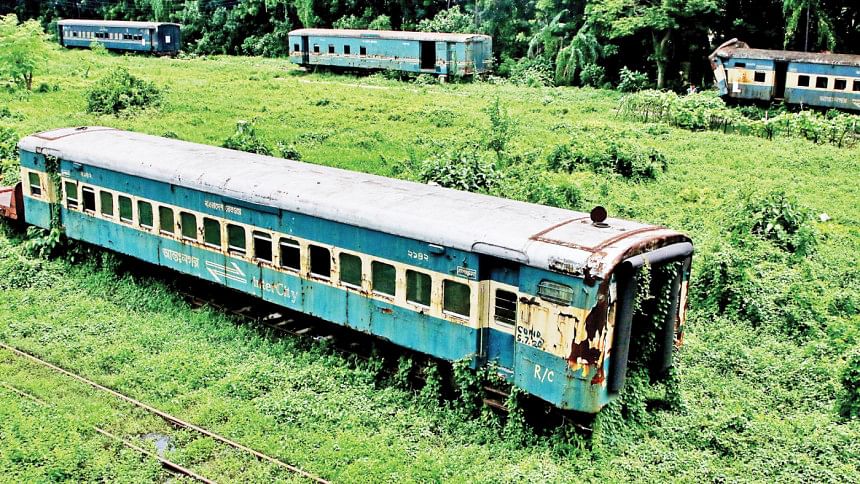 Nearly one in every three passenger trains remain inoperative due to shortages of carriages and manpower.
Although the government injected over Tk 70,000 crore into the railway sector in 14 years, the state-run agency cannot operate at least 99 of the 361 trains in its fleet.
All these out-of-operation trains are local, mail and commuter trains that are relatively cheaper and are often used by low-income people and short-distance commuters.
BR authorities say they will resume services of some of these trains, subject to the availability of manpower and carriages. These trains were taken off the track amid Covid-19 outbreak in early 2020.
However, some trains went out of service over the last decade, and they are unlikely to operate again, sources said.
The BR's 3,093km network is divided into two zones -- east and west. Of the BR's 361-train fleet, 192 are in the east zone and 169 in west zone.
And of the 99 inoperative trains (27.42 percent), 56 are from the east zone and 43 from west zone. They include 57 local trains and 12 mail trains.
Apart from them, the BR suspended train operations on Dhaka-Narayanganj route in December to facilitate works of the Padma Bridge Rail Link Project.
Eight pairs of local trains and one pair of Demu trains operated on this route before the suspension.
BR Director General Dhirendra Nath Mazumder did not respond to our calls or text messages yesterday, although earlier on Sunday he said he would comment on this once he was properly briefed about the facts by his officials.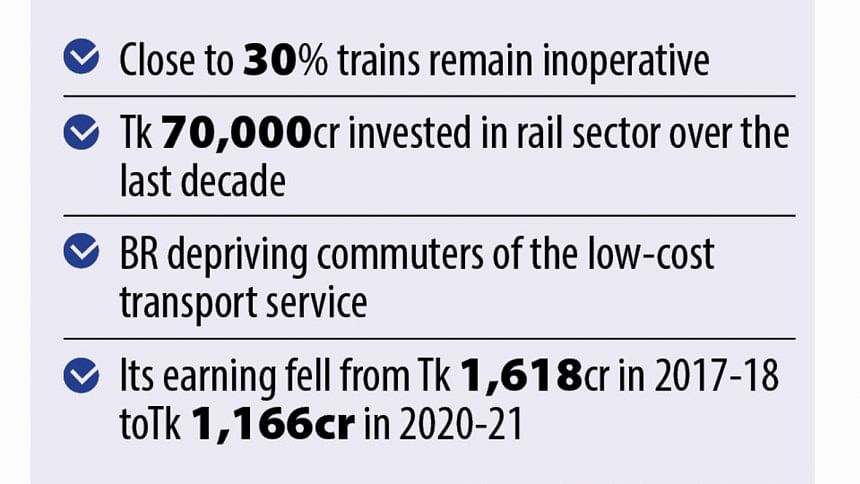 PASSENGERS DEPRIVED
The BR operates four types of passenger trains -- intercity, local, mail and commuter trains.
Although costly, intercity trains provide the best services in terms of schedule management and seating arrangements.
The minimum fare of local trains is Tk 5/km, which is Tk 10, Tk 15 and Tk 45 for mail, commuter and intercity trains respectively, BR officials said.
At this rate, if a passenger can travel a distance for TK 75 on a local train, it will cost him Tk 100 on a mail train, Tk 125 on a commuter train and Tk 300 in Shobhon chair in an intercity train.
This means, local, mail and commuter train services are affordable to lower income people.
Two BR officials said the suspension of the train services on different routes have affected their revenue income.
BR earned Tk 1,618 crore in 2017-18, which came down to Tk 1,199 crore in 2019-20 and Tk 1,166 in 2020-21.
In 2021-22, when train operations were almost normal, BR's income rose to Tk 1,466, which has yet to pick up the level of pre-Covid period.
WHAT'S BEHIND THE SUSPENSION
Asim Kumar Talukder, general manager (west) of BR, blamed the lack of carriages and lockmasters for the closure of train services in different routes.
Projects have been taken up to procure 100 carriages and renovate 50 carriages, he said, adding that these coaches will join the fleet soon.
He, however, said some of the local trains are no longer required as intercity services have been increased there.
Jahangir Hossain, general manager (east) of BR, also gave similar reasons for the suspension of some services.
He also said some of the suspended carriages have been repaired to resume operations, although most are beyond repair.
"So, we have to wait for new carriages and locomotives to revive services in other routes," he told The Daily Star last month.
A BR official said local, mail and commuter trains are not a priority for their high-ups, as they do not generate revenue as much as intercity trains do.
Prominent transport expert Prof Shamsul Hoque said the BR authorities are giving priority on infrastructure development only, although trained manpower, rolling stocks (locomotives, carriages) and maintenance are also crucial.
"The railway authorities focus on infrastructure development only. This cannot be defined as a professional attitude," he told The Daily Star.
There should be a synchronisation among infrastructure development, procurement of rolling stocks, recruitment and training of manpower and maintenance, he said.
"But the railway is a manifestation of unplanned development, and that is why it cannot provide expected services even after investment of huge money over the last one decade," he added.
Between 2008-09 and 2022-23, the government allocated Tk 107,645 crore for BR under the annual development programme (ADP). The BR could spend Tk 71,113 crore till October this year, show BR documents.