Luxury boats with ludicrous fire safety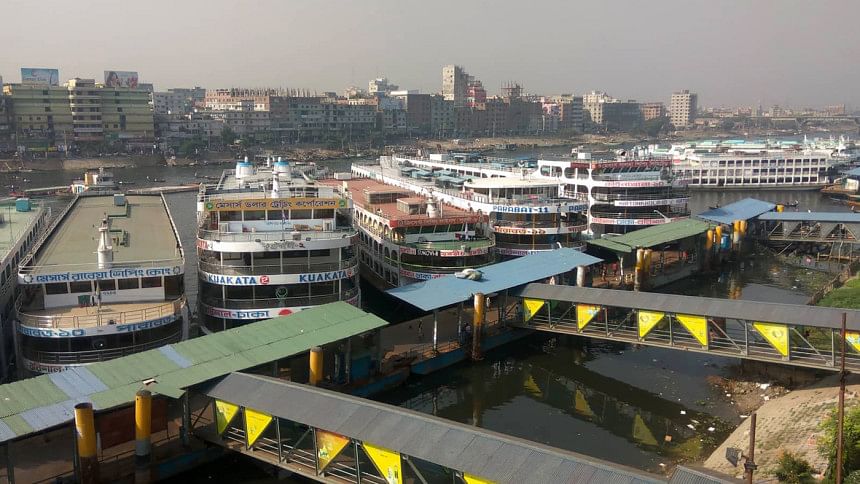 Dozens of luxury launches are carrying hundreds of passengers without adequate fire safety equipment, industry insiders said.
Some of the vessels are equipped with elevators, well-furnished rooms, echo sounders to fathom the depth of water, radars, wifi, radio communication and modern gadgets. But the owners do not invest in fire safety equipment.
"These boats have multiple large engines and countless things that consume electricity. But our fire safety measures are not enough. There is always a risk of fire hazard," said Mujibur Rahman, master of the Sundarban-10.
"There should be large fire extinguishers and hose pipes on each floor of launches. Besides, every member of the crew should have firefighting training every month," he told The Daily Star.
Md Kamaluddin Bhuiyan, deputy director of Fire Service and Civil Defence in Barishal, said construction of every building containing 10 or more floors requires approval from the fire service.
But these vessels are carrying hundreds of people without having to consult the fire service.
The launch owners and crew members are not interested in fire safety training, he said, adding that no fire drill for the crew members took place in the last four years.
Contacted, Barishal Port Officer Mostafizur Rahman said, "We check the lights and the number of crew members. But we are not responsible for checking fire safety."
Mostafa Miah, master of the Sundarban-11, who was with the probe committee that visited the MV Abhijan-10 after Friday's devastating fire, said, "I saw a fault in the engine [of MV Abhijan-10] that might have caused the fire. On most launches, the crew doesn't have a mechanic."
Contacted, Nurul Karim, marine inspector of the Department of Shipping, admitted that the issue of fire safety is often overlooked.
Rafiqul Alam, coordinator of Bangladesh Poribesh Andolon in Barishal, said the government and launch owners must take steps to ensure fire safety.
Saidur Rahman Rintu, vice-president of launch owners' association, said, "We have fire safety equipment as per the directives of the Department of Shipping. We cannot go beyond government rules."
The recent fire on the MV Abhijan-10 has created fear in many passengers.
The number of passengers has drastically fallen, said an employee of Sundarban Navigation.