Launch strike catches people off-guard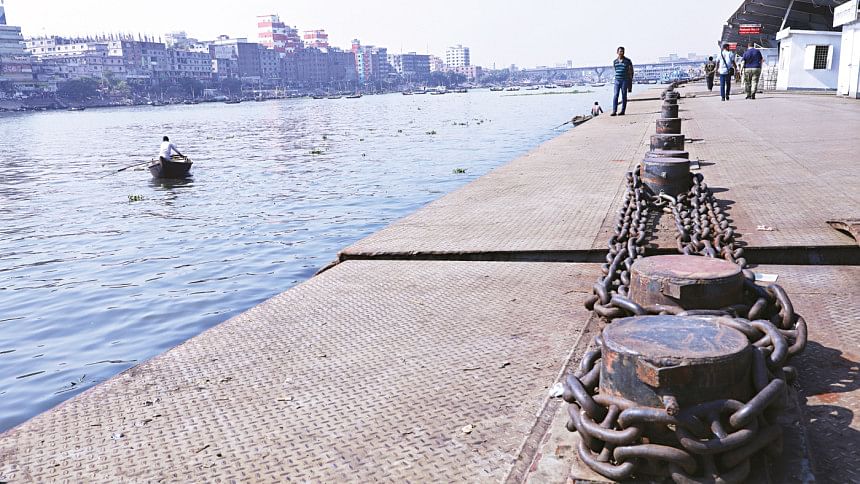 Passengers suffered immensely yesterday as water transport workers enforced an indefinite work abstention to press home their 10-point demand, including pay hike.
Due to the strike that began early yesterday, operation of launch was suspended on almost all the waterways across the country.
"No launches left Sadarghat Launch Terminal since [yesterday] morning. Some people came to the terminal, but most had to return," said Alamgir Kabir, joint director of Bangladesh Inland Water Transport Authority (BIWTA).
The workers' demands include a minimum monthly salary of Tk 20,000 and a compensation of Tk 10 lakh in case a worker dies of natural causes or an accident while on duty.
Sadarghat terminal remained almost empty in the morning.
Fuljan Begum, who came to the terminal to travel to Chandpur, said, "I was not aware of the strike. I along with my eight-year-old daughter reached here around 8:00am. Then, I learnt that launch operation was suspended. Now, I'm thinking of travelling by bus."
Fruit trader Sirajul Islam regularly travels between the capital and Munshiganj. He buys fruits from the capital's Badamtoli wholesale market and then returns to Munshiganj for selling them.
"Like the other days, I bought fruits from Badamtoli. Then, I came to Sadarghat Launch Terminal. But I found that launches were not being operated. Now, I'm in trouble," said Sirajul.
The scenario was similar at other launch terminals.
No launches left Barishal terminal.
Mohammad Khakon, from Pirojpur, was seen waiting at the terminal for hours in the hope of catching a launch to travel to Bhola.
Sheikh Imam Ali, who was heading to Laxmipur, said, "I have been waiting here for two hours. But I could not find a launch."
Contacted, BIWTA's inspector in Barishal said no launches left Barishal terminal since yesterday morning.
In Chandpur, many passengers learnt about the strike when they reached the launch terminal.
On November 15, general workers under the banner of Noujan Sramik Sangram Parishad announced the work abstention at a meeting in the capital. They also discussed their demands there.
Bangladesh Water Transport Workers Federation, a platform of eight workers' organisations, expressed solidarity with the work abstention.
Shah Alam, the federation's president, said the government fixed the minimum salary at Tk 7,500 in 2016 for a five-year period. It was supposed to be raised in June last year.
Since then, the federation leaders have been demanding pay hike, but the government and watercraft owners did not pay heed, he added.
[Our Barishal correspondent contributed to this report.]