Joy, festivities all around
Long wait of people in southern districts ends today; thousands throng rally venue for Padma Bridge inauguration ceremony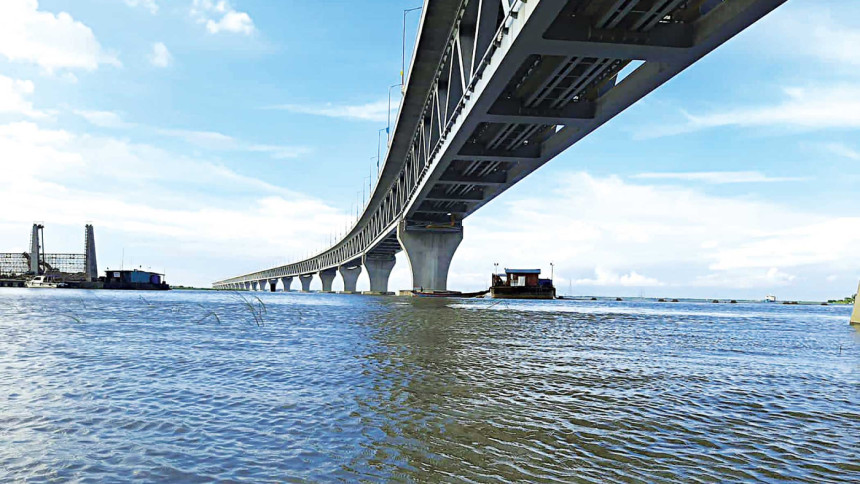 The people of the country's southern districts are elated over the inauguration of the Padma Bridge today.
Thousands from Madaripur and its adjacent districts have thronged Shibchar upazila ahead of today's public rally at Kathalbari ghat. Prime Minister Sheikh Hasina is scheduled to address the event after formally opening the bridge.
Visiting some areas of Madaripur yesterday, this correspondent found that different roads and highways leading towards the rally venue wore a festive look with many arches erected on those. Banners, festoons, and posters were put up. Besides, important government installations were illuminated.
A 150 feet long and 40 feet wide spectacular stage has been set up at the rally venue, giving it a look of the Padma Bridge. A boat is floating on the water stored in the ground right in front of the stage.
District administration officials and local Awami League leaders said extensive preparations have been made on around 15 acres of land to make the public meeting, organised by the ruling party, a memorable one.
The last-minute preparations were underway at the rally venue yesterday amid very tight security. Six watchtowers were set up in and around the rally venue.
Five-hundred loudspeakers and 26 giant LED screens were installed in an area of about 2 square kilometres.
AL sources said the party was hoping that about one million people would join the rally to make the bridge's grand opening a success.
Madaripur Deputy Commissioner Rahima Khatun said, "We are ready to serve tens of thousands of people starting from providing them with drinking water to all other required services. Measures have been taken to ensure safety of the general people."
According to Prime Minister's Office, the PM will attend the public rally around noon.
Speaking to The Daily Star in Shibchar, many locals yesterday said Padma Bridge was their dream project. They had to endure untold suffering to cross the Padma over the years, but it was going to end finally.
Sitara Begum, a homemaker from Barishal, said, "I have come to Madaripur to celebrate the inauguration of the Padma Bridge. Tomorrow [today] is going to be a memorable day for me."
Harun Mia, a resident of Shibchar, said, "For us, it's much more than just a bridge. We are overjoyed that our dream is finally becoming a reality."